Hi my lovelies, what's up? How are you guys doing? So, with the holidays just around the corner I wanted to show you guys one of my new favorite palettes. I am talking about the Makeup Revolution New-trals vs Neutrals palette. It is a beautiful 16 shades eyeshadow palette with a mixture of matte, shimmery, neutrals and colors. So, without wasting more time let's get into it.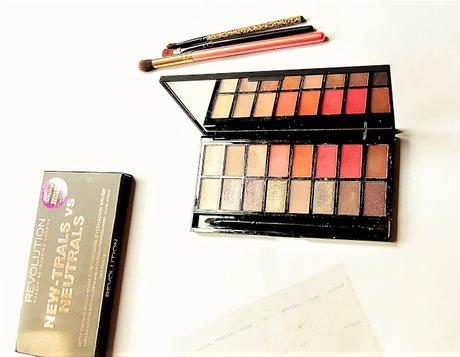 About the palette: The New Super Elite Formulation of eyeshadows. More impact, easy to blend, soft and butter-like application, to create the super-elite performance eye looks. Teamed with our Makeup Revolution Pro 1989 Double-ended Eyeshadow Brush
Price: £ 8.50 only at Noitno.co.uk
Packaging: The palette comes in a matte black cardboard box with the name and everything embossed in golden which feels super luxurious. On opening the cardboard box we get our baby.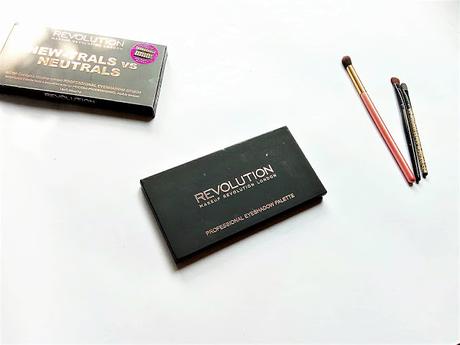 Product: A beautiful sleek matte palette with the golden letters. It has a large clear mirror. The eyeshadows are covered with a plastic film that has the shade names and also prevents the shades from sticking on the mirror. The shades that we have are:

Top Row (Left to Right):
1. Bias: A light shimmery nude color that would act perfectly as a base or can come to your rescue when you don't want any colors but some shimmer on your eyes.

2. Neutral: A light brown color that's fit for your office days.
3. Personal: Let's get personal with Personal- a beautiful shimmery coral shade that would make your girls night out just as perfect.

4. Vogue:This can get you to Vogue's 73 questions. Haha,just kidding. A red toned coral shade that makes me fall in love.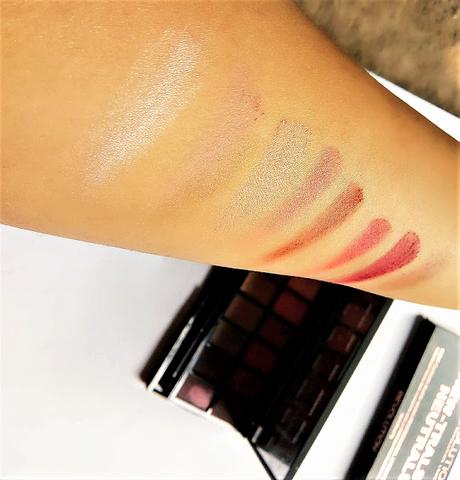 5. Trend: Set the winter trend with trend. A light reddish dark brown color (if that makes any sense) that could be a transition shade or so good that you can rock it solo.
6. New-tral: A beautiful new kind brownish red shade that will make you bolder than ever.

7. Tone:Tone down everyone else with Tone- a maroon shade that's too cool for fools
8. Custom: Customize your everyday look with custom- a chocolate brown color.
Bottom Row (Left to Right):
1. Cool: A Matte nude eyeshadow that can be a base or an everyday shade.
2. Style: Just as it's name it is the most stylish shade. A pink champagne glittery shade that reminds me of unicorns.
3. Partial: A magenta partially a pink glitter shade that can rock any party and make you more girly.
4. Mode: A golden glitter that's a must have for everyone.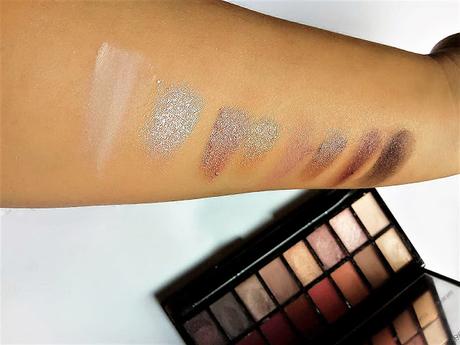 5. Adapt: A slightly darker version of the shade neutral.
6. Buff: A brown metallic shade with golden undertones. The sheen is amazing.
7. Suit: Suit yourself with this brown eyeshadow. You can work it anyhow.
8. Strong: What it seems to me is a black eyeshadow with magenta glitters that's perfect for the late night parties or when you want to go smoky with fashion.
These are the 16 shades that are present in the palette. The brush can be used for smaller areas and when going for a casual makeup look. It has no scent whatsoever so you don't have to worry about headaches.

My Experience: I bought this palette from Makeup Revolution a few weeks back and I've been loving it since then. I have replaced the eyeshadow palette in my makeup bag with the Makeup Revolution New-trals vs Neutrals palette. This is such a versatile palette with almost every shade possible. From matte to shimmers to glitters to metallic we have it all. From nudes to warm tones to pop of colors we get it all. Plus the big mirror. What else could you ask for? The pigmentation is beyond expectations and the matte shades are so easy to blend. It's not powdery at all. The glitters feel like butter. They glide on smoothly without a hassle. The shimmers are almost the easiest to work with. However, there's a slight fall out but that's negligible. Even higher end brands have fall outs. The brush is so so. Its not bad at all. We can work with it when in a jiffy. Coming in a variety of shades and in a reasonable price this baby is to die for.
Pros:
1. Luxurious packaging.
2. Affordable.
3. Sleek and travel-friendly.
4. Odourless .
5. Nice pigmentation
6. Blends like a dream.
7. Buttery smooth.
8. Comes with a large mirror.
9. A nice double ended brush.
10. Has every shade possible.
Cons:
1. Slight fallouts.
Rating: 4.9/5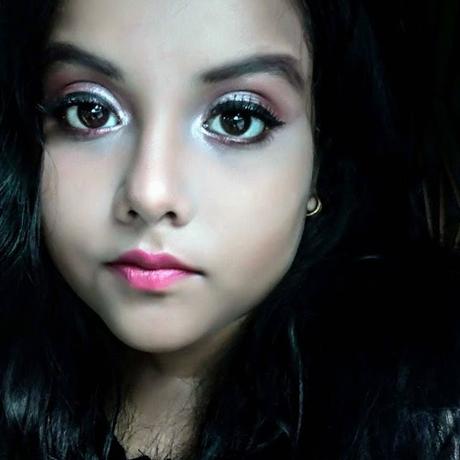 So, this was my total unbiased opinion about the Makeup Revolution New-trals vs Neutrals palette. I'm in love with this palette. You guys should definitely go check it out.
By Airene