At Make Up For Ever Academy Singapore I believe the only real letdown is that the MUFE Pro 30% Discount Card you get after completing modules as a student professional ONLY applies to purchases made at the MUFE Academy boutique at One Raffles Place (yeah…shakes head…I know right).  So when you complete a course and are ready to fly back home it's inevitable that you'll certainly walk away with one or two purchases from that outlet.  This time I'm not complaining.  I know I chose wisely.  I chose two Rouge Artist Lipsticks, one matte and one regular creme, Mat 5 and 23…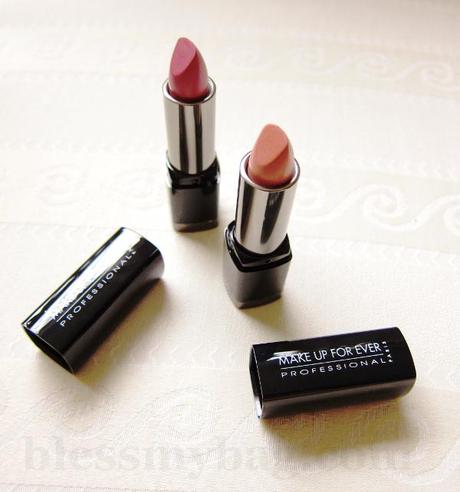 My absolute favorite is Mat 5, a deep mute berry mauve like no other matte color I've tried that suits my medium yellow skintone PERFECTLY.  It's not too light, and not too dark.  You'll see proof  in a bit.  Rouge Artist #23 is a peachy beige nude deep enough for medium skintones.  People should know that you can't wear a nude lip shade that suits someone lighter or darker than you, lipcolors that suit are always relative to your skintone.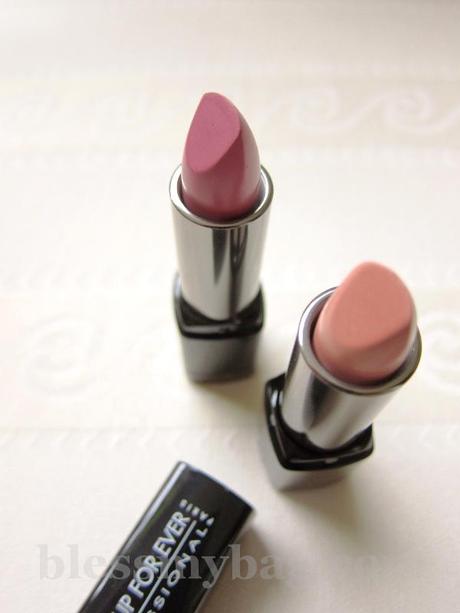 Rouge Artist lipsticks are for me among the cream of the crop of all high end lipsticks the world over.  It's not surprising they are because they're MADE IN FRANCE.  You get instant color with hardly any effort and exquisitely smooth textures.  The tube packaging is pretty and obviously not cheaply made, they snap shut tightly and gleam with a finish like black chrome and a gunmetal bottom stickered with the details.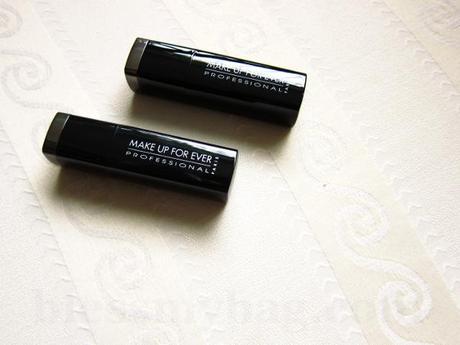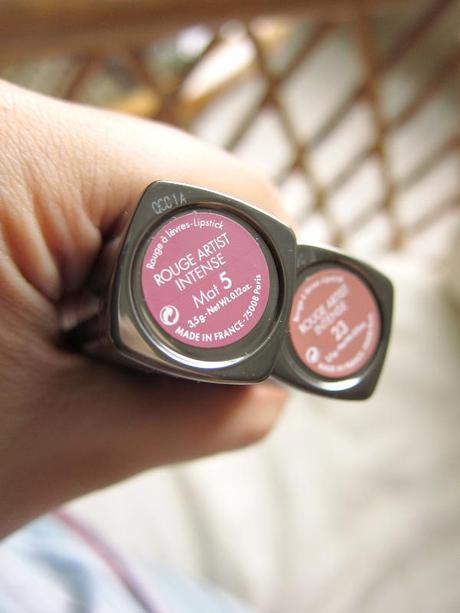 Matte lipcolors obviously have more drag but even MUFE's Rouge Artist mattes have a formula that doesn't hurt the lips.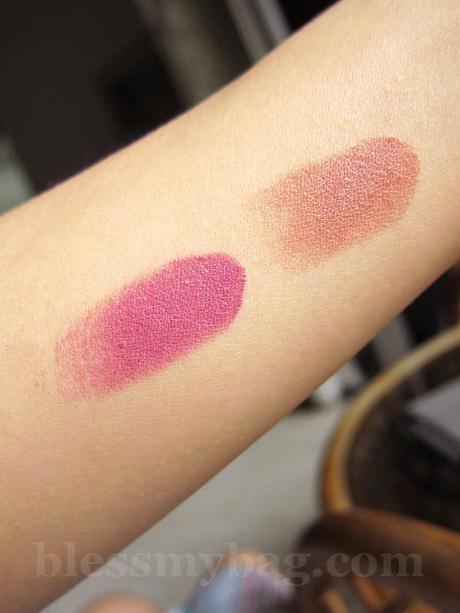 I still recommend "prepping" your lips by applying lip prep or balm 10 minutes prior to applying ANY matte lipstick though.  Read more to see how good these lipsticks wear and why I absolutely like Rouge Artist Mat 5, so much so that I still had to get it at Sephora instead at the regular price when it was out of stock at the Academy.
I proudly present my absolute favorite lipstick right now MUFE Rouge Artist Mat 5. Rouge Artist lipsticks cost SG$38.00 regularly priced.  They don't come cheap at Php1300.00 (it's usually a packaging and brand thing that tops up the price) they are really luxurious in consistency.  I got the other color, #23, discounted with my Pro Card at about SG$26.60 that would be Php930.00.  MAC lipsticks still cost relatively less with a similar luxurious consistency at a regular price of US$21.00 locally which is about Php930.00.  I haven't found a MAC dupe for this yet, but I intend to if it costs less of course, I'm doubting I'll find one though.  This tapered tip is great for packing on color even without a lipliner.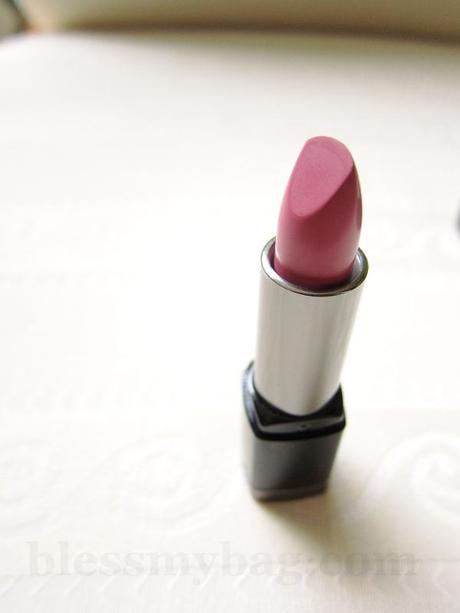 You should have seen the look of dismay on my face when they told me that, after swatching roughly 10,000 (I kid) colors of Rouge Artist on my hand and lips after class the one color I wanted, Mat 5, was out of stock in the academy boutique.  I even teased the SG Academy boutique staff that they should just send over stock of Mat 5 from another outlet to the academy boutique so I could still get my discount…they weren't amused, they didn't get the joke and I had to say I was joking.  This was the photo that absolutely convinced me I should still get it, even without a discount.  It's a low resolution mobile photo taken while I was walking in the train station.  I was wearing Mat 5 from the academy tester for the first time.  Mat 5 looked superb on me, even without lipliner.  So this was the day I didn't own it yet but decided to try it out from a tester to see how well it wore on.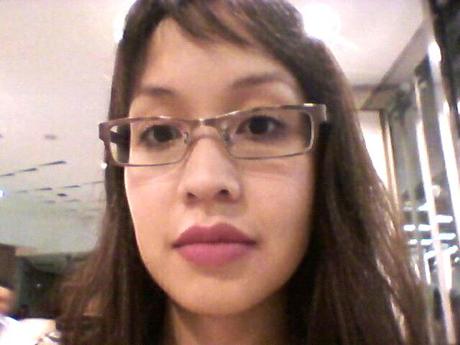 In fact at Sephora ION, to afford Mat 5, I turned away the Urban Decay NAKED Palette that was staring me in the face, they actually had stock and the UD shelf staff were telling me "…the NAKED palette is a golden ticket for every girl".  I knew I couldn't afford both that and Mat 5 so I stalled mesmerized for a moment, but in the end I knew my thoughts on the Naked palette have already reduced to this "I want one so I can say I have one…" so I set shallowness aside and stuck to my original pursuit, the lipstick that suited me perfectly.  The Urban Decay shelf staff at Sephora looked mildly bewildered after I returned the NAKED tester palette and said "No, thank you" even after they reassured me they had stock on hand.  It could have been because I may be the only girl in that area of Singapore who actually rejected a NAKED palette.  The mobile photo above represents how it looks indoors without daylight.  Now, I own Mat 5 and here I am wearing it in better quality photos.   Oh, my single white hair showed up here (yes, I've only had one white hair strand, since college and I asked them not to cover it up with color).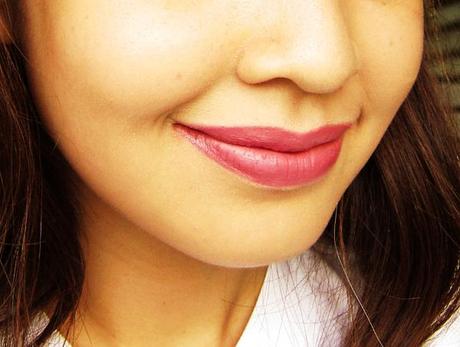 The shade Mat 5 is unique for me because I used to stay away from berry colors because of my big lips, I thought berry colors made me look stern and unattractive but this one is just right.  Mat 5 leans towards hot pink but is more sophisticated doesn't shout like it.  It looks a bit moist here because I put balm on my lips first before applying it, but this is a true matte.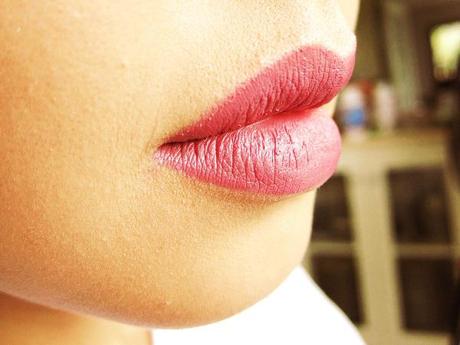 And next, here's Rouge Artist #23 my practically perfect nude, non-matte, creme lipstick.  What I like about this nude shade on me is it doesn't ERASE my lips.  It lightens them but in a flattering way and it looks even more gorgeous in the evening.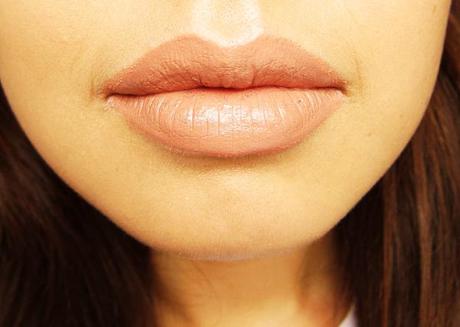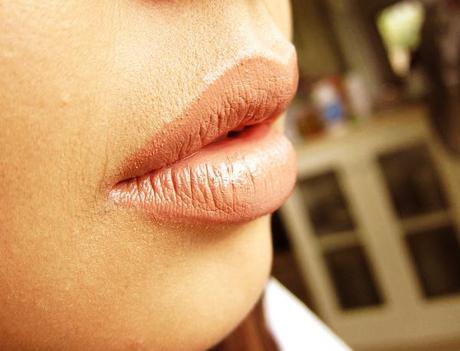 It's also nice to note again that because of the shape of the lipstick bullet tip of Rouge Artist lipsticks you can still achieve a "lined" look without lipliner as I did here for as long as that tapered tip stays true.  I don't recommend these lipsticks if you've got a tight budget but if you're looking for a luxurious lipstick that performs and has lots of unique wearable but also vibrant colors in the range (they even have a dark blue, black, and eggplant shade) Rouge Artist is wonderful.  Here's a shot of me and mom loitering around Singapore and me happily wearing Mat 5.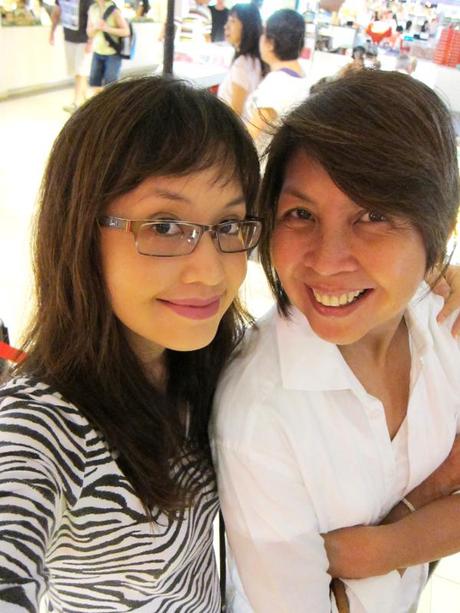 I believe Rouge Artist lipsticks ought to be available at Make Up For Ever in High Street at the Fort, I'm not sure if there's a price jump though.  MAC lipsticks for example cost Php300.00 more here than in the States, I hope that isn't the same case for these products.