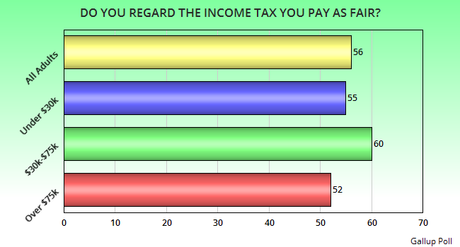 Today is the deadline for Americans to file their income tax returns (although around three-quarters of the population have already done it). And since most who wait until now usually owe money instead of get a refund, this is the time of year we hear the most complaining about paying taxes.
That brings up the question -- do Americans think the taxes they pay are fair. The Gallup Poll tried to answer that question in a new survey -- done between April 9th and 12th of a random national sample of 1,015 adults, with a margin of error of 4 points. The results are in the chart above.
It may surprise you, but a solid majority (56%) of Americans believe the income tax they pay is fair -- and that cuts across all income levels.