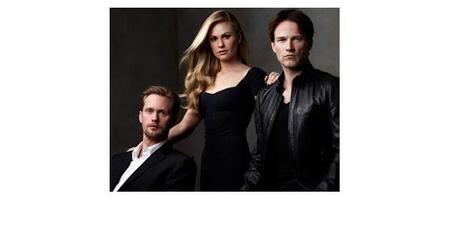 This just in from the King of Scoop, Michael Ausiello! Apparently, one of our True Blood characters who has thought of as straight until recently might be switching teams. In an article published on TV LinEditore this afternoon,  Ausiello says that this True Blood Season 4 Spoiler will have the character in question will be involved in a same sex romance this season:
"I'm not going to reveal any more clues about the character — who may or may not be featured in the above image — so as not to risk getting neck-raped by series creator Alan Ball. However, I will say that, having witnessed the big reveal, it doesn't feel gimmicky. In fact, after the initial shock wears off, I imagine you will do what I did and go, "Yeah. Makes total sense.""
Interesting…very interesting. So who do you think will be joining the other team with Lafayette (Nelsan Ellis), Jesus (Kevin Alejandro), and Pam (Kristin Bauer van Straten)? Is it someone above?  Put your guesses in the comments below!
Source: TV Line.com- "Spoiler Alert: True Blood Turns Straight Character Gay… But Which One?"
Image Credit: HBO, Inc.