Major cities and tourist destinations in South America
In South America there are hundreds of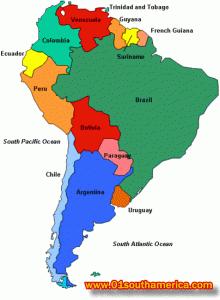 Map South America Political
small and not so small that are tourist destinations, from natural havens, such as Iguazú, the Galapagos Islands or Patagonia, bustling destination for sun and sand, as Mar de Plata, Sao Paulo, Rio de Janeiro, and Santa Marta, or destinations of active tourism and sports, including beaches of Chile or Brazil, and Isla Margarita.
South America is a continent with a significant and impressive number of great places to enjoy your vacation, sun and beach destinations, destinations, sports, nature destinations, adventure destinations, holiday destinations,
from extreme sports, etc.. Everything else can locate and find in this land, surrounded by the Atlantic and Pacific.
Margarita Island, Valparaiso, Paracuru, Lima, Barranquilla, Santa Marta, Caracas, Buenos Aires, Rio de Janeiro … These are just some of those enviable destinations, most notably in South America.
Many cities and tourist towns those found in South America, cities and municipalities in which to enjoy numerous attractions.
Come and see for yourself.

Rating: 5.0/
5
(1 vote cast)