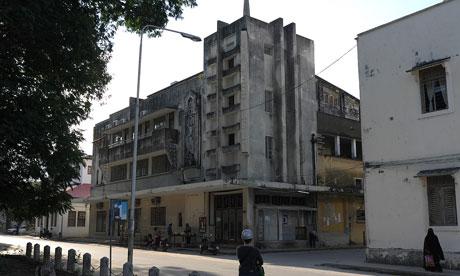 The Majestic was one of the first cinemas to be built in Africa. It stands, a beautiful example of art deco styling in Stone Town on the island of Zanzibar. A small but loyal audience still remain, watching the cinematic greats under the open sky visible through the collapsed roof.
The auditorium is described as the "Cinema Paradiso of Zanzibar" by Martin Mhando, director of the annual Zanzibar International Film Festival and the architect of a campaign to restore the Majestic.
British film-maker Nick Broomfield has pledged his support to the project after becoming inspired by the fans that are still trying to keep the cinema alive.
"Even though the cinema doesn't have a roof, people are using it and setting up their own projector. It probably has a lot of memories for them. It was the place where people went on dates and met their first girlfriends."
"Cinema is a shared experience. As a film-maker, the most wonderful thing about watching with a group of people is that you can tell which parts of the film and working and which aren't."
"It's a bonding thing, a way of holding a group of locality together. When I was growing up, everyone went to the cinema on Saturday morning to see the cartoons. It was social cohesion and that's one of the most exciting things that could happen with the Majestic in Zanzibar."
Broomfield will not only be running workshops at the film festival but is also primed to shoot his next feature film in Tanzania.
"East African film-making is going to grow and become more important…The Majestic is a wonderful piece of architecture…In terms of east African film-making community, the relevance of Zanzibar would be enshrined in the Majestic. It would be an encouragement for people to take cinema seriously."
After a fire in 1953 the current incarnation of the Majestic opened to show such classics as Gone With The Wind and Jaws. It was the economic slump of the 1980's precipitated the decline of film in Tanzania and the shutting down of all the cinemas except the Majestic.
Martin hopes that after a cost assessment the Majestic could be transformed into a large multipurpose venue. "I think if it was refurbished properly, people could go to movies there on a regular basis."
If you want to visit Tanzania then why not get in touch and find out more about our various projects.