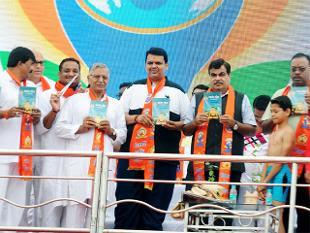 Maharashtra Chief Minister Mr. Devendra Fadnavis celebrates Yoga Day with thousands of people in Nagpur at Yashwant Stadium. After that he proceeded to the Nagpur Central Jail, where he encouraged prisoners to do yoga for getting rid of depression as well as improving their style of living.
Mr. Fadnavis acclaimed Prime Minister Narendra Modi for giving an international status to yoga and said it should be kept away from religion and politics. Fadnavis told reporters that, "Modiji had taken yoga to the United Nations and within a short span of three months, it was worldwide accepted. Today about 177 countries in the world are practicing yoga on this day".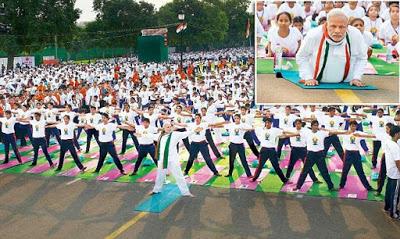 The Union Minister for Transport and Shipping Mr. Nitin Gadkari led the event cooperatively organised by Janardan Swamy Yogaabhyasi Mandal and Nagpur Municipal Corporation.
Mr. Fadanvis also said that, "Yoga was a gift of India to the world and in the days of hectic life style, the best form to release tension and live happily was to practice yoga".
When Uttarakhand opposition Chief Minister Harish Rawat asked Fadnavis about yoga, he said that "Yoga should be kept away from religion and politics".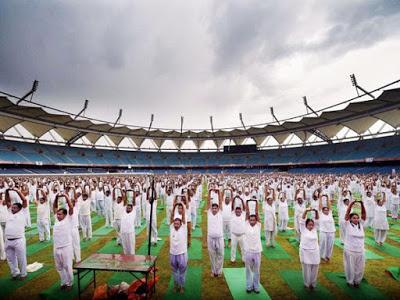 More than 20,000 participants involving recruits under training from the women's battalion at the Regional Police Training School (RPTS) and NCC cadets performed yoga on this event.
Minister for Social Justice Rajkumar Badole, Maharashtra Energy Minister Chandrashekhar Bawankule as well as City Mayor Praveen Datke with other city legislators were participated on this occasion.
The Chief Ministers who later visited the Wardha Road Central Jail then he practised yoga with some jail patients. Devendra Fadnavis also told that," Yoga will cure and purify them (inmates) who have committed some wrong doings. Yoga will certainly bring a sense of relief to these patients".