The Magnetic Termite Mounds in Litchfield National Park are my favorite piece of architecture in all of the Northern Territory. When post people think of termites they don't think of architectural geniuses, but that's exactly what magnetic termites are. Consider this, these tiny 4-6mm insects build gigantic mounds that are 2-4 meters high, up to 2.5 meters wide and 1 meter thick at the base.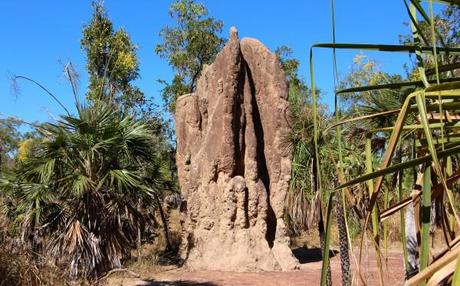 Magnetic termites are named for the way they build their mounds – always from north to south to minimize sun exposure. A lot goes into these mounds and they are even more elaborate inside, resembling the human equivalent of a very large castle. They're complete with arches, tunnels, chimneys, and insulation. There's even a nursery chamber for all the baby termites!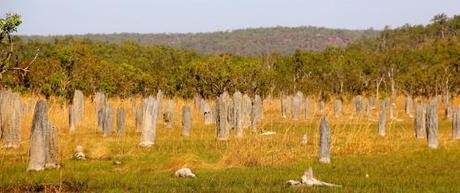 The Magnetic Termite Mounds in Lichtfield National Park resembles a graveyard at first with what appears to be high tombstones. Upon closer glance, you realize that these are not tombstones, but termite mounds. Perhaps the magnetic termites have their burial grounds elsewhere, or perhaps it's located within the mound itself. Either way, a visit to the Magnetic Termite Mounds left me feeling that I had visited an architectural masterpiece. Far more impressive than the Coliseum in Rome, or any other human architectural masterpiece, especially when you consider the ratio of the termite to the termite mound.
I still wouldn't say that I like termites per say, but I now have a lot more respect for these architectural geniuses!
Know Before You Go to the Magnetic Termite Mounds in Litchfield National Park:
Entrance is free and open 24 hours
The Magnetic Termite Mounds are viewed from a boardwalk that is wheelchair accessible. The two larger Cathedral Termite Mounds are accessible by a short well worn path.
You can visit at any time, but the roads may be flooded from December to March, so check before you go.
The Magnetic Termite Mounds are located 120km south from Darwin.
Visit Tourism Northern Territory's website for more info.