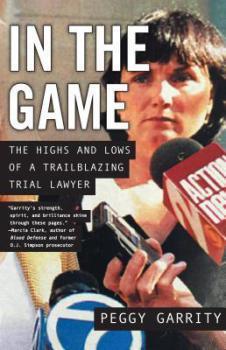 In the Game by Peggy Garrity
Published by She Writes Press on August 9th 2016
Pages: 252
Format: Paperback
Goodreads


Peggy Garrity began her life as a small-town Irish Catholic girl in the Midwest. Initially convent-bound, she became determined to escape a life like her mother's, and in the mid-1970s she reinvented herself as a high-profile Los Angeles trial lawyer and single mother of four. At a time when there were virtually no women solo practitioners, she represented David against Goliath–and risked it all in the process. Including compelling courtroom dramas featuring would-be presidential assassin Sara Jane Moore, celebrities Clint Eastwood, Sondra Locke, and Cheryl Tiegs, and some of Los Angeles's most notorious murder cases, In the Game is the groundbreaking story of a thrill-seeking solo trial lawyer–and single mother–who beat the odds at a time when working mothers, especially those in male-dominated professions like the law, faced the gauntlet of discrimination.
I joined in on the "Magic of Memoir Tour" with BookSparks (#MagicOfMemoir), and this book, In the Game: The Highs and Lows of a Trailblazing Trial Lawyer by Peggy Garrity was one of the first books I read.
In the Game is a very compelling book about Peggy Garrity, an Irish Catholic girl who grew up in the Midwest. Despite the fact that she was "convent bound", she knew she didn't want to live the same kind of life as her mother so she was able to reinvent herself.  She arrived in Los Angeles and became a high-profile trial lawyer and single mother of four. Her first case was of a high-profile type was when she represented Sara Jane Moore, who was a convicted presidential assassin.
It's a story that's heard often, but not always with a good ending – a regular flawed person who struggles with life who is determined to go against the odds and make it big despite the cards dealt against her. The story includes the good and the bad, so readers can identify with the reality of the facts.  She shares struggle with the priest who was a a predator before they were identified as such, to a legal profession that was dominated by men back in the 70's and 80's.
Ms. Garrity is an inspiration to women everywhere and I really admire her sharing her story for those walking the same walk in this world. She gives readers a glimpse into the life of working in the legal field and dealing with murders and other horrible criminals, while most of the time being the only woman in the courtroom.  To soften the horror of what that job can sometimes look like, Ms. Garrity adds humor in her story spiced with compassion so that readers can relate.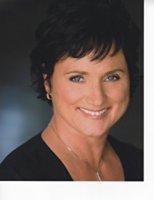 Over the years Garrity won multi-million dollar verdicts and settlements against IBM, Southern Pacific Railroad, the Getty Museum, Warner Brothers and Clint Eastwood, and many others. Her cases are featured on 60 Minutes, in the Wall Street Journal, on the cover of the New York Times Sunday Magazine, and inPeople Magazine as well as other domestic and European publications.
She is semi-retired and takes only a few select cases and is now a certified yoga and meditation instructor who teaches small groups of women in Santa Monica and Malibu. The LA Times published her op-ed about the Halliburton rape cases, "About that Day In Court," in 2008. Garrity is a doting grandmother of six.
 You can find her on her Official Website HERE! 

~ ~ ~ ~ ~ ~ ~ ~ ~ ~ ~ ~ ~ ~ ~ ~ ~ ~

It would be great if you would stay connected with me!! You can follow me on Twitter @DebiL1611, like me on Facebook at 2014 and Beyond, circle me on Google+, follow me on Tumblr, Instagram and Bloglovin', subscribe on YouTube, or connect with me on LinkedIn and Pinterest.

Please make sure to visit my homepage and subscribe to my blog for more great posts on running, fitness and lifestyle topics as well as food, product, music and book reviews, and more!