Thanks to the availability of student tickets for Lincoln Center's summer festival events, I was able to treat myself to Peter Brook's luminous production of "A Magic Flute," Mozart's opera pared down and opened up into a fable so engaging, the strength of its ideas may not fully hit you until the end. Here there is no chorus, and no orchestra, but the central drama of Mozart's opera is intact. Additional dialog in French replaced some of the
Sprechstimme
 and changed and expanded other parts of it (the piece was originally put on in Paris.) Two actors with speaking roles, William Nadylam and Abdou Ouologuem, guide the characters through their trials and provide explanation where necessary. These disparate elements came together to make elegant and moving theater, with a simple space well used (production video
here
.)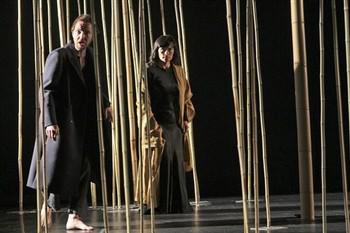 Raphael Bremard (Monostatos) and Malia Bendi-Merad (Queen of the Night)
Brook took the drama of the piece seriously, without letting it become heavy-handed, and the audience responded well. Either the audience was liberated by the unfamiliar context from a mistaken notion that complete silence is always necessary in the opera house, or quite a number of them were experiencing Mozart's jokes for the first time. It made a refreshing change to not be the only one laughing (except once, when according to my companion the surtitles weren't funny at all. But Papageno was!) Brook's solution to the most notorious dramatic problems of
Magic Flute
was to omit or transform them: it is Monostatos' soul that is black, and the Queen of the Night's crime is not to be a woman in power, but to be proud and hypocritical in her use of that power. And when these are corrected, she participates, reconciled, in the society 
wo Mensch den Menschen liebt
.
The singers, all strikingly lyrical, created portrayals that avoided caricature and worked admirably together as an ensemble. Some German was accented, and the French wasn't, but they were perfectly comprehensible in both languages. Raphael Brémard's Monostatos was more ambitious functionary than evil henchman, and he handled his stage business well. At its most rapid his patter got a little muddy, but he sang expressively. Dima Bawab made a delightful Papagena, gleefully squawky in her interpolated song (Mozart's setting of "Die Alte,") and sweetly pert in her duet with Papageno. As Sarastro, Luc Bertin-Hugault glowed with benevolence, and his warm lyric bass glowed too.
Malia Bendi-Merad
 was a charismatic Queen of the Night, and the chiseled precision of her coloratura drew from the audience a reaction just short of an audible gasp. I could have wished for more legato phrasing from Tamino and Pamina. However, Jeanne Zaepffel sang sweetly and gave Pamina a very moving dignity; Adrian Strooper was convincing both in confusion and steadfastness. He didn't get to sing "O ew'ge Nacht," but the lightly-spun "Dies Bildnis" was transparently besotted.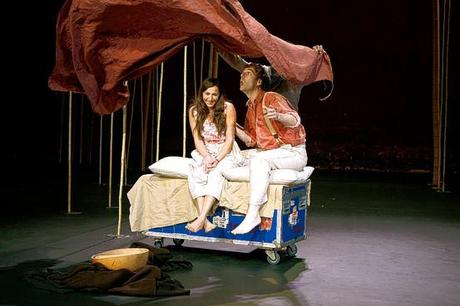 Bawab and Dolié; (c) Pascal Victor
I have saved myself a paragraph for the Papageno of Thomas Dolié. I'm sure I'm not alone in finding Mozart's
Naturmensch
 a more charming, because more multifaceted protagonist than his voyaging prince. Dolié's was a performance of apparently boundless energy, finely sung and irresistibly hilarious. Dolié has command of a very pleasing lyric baritone, and comic timing which was not only impeccable, but inspired.  His silent glances, or resigned shrugs, could be as eloquent as the spontaneity with which he infused the dialogues. And this worked, for me, because I felt that--in fine Mozartean spirit--this comedy was supported by a genuine sweetness, and was leavened with the moments of reflection and compassion which make Papageno such a real-seeming character, for all his antics. Dolié sang with fine phrasing and emotional nuance, and I was thoroughly charmed.
Tickets are still available for "A Magic Flute," which runs through July 17 with alternating casts.