TAKEAWAY: Some of these magazine apps are, indeed, page turners, except that, with the tablet, users want to interact.  And as for headlines: it is all about me, you, we and ours.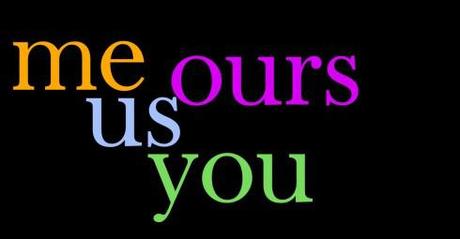 It is all about first person pronouns in these magazine tablet editions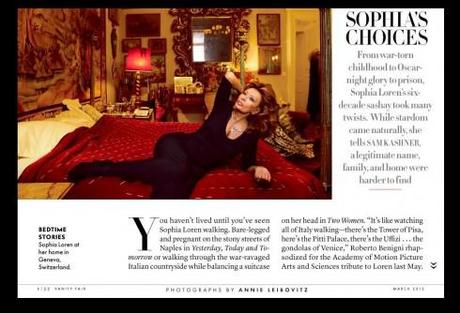 Here is the original treatment, just out of the print edition of Vanity Fair, one presumes.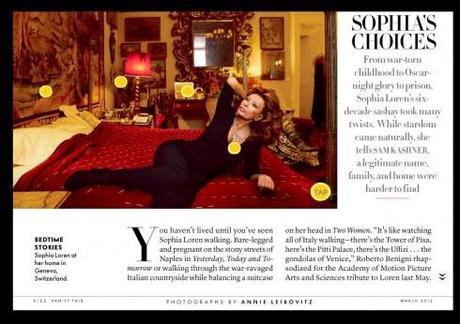 But this is the tablet edition: why not exploit that photo for all its storytelling potential?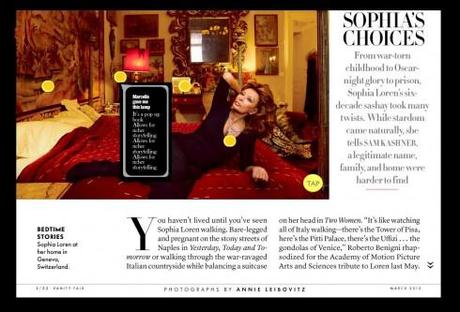 Sophia: who gave you that lamp right behind you?  What's the story behind it?

As I have prepared for a workshop today with the magazine division of the Gulf News of Dubai, I have had three distinct thoughts to share with the participants, and, here, with you:
1. It seems that the trend for magazine apps is to write dozens and dozens of headlines emphasizing the first person: it is me, you, I, us , we every other story.  Yes, we live in the midst of a social media lollapalooza, where every sentence starts with "I" or "We", and maybe editors have figured out that the me generation is not likely to vanish soon, so let's say "Our Finds," "My Stuff," "We take you to the Maldives", etc.
2.While magazine apps have made great progress in how they translate print products
to the tablet, I see more "turn the pages and static" than "pop up and surprise me" examples.  Indeed, I know it is not easy to get those pop up moments in there, but I also admit that my finger comes to the tablet screen with a voracious appetite for that something that makes me happy to have an iPad.  Page turning is OK, but not when it is all you do.
Take for example, the iconic Vanity Fair magazine, one that I have read with gusto for many years, and still do.  I had never sampled its tablet edition.  Disappointment comes to mind: it is a page turner, but so is the printed edition, with good stories by great and famous writers who never fail to titillate and to entertain.
In its tablet edition, or at least the February 2012 one, it is a dose of static renditions.
I quickly tried to provide at least a simple pop up/mini story surprise with this image of the great Sophia Loren, lying on the couch, as sensual as ever (what does this woman eat to fight off the ravages of mounting decades?).  There she is, surrounded by so many interesting items.
Why not do mini stories? I made one up but I am sure that lamp behind her has a story: my mini story claims that "Marcello gave it to me" (notice that I included the prerequisite ME in the headline).
This is what the tablet is for: milk photos for more than that lazy caption.  Tell me more, says the user.  Let me click here and there and over there too, who is that on that frame behind Sophia?
Of course, if it is finger/user friendly, it is not editor friendly: someone has to get all those stories from Sophia.
The demands of tablet journalism are much much bigger than the platforms themselves.
We need to train a generation of editors who can write the long story and the mini story, who look at images and think dozens of possibilities.
Storytelling is about to get better.  No room for the lazy and contented.
Many opportunities for the curious.

Navigation is the most improved area of all the magazine apps that I reviewed in preparation for the workshop, a good thing, since functionality is what users want.
In several of the magazines I reviewed, there is both the pop up vertical nav, as well as the horizontal carrousel at the bottom of the screen that is becoming so popular and intuitive with most tablet users.
By the way, in terms of pop ups that surprise, but do not overwhelm, take a look at Martha Stewart's Living Magazine app.  This one continues to improve, to surprise and to do it right.
As Martha would say, it is a good thing.
TheMarioBlog post #949