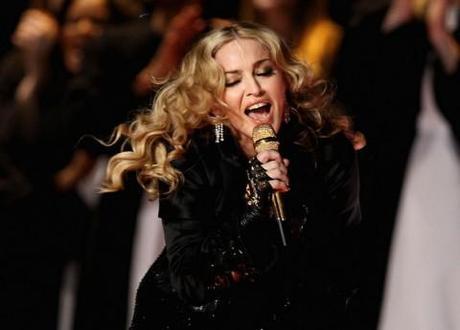 Madonna performs at the Super Bowl. Photo credit: Beacon Radio
Her Madgesty is back! Queen of Pop Madonna has released her twelfth studio album, MDNA. But the 53-year-old singer now has to compete against a new generation; with Lady Gaga, Rihanna and Katy Perry storming the charts, can Madonna get into the groove? Or is it time to take a bow?
On chart position alone, it looks like the former is true, with MDNA debuting at number one in Britain. The Telegraph pointed out that this makes Madonna the most successful solo artist ever in the UK album charts, beating off competition from Elvis Presley. However, 'Give Me All Your Luvin'', the first single from the album, limped to a disappointing 37 in the singles chart.
Same old, same old. "MDNA turns out to be just another Madonna album," wrote Alexis Petridis in The Guardian. According to Petridis, there are several high points, including 'Falling Free', "an Orbit-helmed, beautifully turned ballad, subtly decorated with strings and soft electronics". But for the most point, the album is merely ok: "The rest is neither the return to form it thinks it is, nor the disaster Madonna should rightly have delivered at some stage in her musical career but never quite has."
Mixed bag. "Madonna had sacrificed her position ahead of the pop curve for timeliness with mixed commercial results," said Robert Leedham on Drowned in Sound, arguing that the singer's best albums come when she sticks to one producer, rather than the "hotchpot" who have worked on MDNA. "It's Madonna's conservatism that drags her latest record down to the status of a ragtag collection. Sure, everyone will be able to pick out a favorite track but if the Queen of Pop can't stick to a singular vision for her album then who else is going to?" Leedham wrote.
Lack of ambition. The most annoying thing about MDNA is "the winky-winky see-what-I-did-there way she still assumes she's shocking and challenging us and the constant, self-satisfied nods to her own past", said Emily Mackay at The Quietus. "For someone who's already picked up and referenced the media's obsession with her ability to remake and remodel herself in the name of her 2004 Reinvention World Tour, Madonna's kind of made her bed to lie in; coasting isn't enough."
Return to form. "MDNA is quite possibly Madonna's best album in over a decade," according to Enio Chiola at PopMatters. Chiola said the album is far better than the two "lackluster singles" released so far would suggest, and argued that MDNA gives no indication of an iconic artist resting on her laurels. "What MDNA does is establish the resurgence of Madonna being the coolest bitch in the room, not because of what she's done, but because of what she's doing," Chiola wrote.