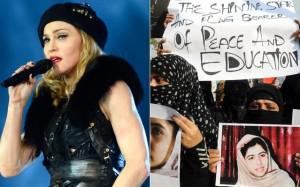 Madonna dedicated a song to Malala Yousafzai at concert
American music diva Madonna has dedicated a song to Malala Yousafzai, a teenage Pakistani child activist who is fighting for life after being shot by the Taliban in Swat valley on Tuesday.
Madonna stopped her performance in concert in Staples Center, Los Angeles on Thursday and paid tribute to the 14-year-old innocent girl saying she has scripted a new example of intrepidity and braveness.
"This song is for you, Malala," Madonna said and then went on to sing "Human nature."
According to the Hollywood Reporter, Madonna cried when she heard about the shooting of Malala Yousafzai, who earned the global eminence for her work to promote the schooling of girls in her hometown Swat during the Taliban oppression in the Valley.
"The 14-year-old schoolgirl who wrote a blog about going to school. The Taliban stopped her bus and shot her. Do you realize how sick that is?"
"Support education! Support women!" shouted Madonna, who has been a big supporter of female education in Malawi, the African country from which she adopted her children Mercy and David.
Later, during the portion of the show where she performed a striptease, Madonna displayed the word "Malala" written on her back.
Malala Yousafzai was on her way from her school in Mingroa when breaded men stopped her bus and shot her and two other girls.
At just 11-years-old, Malala Yousafzai started publishing a diary for the BBC about the hostile situation of Swat during the military operation and unveiled the atrocities committed by the Taliban. She was honoured with International Children's Peace Prize by Advocacy Group Kids Rights Foundation in 2011.