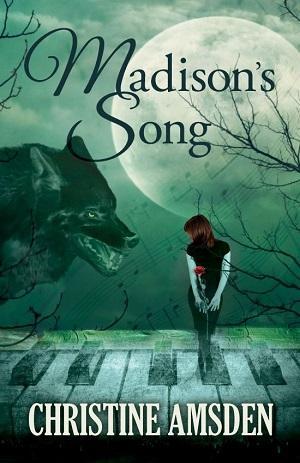 Her voice is enchanting; his soul is black...
Madison Carter has been terrified of Scott Lee since the night he saved her from an evil sorcerer – then melted into a man-eating monster before her eyes. The werewolf is a slave to the moon, but Madison's nightmares are not.Despite her fears, when Madison's brother, Clinton, is bitten by a werewolf, she knows there is only one man who can help. A man who frightens her all the more because even in her nightmares, he also thrills her.Together for the first time since that terrible night, Scott and Madison drive to Clinton's home only to discover that he's vanished. Frantic now, Madison must overcome her fears and uncover hidden strengths if she hopes to save him. And she's not the only one fighting inner demons. Scott's are literal, and they have him convinced that he will never deserve the woman he loves.*Stand-alone companion to the Cassie Scot series
Buy Links
·
Amazon
·
Barnes and Noble
Paperback Release: October 15
Audiobook Release: TBA

Excerpt
The first police car screamed into the lot, skidding to a halt so close to the front of the truck that it was a miracle it hadn't hit. They were caught. Madison glanced at Scott for instructions, but his eyes were closed and he was muttering something under his breath – casting a spell.
Two uniformed officers spilled from their car, but they didn't come towards them. Instead, they went for Mick and his dad, cutting them off before they could pile into a rusty Toyota. Then another squad car screamed into the lot, ejecting two more officers who went into the building.
"Go," Scott murmured.
She barely heard him, but she obeyed. She put the truck in reverse, carefully backed away from the police car trying to kiss their bumper, then threw the truck into drive and peeled away. Madison kept glancing at the mirrors, even though the angles were wrong, looking behind them for the cars that would surely give chase. They didn't. The police officers acted as if they couldn't even see them.
It wasn't just the policemen who couldn't see them, as Madison discovered when she pulled into traffic. She screamed and slammed on the brakes, barely missing a collision when a car changed lines directly into their side.
"Are we invisible?" Madison asked.
Review
5 STARS
I loved this book.  Madison is a sweet heroine with a steel backbone when the chips are down.  Her self-confidence took a beating during her formative years but with the help of Scott and Cassie, Madison is on the verge of realizing her magic is stronger than she ever knew. 
When her brother, Clinton is bitten, then abducted, then changed into an abomination, Madison is the only person who feels he can be salvaged.  Scott is skeptical but will do practically anything within his power to help her save her brother – even though the consequences of doing so may cause problems for the pack.
The twists within the story were well-envisioned.  I absolutely loved the ending, and I am so pleased to have been selected as an early reader. This book was provided to me in exchange for my honest review.Reviewed by Laurie-J
The Cassie Scot Series
Cassie Scot: ParaNormal Detective (Cassie Scot #1)
·
Barnes and Noble
·
Amazon
·
Audible.com
Secrets and Lies (Cassie Scot #2)
·
Barnes and Noble
·
Amazon
·
Audible
Mind Games (Cassie Scot #3)
·
Amazon
·
Barnes and Noble
t
·
Audible
Stolen Dreams (Cassie Scot #4)
·
Amazon
·
Barnes and Noble
·
Audible
About the Author
Christine Amsden has been writing fantasy and science fiction for as long as she can remember. She loves to write and it is her dream that others will be inspired by this love and by her stories. Speculative fiction is fun, magical, and imaginative but great speculative fiction is about real people defining themselves through extraordinary situations. Christine writes primarily about people and relationships, and it is in this way that she strives to make science fiction and fantasy meaningful for everyone.
At the age of 16, Christine was diagnosed with Stargardt's Disease, a condition that effects the retina and causes a loss of central vision. She is now legally blind, but has not let this slow her down or get in the way of her dreams. In addition to writing, Christine teaches workshops on writing at Savvy Authors. She also does some freelance editing work. Christine currently lives in the Kansas City area with her husband, Austin, who has been her biggest fan and the key to her success. They have two beautiful children.
Social Media Links:
·
•
Website
·
•
Newsletter
·
•
Blog
·
•
Facebook
·
•
Twitter
·
•
Goodreads
·
•
Google+
Giveaway

a Rafflecopter giveaway