I realized the other day that there are certain feelings and experiences that only book lovers can understand, but the words to explain these things simply don't exist in the English language. So, I've taken it upon myself to invent some new words for book-lovers. Each month, on the last Monday of the month, I'll post a new word.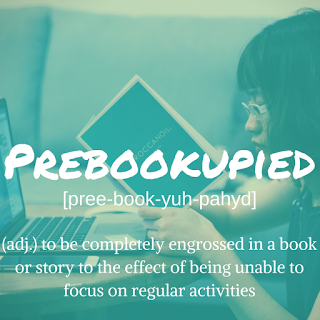 Prebookupied
[pree-book-yuh-pahyd]
adjective.
1. To be completely engrossed in a book or story to the effect of being unable to focus on regular activities.
"I was so prebookupied this weekend that I didn't get any of my chores done around the house."
This is a word I find myself needing all the time. "I was prebookupied," is basically my excuse for why I didn't finish pretty much everything else that I'm responsible for in my life. Didn't do the dishes - I was prebookupied. Didn't go grocery shopping - I was prebookupied. Didn't hear a word that my husband just said to me - I was prebookupied. Anyone who's ever been sucked into a good book knows how easy it can be to put off all the other things they're supposed to be doing for the sake of "one more chapter."
So, what do you think? Is prebookupied a useful term? Have a good story of a time when you did't get something done because you were prebookupied? Comment below!