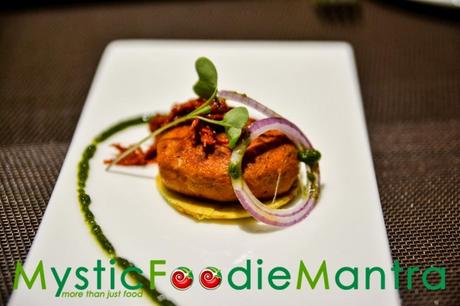 mutton galouti on the bed of varqi paratha
When we decided to start our Mumbai review, we wanted to start with a  bang!!
Thanks to my friend
Zorawar Kalra
, MD of
Massive Restaurants
that owns the brand
Masala Library
and
Made in Punjab
! He invited us to try their Made in Punjab at, Inorbit Mall, Malad. I reached Mumbai on Saturday afternoon and was eagerly waiting  to visit their malad restaurant. We reached on time and were warmly greeted  by the staff and seated on our reserved space.
Similar to what I had seen at Gurgaon outlet, this place too nice interieors, bright colors around and very courteous staff. Restaurant was almost full with people waiting outside that indicated that this place is doing good.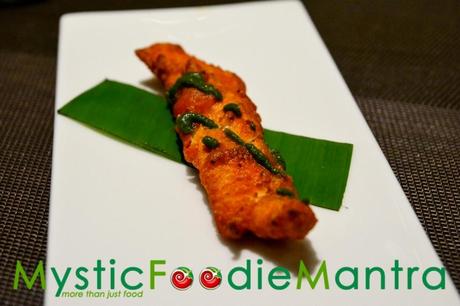 amritsari fish tikka
We decided to follow chef's recommendations
We started with
Golgappa Shots
  - Crispy and filled with potato and sweet\sour taste – Traditional panipuri! Next was served palak patta chat – perfect balance of ingredients, crunchy pakak garnished with sev and anar kernels(pomengrate). It was an exotic chaat and had a tantalizing taste.
We enjoyed
mutton galouti
on the bed of
varqi paratha
and also feasted on
amritsari fish tikka
. Mutton galaoti was super soft, succulent, melted in mouth, fragrant and the best balance of spices. Varqi parantha along with this aromatic and flavorsome galaoti kebab was too satisfying!  The Fish tikka was the pick of the day for me. A great appetizer that complimented well with the meal. Lassi that I had along with it was refreshing, heavy, think,rich and creamy. Peda from Mathura added more to the taste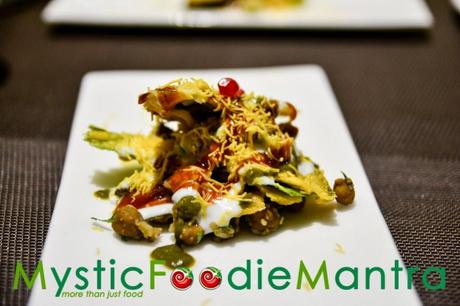 crispy palak patta chat
For the main course we were served
butter chicken
,
MIP special mutton curry
and assorted bread along with special prawn balchao and keema balchao kulcha.I am very picky specifically around Butter chicken, given that I cook at home and my friends and family love it. However the butter chicken that I had at MIP, made me realize that if I had not tasted their butter chicken, I would have missed life's best butter chicken. I have insisted for its recipe, given my romance with this dish that has been for ages!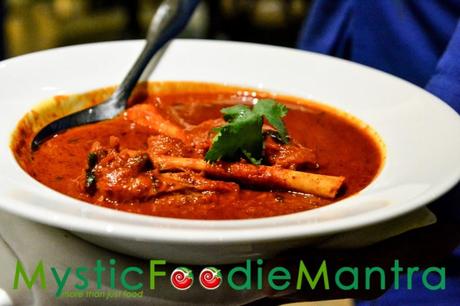 MIP special mutton curry
Mutton curry was simply delicious, meat falling of the bones, excellent in taste . We really enjoyed our meal at MIP. MIP meal will not be complete without trying out their famous
Jalebi  (along with rabri)
. Super crisp, thin and delicious that completed our great meal.
Thanks to MIP Mumbai team and Zorawar kalra for making our dinner memorable and truly satisfying!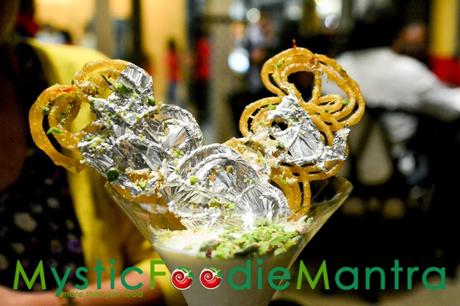 and the famous jalebi with rabri