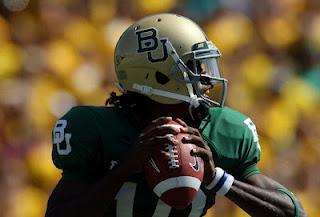 Photo: Getty Images - Ronald Martinez 
- Troy Ballard
Not only will Baylor Bears phenomena Robert Griffin III grace the cover of NCAA 13, but he also has the possibility of being the highest overall rookie in Madden history.
According to Madden's ring-leader of player ratings, Donny Moore, RG3 has
impressed the team
, and could break the rookie-rating barrier.
Moore went as far to claim, "
we could be looking at the best rookie in the history of Madden
," during an interview with ESPN.
Bold words from Moore, who has been heavily criticized for overvaluing players in Madden. However, in this case, EA may have hit the nail on the head with RG3 bringing in the highest rookie rating in Madden history.
The Heisman Trophy winner is the second most highly touted player in the 2012 NFL Draft, immediately behind Stanford Cardinal quarterback, Andrew Luck. Because of RG3's value, a bidding war has begun for the St. Louis Rams second overall pick.
Griffin III's explosiveness, play making ability, flat-line speed, and passion is on display every time he takes the field. He was able to carry a Baylor team that had little surrounding talent, especially on defense, and turn around the school's football program.
As gamers drool at the idea of playing with RG3, one can't help but snap back and imagine Michael Vick from the infamous Madden '04. There are few words that could describe what was possible with Vick in that year's game -- he shredded defenses with the accuracy of Tom Brady, and had the running ability of a young Adrian Peterson in the open field.
Vick was off the grid. He was off the level of Madden.
We love RG3 as much as the next gamer, but Donny, we are begging -- don't allow Griffin III to become the next Vick of '04. He's human. I know it's hard to realize, but there's a statue of limitations that must be put into place when designing RG3.
Does he still deserve the highest overall rating this year, and of all Madden's past? No doubt.
Be sure to follow Beard and Stache on Twitter @BeardAndStache, and also Troy @TroyBallards, Like our Facebook page HERE!