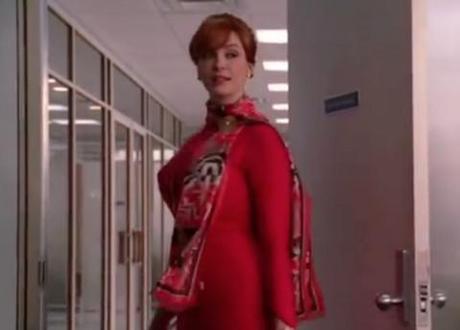 Joan Harris AKA Christina Hendricks, Mad Men Season Five
Mad Men has returned to US screens after a 18-month break that left fans fearing for the show's future. Series creator Matthew Weiner was locked in a battle with production company Lionsgate and American channel AMC over his contract. But with negotiations concluded, Don Draper, Betty, Joan Harris and chums are back doing what they do best.
Or are they? Not every critic was wowed by the opening double episode of the advertising agency-set show. With the fifth series of Mad Men set to debut in the UK on Sky Atlantic on Tuesday evening, set in 1966, are British fans in for a treat, or has the nostalgia-fest finally past its sell-by date? Warning: there may be spoilers ahead.
The recaps. Writing at MTV, Josh Wigler provided a handy recap of previous Mad Men events for fans going into series five with hazy memories. Key points are that agency partner and identity thief Dom Draper had just proposed to his secretary, Megan, Joan Holloway was pregnant by old flame Roger Sterling and Dom's ex-wife Betty was unhappy with her new husband. If these names mean nothing to you, it may be time to buy the series one box set and start from there – or check out the comprehensive episode-by-episode Television Without Pity recaps.
Watch the Mad Men Season Five teaser trailer below.
A hangover. "The season five premiere ranged this way and that, as languorously as a long Madison Avenue Sixties lunch of Martinis and oysters, and just like one of those lunches it left a strange, dull hangover," wrote Tim Teeman in The Times (£). Teeman praised the 1966 styling, particularly the costumes, but hoped that along with the gorgeous costumes, the next episode would include "the precise verbal and emotional upper-cuts that, beyond its skinny suits and baby doll nighties, mark the real style of Mad Men".
The Mad Men opening double episode was the most-watched in the show's history – but as The Atlantic Wire pointed out, the series is still not exactly a "ratings monster," trailing shows such as The Walking Dead and American Idol.
Not great, but a welcome return. James Poniewozick wrote at Time that opening episode 'A Little Kiss' wasn't great, but that this has been true of most Mad Men return episodes. Ponwiewozick argued that the introduction of a civil rights storyline felt rather stilted: "The story is not really going to work until there's a new black character(s) who feels like part of Mad Men's creative world and voice, not a newspaper clipping." But the increased focus on Megan points to interesting times ahead, said Poniewozick, as she was an unknown quantity in series four but now seems likely to become a catalyst for change in the Mad Men world.
Mad Men fatigue? "The two-hour premiere feels long and is a little dreary, repeating many of the same themes that were so new and unexpected when the series first began," said Alessandra Stanley at The New York Times. "There are only so many jokes to be had from an adult's cradling an infant in one hand and a cigarette in the other." Stanley suggested that part of the problem is that Mad Men has spawned so many imitators and derivations, such as TV series Pan Am, coffee table books and fashion. "It's not fair, really, but a show that became a hit because it seemed so original has been so co-opted that it now looks like a cliché," Stanley said.
"Mad Men's long-awaited season five premiere sparked more discussion in the social sphere than any other premiere in 2012, with 106,000 comments from 64,000 users," said Zoe Fox at Mashable.
Hurray for Mad Men! Admittedly, the first episode wasn't "groundbreaking", said John Swansburg at Slate, but it was perfectly pitched to long-term fans: "We Mad Men fanatics were desperate just to spend some quality time with the gang again. We didn't need ominous plot developments, looming historical events, or lawn equipment mishaps. We needed to put on our party plaid and head over to Don's new apartment for drinks and dancing."