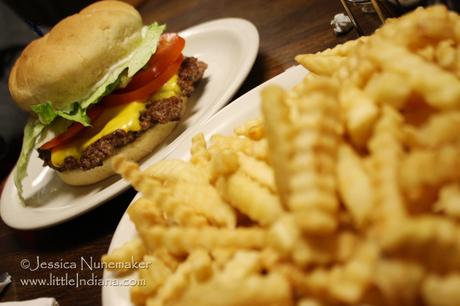 Lynn's Restaurant in Roann, Indiana: Good Food and Plenty of It!
Lynn's Restaurant in Roann, Indiana has been a staple there for more than a few years! This mom and pop restaurant has been serving the small Indiana town since the 1950′s. That tells you something right there!
The waitress was so friendly and let us know that fish, burgers, and grilled chicken are pretty popular. Hubs ordered the Big Angus Burger and I got the Patty Melt. Our waitress mentioned that we might want to share the side of fries because it's so big.
Now, I don't know about you, but when I hear that there are generous portions, I take it with a grain of salt. This time? Totally on target!
As you can see from the photo of Lynn's Restaurant, that is what I call a great serving! Hubs loved his Big Angus Burger, but my Patty Melt? Absolute perfection! Just ask hubs–I've been craving one for the past week and, while I know I am driving him crazy about it, I can't help it! It was so good I want another!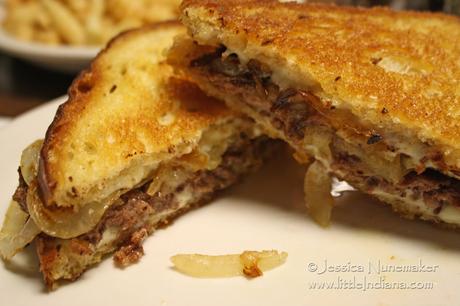 Lynn's Restaurant in Roann, Indiana: Perfect Patty Melt
Hubs couldn't finish his burger. It was a great hunk of meat and as to the giant plate of fries? We tried. We really did–but we couldn't get those finished either! It's not very often you walk away full and with some leftover.
There's more than a neat Indiana covered bridge and old mill in Roann, Indiana. That's the whole point of little Indiana: uncovering these great little places that, unless you live there, you probably don't know about!
Lynn's Restaurant gets five stars from me! It's just what you expect from a mom and pop restaurant: great food, great portions, and great service.
You can see Lynn's Restaurant and more of Roann, Indiana on my Flickr photostream. Stay tuned for more from Lynn's!
Lynn's Restaurant
170 North Chippewa Street
Roann, IN 46974
765.833.5191

View Larger Map
little Indiana: Where to Stay, Play, and Eat in Small Towns in Indiana. Discovering Indiana's best small towns! Now get little Indiana on your Kindle.
New! Offering affordable online advertising for your small Indiana business! little Indiana Businesses is the online presence that you've been looking for.