Apologies for the lack of posts this week but I've fallen ill and just haven't been able to keep up with my blogging schedule but I'll hopefully be back on track next week. Today I'm sharing my haul from Luxola! This was the first time I'd shopped from the online beauty retailer and I was very impressed.
I placed my order on Tuesday night and it landed on my doorstep today, on Friday which is incredibly fast, considering it has been shipped all the way from Singapore! All the products were packed in bubble wrap and arrived in one piece but my eyeshadow quad did have a small chip in it but nothing too major at all.
Here's what I picked up: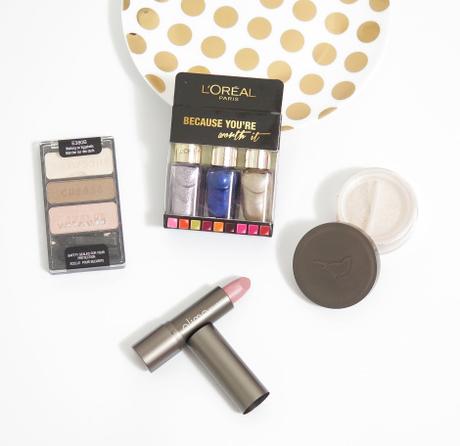 Wet n Wild Color Icon Eyeshadow Trio in 'Walking on EggShells' – I've heard so many amazing things about this eyeshadow trio and how the shades and formula are comparable to MAC eyeshadows and with Wet n Wild being so hard to get here in Aus, I had to get this trio to try it out. As a neutral eyeshadow lover, these 3 shades are exactly what I love.
L'Oreal Paris 'Because You're Worth It' Triple Color Riche Nail Polish Pack in 'Shimmer' – I'm a huge fan of the Color Riche nail polishes and I've owned so many shades in the past so when I stumbled across this trio at such a great price, I chose to pick it up. I really like the first and third shade which are neutral, shimmery but still interesting though I wish they included a more neutral and complimentary shade to finish the trio as I'm not a blue nail polish wearer.
Alima Pure Highlighter in 'Lumina' & Alima Pure Velvet Lipstick in 'Lucy' – Alima Pure is mineral makeup brand and this highlighter and lipstick looked and sounded gorgeous on the website.
Have you tried any of the above products?


| Bloglovin' | Facebook | Twitter | Instagram |
*I was kindly provided with a gift voucher from Luxola. I personally chose to blog about the haul. As with all my posts, it is 100% honest and of my own personal opinion. For more information, visit my Disclosure Policy.