No One Knows What It's Like to Be the Bad Man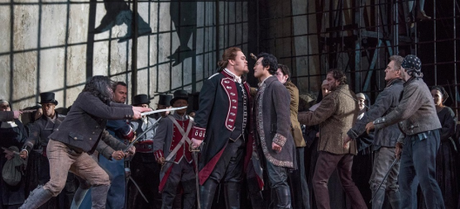 Quinn Kelsey as bad guy Count di Luna (L.) faces off against Yonghoon Lee (Manrico) in Act II, scene ii, of Verdi's
Il Trovatore
at the Met
A little less than half a century separates Puccini's Tosca from Verdi's Il Trovatore. And there could not be two more dissimilar works in the repertoire than these. With that out of the way, the above operas, considered standards by just about everyone, do have one thing in common: a magnificent villain.
Ah, yes, the villain, the proverbial "bad guy." As the old Who song goes, "No one knows what it's like to be the bad man." But what motivates these fiends? What gets them to do what they do? And is everything they do really all that bad?
Granted, there are countless bad women around. In fact, opera is littered with a wide variety of seducers, gypsies, jealous princesses, tempestuous divas, and evil queens. Mezzos and contraltos are the primary recipients of this category, but sopranos can be just as mean and ornery as their lower-voiced counterparts. Still, why are most male villains given to baritones, while the so-called "good guys" are invariably tenors?
These are primarily the province of the composer, but certain caveats apply in casting for these parts, i.e., a few operatic rules of thumb to remember. Take, for instance, the notion that higher voices tend to be sympathetic to listeners' ears, while lower ones have the air of authority about them. In opera, that authority can be used for either honorable or deceitful purposes, hence the manly sound of a baritone. Basses also tend to be authority figures: fathers, priests, judges, gods, even demons. And yes, they too suffer the indignity of villainy.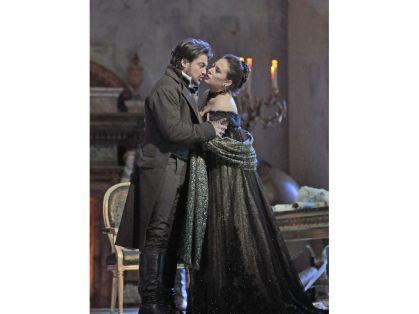 Vittorio Grigolo, as the painter Cavaradossi & Sonya Yoncheva as Tosca (Ken Howard/Metropolitan Opera via AP)
Nevertheless, when people think of treachery in opera, that designation falls to the baritone of the species. But what inspires Scarpia to be the most despised character in all of Puccini? The answer has been provided by Sardou, the author of the verbose five-act French play on which Tosca is based. We know from the playwright that Baron Vitellio Scarpia is a quasi-historical figure — a nobleman and a Sicilian by birth; and a successful keeper of the peace, if also an especially ruthless one.
According to the inventive Sardou, whose philosophy was to provide the public with "the well-made play," Scarpia was charged with arresting the aristocratic Cesare Angelotti, who had a brief fling with a young girl he met in Hyde Park, London, of all places. Much later, that girl turned out to be Lady Emma Hamilton, the wife of the British Ambassador to Naples. And Lady Hamilton had close ties to Queen Caroline of Naples, Scarpia's patroness.
In order to cover up her friend's youthful indiscretion, the Queen ordered the chief of police to keep Angelotti under lock and key. Not only was Angelotti a potential squealer, he was also violently opposed to the monarchy, having been deposed as Consul to the short-lived Roman Republic (Cavaradossi spells this out early in Puccini's Act I). His escape from prison adds a high degree of immediacy to Scarpia's job of recapturing Angelotti or face humiliation and loss of his authority.
As for Cavaradossi, he too was sympathetic to and in league with the revolutionaries of his day, and therefore bore close watching. His association with Angelotti, the fact he was painting a portrait of the ex-Consul's sister (whom Scarpia once tried to seduce), and his open affair with the flamboyant Floria Tosca, the darling of the highborn court, brought increased suspicion and vigilance. Ever on the lookout for a weak spot in the opposition, Scarpia endeavors to use Tosca as a way of getting to Cavaradossi, who he knows is harboring an escaped fugitive from justice, Angelotti. Urgency, then, is the leading motive for Scarpia's viciousness, which allows him further leeway both as a corrupt official and a sexual deviant.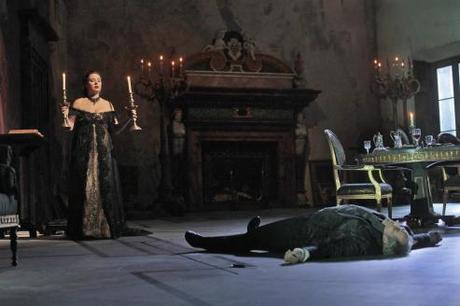 Sonya Yoncheva as Tosca brings candles to light the corpse of Scarpia (Zeljko Lucic) at the Met Opera
In Trovatore, Count di Luna appears to be the de facto antagonist. However, his father, the elderly Count, was the REAL instigator of the plot. You see, years before the story opens old man Di Luna had a woman burned at the stake as a witch. This witch, who was accused of placing a curse on one of the old Count's two young sons, also happened to be the gypsy Azucena's mother. In defiance of the old codger, Azucena crept into the sons' bedroom and stole the infant Manrico from his crib. With her own mother in full view, Azucena threw the lad into the ensuing bonfire.
As it turned out, Azucena's act had a fatal flaw. In her blind quest for revenge, she had inadvertently tossed her OWN child into the flames (she must have been absolutely delirious at that point to have made such a mistake). The old Count, upon hearing of the kidnapping, fell ill and eventually died from remorse. But before his death, he asked his only surviving son (the present Count di Luna) to swear an oath to keep searching for his lost brother.
Meanwhile, once Azucena had come to her senses and realized she had murdered her own flesh and blood, the gypsy vowed to wreak vengeance on the surviving Count by using Manrico as a means toward that end. So what's the catch? Manrico has no idea that HE is Count di Luna's brother.
See how "complicated" this gruesome tale can get?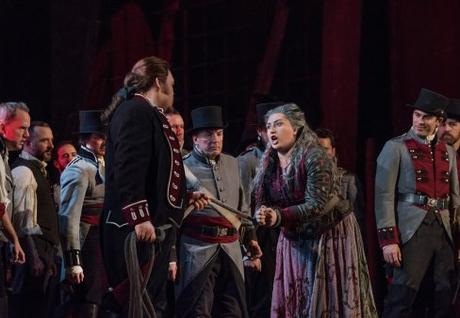 Count di Luna (Kelsey) has the gypsy Azucena (Anita Rachvelishvili) arrested in Act III, scene I, of
Il Trovatore
One of the many criticisms thrown at Trovatore's plot has been the convoluted stories its characters attempt to tell, associated mostly with melody-driven narratives. Most of the incidents depicted in these narratives take place, or have already taken place, out of the audience's sight — which makes the opera a challenge to present, and the staging of paramount importance. The Met Opera's 2009 production, directed by David McVicar and revived by Daniel Rigazzi, solves many of these issues with a revolving set (courtesy of Charles Edwards) that makes for swift transitions from one group of characters to another.
The first narrative, related by the family retainer, Ferrando, who served under the old Count and is presently in the service of Count di Luna, begins the opera proper ("Di due figli"); the second, expressed with passion by Leonora, the beautiful heroine enamored of the troubadour Manrico ("Tacea la notte placida"), occurs in scene two; the third, as told by Azucena (in her Act II, scene one narrations, "Stride la vampa" and "Condotta all'era in ceppi") of how she mistakenly threw her child into the inferno; the fourth, in Manrico's retelling of his encounter with Di Luna ("Mal reggendo"), follows in the same scene; the fifth, with Count di Luna (Act II, scene two) in his cantilena, "Il balen del suo sorriso," conveys his undying ardor for Leonora; the sixth (Act III, scene two), belonging primarily to Manrico ("Ah, sì, ben mio" and the rousing "Di quella pira"), goes from one extreme (tender avowals of love) to the other (outright swagger and bombast); and the seventh and final narrative, in Act IV, scene one ("D'amor sull'ali rosee" and the frequently cut, "Tu vedrai che amore in terra"), are expressions of Leonora's desperation to save Manrico from his impending execution.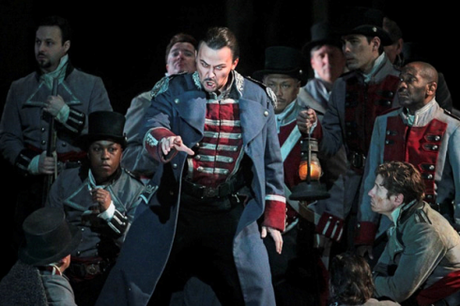 Stefan Kocan as Ferrando starts things off with a ghost story in Act I, scene i
Gee whiz! With so much singing and loving and cursing and despairing, when does the villain have time to be a villain? That's easy: whenever he appears. Di Luna is one of opera's most cherished scoundrels. He's given plenty of opportunity (as the late, great Russian divo Dmitri Hvorostovsky was accustomed to doing) to show off his machismo; to display what mettle he has in the voice, and what determination he embodies in convincing the prima donna that he's the man of her dreams.
Good luck with that!
No matter how handsome he may be, how brilliant he is with small talk, how tall or how charming, or how good he is with the sword, Leonora simply cannot accept this fellow as her match made in heaven. Di Luna does have a bravura aria to sing, the aforementioned "Il balen del suo sorriso" – translated as "The flashing of her smile." The tessitura lies high up in the baritone's extreme range, making it difficult to sustain the melodic line without undue effort. Only the best of the best can pull this number off.
But that's not all. While the Count pours his heart out to her, practically begging the light of Leonora's gaze to chase away the tempest of his heart (mercy me!), the cabaletta section that follows is even more daring in his plea for death to come swiftly; the joy that awaits him can only be reached in heaven. In vain, a hostile God — no, not even God himself — can steal her from him.
A villain with a heart! Does this sound like a bad man to you? Why, for all we know he could be a teenager in love! The words are so bold and forthright, so poetic and refined. But the soprano is in love with the tenor (who else?), case closed. And this tenor, whose name is Manrico, has a certain way about him. He strums his lute to songs of love. His unseen entrance in Act I, scene two, encompasses a serenade, "Deserto sulla terra," the main melody of which he repeats later on when Manrico is locked up in the prison tower during the Act IV Miserere.
No matter, the baritone re-emerges in Act IV with orders that Manrico be put to death by the axe, his mother to be burned at the stake. In the ensuing scene, he wonders aloud if in ordering their deaths he has not gone too far. Could the love of his life be doing this to him? Leonora accosts him and pleads for mercy for her lover. The Count is adamant: nothing doing! Ah, but Leonora has a trick up her sleeve: she offers herself to him. (In this, Leonora shares a kinship with Tosca, who acquiesces to Scarpia's demands by offering her body in exchange for Cavaradossi's life, only to kill the villain as he tries to ravage her person.)
Count di Luna cannot believe his good fortune. Will she keep to her word? Yes, she swears it. In many productions, Leonora turns her back to the villain and swallows a vial of slow-acting poison. She mutters to herself that the Count will indeed have her cold, lifeless body, as promised. Librettist Arrigo Boito and composer Amilcare Ponchielli would more-or-less re-enact this episode (albeit in more violent fashion) for the shocking ending to their grand opera La Gioconda, a precursor to verismo as well as Puccini's Tosca.
Speaking of shock endings, the climax to Trovatore comes about quickly and inexorably. Confronting Manrico, Leonora tells him to leave, but she will not be accompanying him. What? Life without you? Are you insane? No, not insane, just desperately in love. Manrico refuses to budge without her. His sense is that she has betrayed him in order to spare his life. He will not run away. Suddenly, the poison takes its effect and Leonora collapses to the floor of the prison cell. As the Count enters, he hears Leonora's dying words, asking the Lord's forgiveness.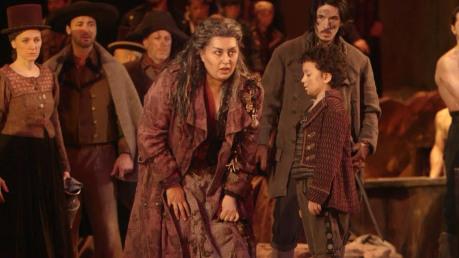 Anita Rachvelishvili as Azucena (Met Opera)
Enraged, Di Luna orders that Manrico be killed, this instant. As he is led away to the executioner's block, Azucena awakens and begs the Count not to slay him. Too late! He is gone. The time has now come for a startling revelation: "He was your brother!" Azucena shouts at Di Luna. Then quickly adds, "Mother, you are avenged!" The Count can only blurt out his pathetic last line: "And I live on!"
Now we know what it's like to be the bad man! At least Scarpia went down fighting. He deserved his fate, but this poor guy? We think not.
It's the Casting That Counts
To experience the emotions of the characters that Verdi and his librettist, Salvatore Cammarano, had envisioned for Il Trovatore (keeping in mind that Cammarano had previously written the librettos for Verdi's Alzira, La Battaglia di Legnano, and Luisa Miller, along with Donizetti's Lucia di Lammermoor), a strong cast of singing-actors would seem to be the prerequisite.
For the Met's Saturday broadcast performance of February 3, 2018, Count di Luna would be taken by Hawaiian-born baritone Quinn Kelsey, the lady-in-waiting Leonora by Cleveland native Jennifer Rowley (in place of the indisposed Maria Agresta), the stalwart hero Manrico by Korean tenor Yonghoon Lee, Azucena by mezzo Anita Rachvelishvili from the former republic of Georgia, and Ferrando by Slovakian basso Štefan Kocán. Sarah Mesko sang Ines, Edward Albert the Old Gypsy, David Lowe the Messenger, and Eduardo Valdes the part of Ruiz. Marco Armiliato, himself replacing the previously announced James Levine, conducted the Met Opera Chorus and Orchestra.
Let's start with maestro Armiliato, whose older brother, tenor Fabio Armiliato, has also appeared with the company. An expert hand at Verdi, Puccini, and most of the Italian repertoire, Signor Marco filled in for one of his mentors, the now disgraced Mr. Levine. It's been that kind of season, people. That he was able to lead the orchestra with another substitute on hand, the effervescent Ms. Rowley, for the revival of a major repertory piece, and still keep a cool head about him, speaks loudly for his work ethic and professionalism.
Keeping the correct tempos and marking time to Verdi's deceptively simple scoring is a major task in itself. There have been few conductors in the past who've enlivened Trovatore to acclaim. Arturo Toscanini was one of them, Herbert von Karajan was another. Zubin Mehta yielded positive results in his RCA Victor complete recording of the work, as did Levine in his various recorded versions. But pacing Trovatore is no walk in the park: lots of stops and goes, lots of rests and reposes, and definitely too much of what smacks of "oompah-pah-pah" bandmaster music.
What helped is that this production had at one point opened up standard cuts that have been the curse of this opera since it first premiered. Repetitions, unheard cabalettas, and snatches of phrases normally carved away were reinstated, for the most part (though the company is starting to slacken a bit from this policy). I'm still ticked off by the shearing off of "Di quella pira." Come on, Met Opera! Let's hear the whole thing, shall we? Why only one stanza of this sure-fire audience pleaser? Maybe Yonghoon Lee, our Manrico of the afternoon, was having an off day, so an accommodation was called for? I don' think so. From what I heard, his Del Monaco-like timbre and high volume outpourings could have managed it handily.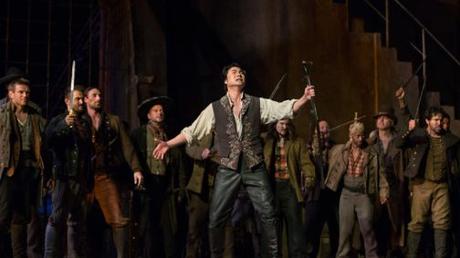 Yonghoon Lee as Manrico rallies the "troops" in Act III, scene ii, of
Il Trovatore
In fact, Mr. Lee hardly sounded strained at all. I did notice that dynamic levels veered sharply from a near whisper to a huge bark. His softest passages were reserved for a respectable "Ah, sì, ben mio," along with some coarsening of his basic sound in a bludgeoning-of-the-ears delivery of "Di quella pira" (he did NOT hit high C, I'm sorry to note, but took the number a half- or whole-tone down). Too, Lee's emulation of the great dramatic tenor Mario del Monaco has been observed by other online critics. So it's not just my impression, but the impression of many that Lee has been carving out a career for himself as a spinto. Nice work if you can get it!
Still, the young performer Jennifer Rowley was the real star of this broadcast. She held on to her top notes for all they were worth, yet managed to convey a strikingly lifelike portrait of a woman in dire distress. Leonora's agitation and eagerness to resolve her plight came through loud and clear. Rowley gave a rousing rendition of the lady-in-waiting's first act aria; she sounded even better in Act IV, where she regaled the audience with the rarely heard "Tu vedrai che amore in terra." But the higher up she went the less focused her basic sound became. Ms. Rowley came to attention via another substitute performance: in Franco Alfano's rarely heard Cyrano de Bergerac with tenor Roberto Alagna. I would advise caution, at this early stage in her career; to be a shade more restrained lest her ability to please the public be spent too quickly and too soon.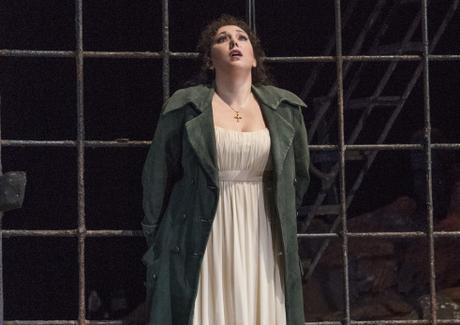 Soprano Jennifer Rowley as Leonora, wearing her lover's green frock coat: Act IV, scene i, of
Il Trovatore
As the harried gypsy woman Azucena, Anita Rachvelishvili (what a mouthful) chewed the scenery brilliantly. She might have been aiming her potent mezzo high up into the gallery, but I had no problem relating to her all-out emoting. While this was her role debut at the Met, I too have some advice for this budding artist: you have an incredibly flexible and multi-hued vocal apparatus. Use it wisely for dramatic purposes, and not only to please the crowd. Your acting abilities, from what I gathered of the glowing reviews, serve you well. We could stand more of your powerful vocal thrusts, but please do so at the service of the composer and of the character you are interpreting.
Take a lesson from some of your illustrious predecessors: Ebe Stignani, Giulietta Simionato, Fedora Barbieri, and Fiorenza Cossotto. And from the former Soviet Union, pay close attention to Elena Obraztsova and Olga Borodina. They each had something to say about how to play these parts to the best of one's abilities.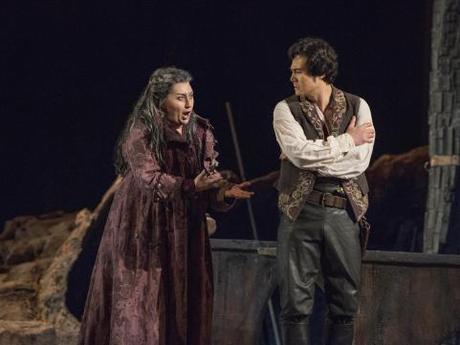 Anita Rachvelishvili as Azucena, with her "son" Manrico (Yonghoon Lee), Act IV, scene ii of
Il Trovatore
Štefan Kocán poured out his characteristically rounded tones as Ferrando, the first storyteller of the afternoon to be heard, although his basic enunciation of the all-important text left much to be desired. We should be grateful to have a major artist of Kocán's repute in a role usually given to a comprimario singer. In years past, I have heard such excruciatingly sung attempts by lesser artists that it poisoned the well for others. It's a marvel to actually hear such a robust sound in this thankless part. After scene one, Ferrando is given brief patches of dialog in Acts II and III, and only ensemble singing in those same scenes. A pity!
And now, for the villain of the piece: the "evil" nobleman Count di Luna. Despite favorable press coverage, given that HIS predecessor in the role was the estimable and still, to my mind, incomparable Dmitri Hvorostovsky, baritone Quinn Kelsey was incapable of producing a vocal snarl or the equivalent of a sneer and a snivel. So be it! Since I have already made the case that this villain is anything but your average bad guy, let it be said that Kelsey once again impressed me with his noble presence.
I first heard this fine young artist a few seasons back as a substitute Giorgio Germont in the Saturday broadcast of Verdi's La Traviata. He reminded me then (as he did in this Trovatore) of a young Rolando Panerai: superior Italian diction, clear-as-a-bell vowels and consonants throughout his range and at all volume levels, along with attractive tone. So what if he fudged the Count's high note at the conclusion of "Il balen del suo sorriso"? I've been privy to worse-sounding performances in my day — and from some pretty famous folks!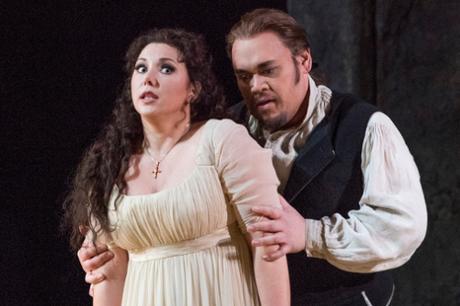 Rowley with Quinn Kelsey (Count di Luna): making an offer she'd rather refuse
True, dramatically Kelsey lacked that "fire in the belly" of the best of his breed. But really, can anyone expect a young and talented singer near the start of what may be a major career to be another Leonard Warren, or Sherrill Milnes, or even a Cornell MacNeil? You've got to be joking! So many young "stars" have come and gone, without leaving their mark. I'm convinced, as I was with the likes of Robert Hale, Greer Grimsley, Mark Delavan (who Kelsey strongly resembles), and others, that stardom will come to those who wait; and, most likely, to those who do the work and align themselves closely with Verdi's music.
It worked for Hvorostovsky, a Siberian-born performer leading an aimless life in a dead-end city, until the day he was discovered — actually, until Dmitri HIMSELF discovered he had the voice and soul of an artist. When that day comes, get out of Kelsey's way! There won't be an empty seat in the old opera house.
Copyright © 2018 by Josmar F. Lopes
Advertisements
&b; &b;