I'm finally getting around to posting about Honey I Washed The Kids "HIWTK", which is a very pleasant honey scented shower gel. This was a fave of mine a few year's ago and I don't know why I didn't keep buying it, but I'm re-discovering it and falling in love with it all over again in 2014!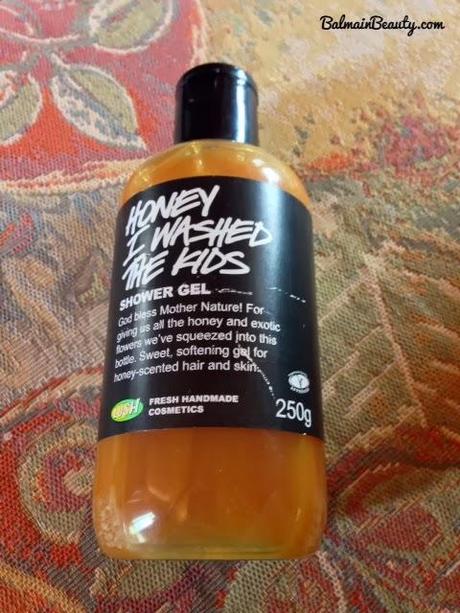 Firstly, it's such a cute name and secondly it smell's devine, it's probably one of the most pleasant smelling shower gel's I've used, it really last's on my skin for a good amount of time after I shower. It also leaves my bathroom smelling nice, it's smell's that nice that I just want to eat it. It definitely smell's like a rich honey, there's some other nice scent's in there as well eg. Rosehip, Lotus Flowers, Tiger Lily Infusion, Sweet Wild Orange Oil, Bergamot Oil and Limonene.
The first time I started using it again (within the last month) I thought the scent was leaning more toward's a Honey Toffee but now I've used it quite a few more time's, I can definitely say it smell's of a luxurious honey - it's not too strong, not too light, it's just right.
This bottle will last quite a while and as with all Lush product's everything is handmade, this product is best used fresh, it was made in August 2013 and I bought it in December 2013 and it's good until October 2014 so I'll definitely get around to using it up well before mid-October.
Here's what Lush say about HIWTK:


God bless mother nature! for giving us all the honey and exotic flowers we've squeezed into this bottle. Sweet, softening gel for honey-scented hair and skin

.
The antibacterial action of honey helps thoroughly clean and soothe the skin.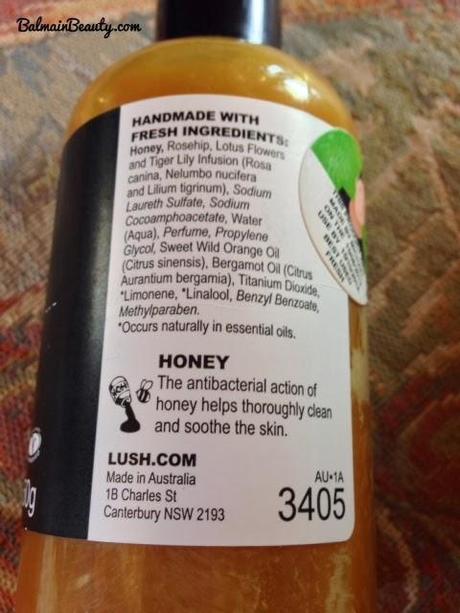 It say's it's good for hair and skin but I've not yet tried it on my hair but I'll definitely give it a try.
If I had to choose just 3 permanent Lush shower gel's to use the rest of my life, they'd be in this order:
HIWTK, The Olive Branch and Flying Fox but if I could choose any of the shower gel's from the permanent range and the limited edition range my all-time fave Lush shower gel's are:
1. Twilight [a seasonal, once a year release]
2. Snow Fairy [another seasonal, once a year] (November until early-January)
3. Honey I Washed The Kids [Permanent]
If you get a chance to go into a  Lush shop, I definitely suggest you smell this shower gel and if you haven't tried it before you can purchase the 100g bottle for about NZ$11.50 so give it a try and I hope that you'll like it as much as I do.
There's also a HIWTK soap but as it's also been a while since I've bought and used that product so I can't remember if it's got the exact same scent as the shower gel but seeing as they're both named HIWTK I don't think the scent's would be totally different. From memory I also liked the soap too.
My other fave Lush shower gel's are: Retro, Rose Jam and Ponche. Unfortunately, I've not yet tried Dirty Springwash, Grass or Happy Hippy but they're on my list to try the next time I'm near a Lush shop in Auckland. Sadly, my closest Lush store was in Tauranga, which was a 90 minute trip in each direction but it closed down last year but I can at least re-stock by ordering from the

Lush NZ

website.
I bought this along with quite a few other's in the last day to be delivered before Christmas 2013 and I spent over $100 and qualified for Free courier shipping (usually $9). HIWTK was NZ$19.90 for a 250g bottle. I'm definitely upsizing to the 500g bottle when I go to place another order which is $29.90.
Please comment below and let me know which Lush shower gel(s) are your fave(s).