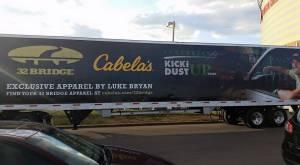 It's no secret that the city of Ottawa is thirsting for country music lately, with two country music stations and a country heavy line-up at Ottawa Bluesfest, I can't think of anyone better to kick off a summer of country music in Ottawa than the reigning ACM Entertainer of the Year Luke Bryan. Living up to his title Luke proved he was more than ready, and able, to quench our thirst.
The night started with a solid performance by Dustin Lynch, currently promoting his second album Dustin has seen a fair bit of success since entering the scene about 3 years ago. Early last year Dustin released his fourth single "Where It's At (Yep, Yep)", also the first off of his second album Where It's At, the song became his first number 1 single when it reached the top spot on the Country Airplay charts this past September.
Clearly being paired up with guys like Randy Houser and Luke Bryan on a tour means that you need to bring your "A" game every night and Dustin, unquestionably did just that. He used every inch of stage space he had to engage with the audience and build up the energy in the Canadian Tire Centre for what was about to come.
Following Dustin was Randy Houser. Randy, of course, was just in Ottawa in December as part of Dierks Bentley's Riser Tour which included Tim Hicks. Randy's set was one I was looking forward to. I had always heard that Randy put on an incredible show and was an incredible performer but when I saw him back in December, you may recall, I found his performance a bit stagnant and lacking energy. After seeing him again last night, it's clear Randy simply had an off night back in December and was more than ready to show Ottawa what a Randy Houser show is really like!
When it comes to vocals Randy Houser is likely one of the best vocalists in country music today. His voice is very powerful and he knows how to hit the right notes. Last night he proved that time and time again, like in December he brought with him a taste of Garth Brooks and nailed a rendition of "Friends in Low Places" which was the first step in a succession of events that would give me, a seasoned concert goer, goosebumps. The sold-out crowd at the Canadian Tire Centre was like a powder keg and Randy Houser was the match that lit the fuse. It's was his acoustic performance of his monster hit "Like a Cowboy" that caused the keg to explode and the roar of the fans in the building was the loudest noise that I have ever heard.
Remember the days when artists would just walk out on stage and start singing? Pretty boring right? The start of Luke Bryan's set was something more like a rock show than a country music show. Laser lights dancing through the air with trance-like music all setting the stage for the entrance of Luke himself....from the middle of the arena where he rose on a platform high above the crowd!
What followed was roughly 90 minutes of evidence on why Luke was crowned entertainer of the year. From his first single "All My Friends Say" to his latest single "I See You" and everything in between. Luke had the crowd rockin' to "Country Girl (Shake It For Me)", "Rain is A Good Thing", "Crash My Party" and even the song he collaborated on with Flordia Georgia Line "This is How We Roll". But it wasn't all fun and games, Luke's story has a very sad and sombre side which has played a big role in his music. Likely one of the most emotionally charged moments of the night was when Luke, simply sitting on a pier in the middle of the arena surrounded by fog performed "Drink A Beer". It showed an extremely solemn and human side of Luke, who dedicates the song to his late brother and sister (his brother Chris was killed in a car accident in 1996 and his sister Kelly passed away suddenly and unexpectedly at home in 2007, her husband Lee passed away late last year).
Also part of Luke's softer side were his ballads "Do I", a song Luke wrote with members of Lady Antebellum about a husband and a wife looking at their relationship after many years wondering if it still works, "Someone Else Calling You Baby", "Drunk on You" and "Kiss Tomorrow Goodbye".
After a short break Luke returned for his encore in the same manner that he arrived at the start of the show only this time rising from the stadium floor on the roof of a jacked up truck surrounded by flames for "That's My Kinda Night". The night wrapped up fittingly with Luke performing "I Don't Want This Night to End" something that clearly everyone in the sold-out crowd agreed with wholeheartedly and wished only that Luke would stay and "Play it Again" just one more time.
This slideshow requires JavaScript.
To sum the night up Luke Bryan's "That's My Kinda Night Tour" is the best tour I've seen live in a very long time. Thinking back to all of the concerts I've attended in my life, there have been many, only Metallica's "Death Magnetic" stop at the Canadian Tire Centre in 2009 comes close.
If you live in Canada there are still a few more chances to catch this tour before it wraps up and Luke kicks off his "Kick The Dust Up Tour" on May 8 in Grand Forks, North Dakota. Tonight the tour makes it's way to the Budweiser Gardens in London, Ontario before heading west for two nights at the MTS Centre in Winnipeg, Manitoba.
As for Ottawa the country music party continues this July as Ottawa Bluesfest rolls into town for it's 21st summer featuring country heavy hitters: Little Big Town, Keith Urban, Brantley Gilbert, Dallas Smith and more and then immediately following Bluesfest you can catch some of Canada's biggest country acts live at the Capital Country Fest @ Spencerville Stampede which will feature Tim Hicks, Kira Isabella, Brett Kissel, Emerson Drive and more. Of course in August we'll see the return of Kenny Chesney to the Canadian Tire Centre with his Big Revival Tour. Tickets for all of these events are on sale now!
I'd like to send special thanks to the media team at both Canadian Tire Centre and Live Nation for approving my media request to the show. I look forward to covering many more fantastic shows at the Canadian Tire Centre and other venues in Ottawa.

Field Service Tech by day, Live Music Nut by night! Founder of Sound Check Entertainment! Love hockey Habs, Sens & anyone playing the Leafs!