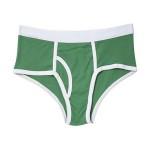 Lucky pants?
With less than a week to go until my first race in 18 months (gulp), and with next to nothing in the way of fitness or training under my belt, I'm starting to cast around for something – anything – that might improve my chances. Now I'm not normally the superstitious type. I walk under ladders. I stroke black cats that cross my path. I step out without a care when it's Friday 13th. But could I be missing a trick? Might there be some magic bullet or lucky charm that could help to get me across the line in the winning boat?
Absolutely not, thunders Matthew Pinsent when I ask him on Twitter if he had any lucky charms of his own. "They are a pet hate." The result, he insists, is dependent on skill, training, courage and ability, not pants, rabbits' feet or turning around three times.
He is, of course, right, but that doesn't help me when I am short in the skill and ability department at the best of times and my training has been well nigh non-existent, so my hunt continues. I turn to top GB sculler Alan Campbell, who refuses to confirm or deny tales of lucky pot noodles (which prove later to be just a rumor – sigh), but who claims that Christmas music is a must. Hmmm, I wonder.
Happily others are prepared to admit more freely to their race day rituals. "One tighten turn of each nut on the boat," says one. Others won't take to the water without an assortment of lucky pants, hats, socks, visors and even sandwiches.
Coxes, too, have their rituals. One insists on coffee before races, despite it not being her usual drink. Another has to breakfast on tinned peaches and croissants, a habit that goes back to a childhood regatta when allowed to buy her own breakfast.
All of which is great, but there's just one problem. These lucky charms, I realise, are based on previous successes. The pants worn for the precious first win. The sandwich that powered a three-length victory. The hat that witnessed a Henley hat trick.
Without any rowing successes of my own to base my superstitions, I'm back at square one. Ah well, I guess I'll just have to make my own luck. After all, we all have to start somewhere.