Unwind after work and ease into the weekend this Friday, October 24 from 6 p.m. to 8 p.m. with an evening of music, art, and drinks at our Fall Luce Unplugged Community Showcase.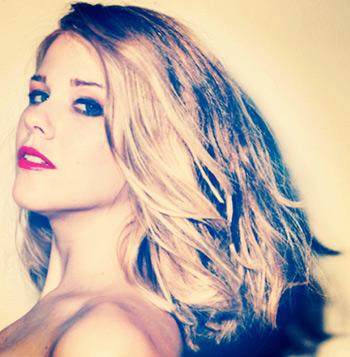 Furniteur AKA Brittany Sims and her collaborators Kevin Bayly and Mike Toohey will be performing at this Friday's Luce Unplugged.
Local music scene standouts Furniteur and Laughing Man, chosen by Washington City Paper, will perform, and Atlas Brew Works will offer tastings to visitors 21 and over. Furniteur AKA Brittany Sims and her collaborators Kevin Bayly and Mike Toohey will play her synthpop hits, which are guaranteed to make you dance or at least nod your head. Laughing Man will follow up and change the tune to experimental rock. Preview their sound by listening to their new album and check out Washington City Paper's review.
In addition to making music, Brittany Sims works as a visual artist. We spoke with her about her fine arts background, thoughts on art and music, and the meaning behind the name of her electronic act.
Eye Level: You're the first musician with a Master of Fine Arts to play Luce Unplugged. Tell us about your fine arts background.
Brittany Sims: It's cliché, but I was always an artist. I went to Tulane University and got a BFA in painting then went on to study portraiture in Joanette and Cedric Egeli's atelier in Edgewater, MD. I learned an extraordinary amount about the figure and color, but I wanted to learn more so I went to The New York Studio School in New York and got my MFA in painting. I currently paint and work by commission while doing faux finishing and murals with a DC design and fabrication company called Swatchroom. I also do a lot of live-painting at weddings. It is great to still get to spend everyday creating.
EL: As an artist and musician, what do you think about the increasing overlap of the two?
BS: The performance aspect of music and art have always been linked, but the increase of visual stimulation during performances of late is fantastic. I saw a Darkside show at the 9:30 Club with scenography by Children of the Light that absolutely blew my mind. It not only enhanced but elevated their performance exponentially. I have been trying to think of ways to emulate that feeling in my own performances as Furniteur ever since.
EL: Is Brittany Sims the fine artist any different from Brittany Sims of Furniteur?
BS: The fine artist is a more intimate identity that wants to hide in a cottage on the water and just create things that may or may not ever be seen. Furniteur is more interested in collaboration and interaction, but it took me a while to get used to the vulnerability of performance.
EL: Tell us about the name Furniteur.
BS: It actually came from the 1973 sci-fi movie, Soylent Green. In the film, the wealthy have apartments that come with a mistress they call "furniture." The literal objectification was interesting, the 1970s future wardrobes and style were impeccable, and Furniteur was born.
EL: Last April, you played at the Corcoran and more recently at the (e)merge art fair. How does playing in a gallery or museum compare to playing at a concert venue?
BS: As an artist, playing among works of art is such a cool experience. I have more of a connection. At concert venues, it's more about bringing the art into the space.
We can't wait to have Brittany play next to the artworks in the Luce Center. Catch her set on Friday at 6 p.m.!