Some of you have asked about when 
Let Them Eat Vegan
 will be available for preorder. You early bird shoppers can now preorder on amazon!  And, hey guys, check out the first -
but not final
- cover for the book!  This is the temporary cover, so you will see it online and elsewhere for some time.  While I think this first design is really sharp and attractive, it isn't what I had envisioned for the book, so my publisher is busy reworking cover design ideas. Stay tuned for the final cover!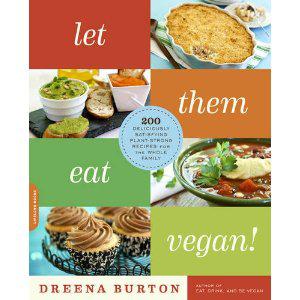 I'd also like to address a comment from my Spencer's Market giveaway post.  I was asked: 
"Aren't you located in Canada? I find it a bit dismaying that you are promoting a US-only service - one of the reasons I have followed your blog is because you are Canadian!"
So I'd like to respond to this, respectfully.  And,
not
to raise heck for the person behind the comment, but to show my position.  The bulk of my posts are about my recipes, and I hope they inspire you to cook vegan and more healthfully.  But, I also look to share some fun through giveaways.  I am rarely approached by Canadian companies offering vegan, whole foods, or cooking products.  I have reached out to some Canada-based products, and have not heard back from them.  It is time consuming to search out companies that might want to partner in a giveaway or feature.  And, I have limited time with three young children and juggling my work with motherhood.  So, if someone approaches me for a feature that includes a giveaway, I am happy to oblige when it is suitable for my content and readership - as with Spencer's Market.  I
have
featured Canadian companies, like Maplelea, Mum's, and Zimt to name a few.  And, in my cookbooks I have even specified Canadian brands (like Manitoba Harvest hemp seeds in Vive le Vegan).  However, this is a vegan cooking blog, and as such is not exclusively Canadian.  I would love to partner with more Canadian companies, but have had little opportunity.  The reality is that the vegan market is larger in the US, and as such I receive more interest in my work and blog from American companies.  I never thought I would be criticized for offering a vegan giveaway.  I do my best to share recipes, cooking information, and the odd freebie... and think that effort is largely appreciated.  
Finally, I was hoping to get together a post for US Thanksgiving.  I'm sorry.  I don't think I will have time to do so. We are moving house in a couple of weeks, and I have been downright swamped.  So, for those of you looking for Thanksgiving ideas, please see my recent Canadian Thanksgiving post.  I wish you a Happy Thanksgiving, and hope you find some ideas in that post.  You can also search my past Thanksgiving, holiday, and Christmas posts.   
Back soon - hopefully!