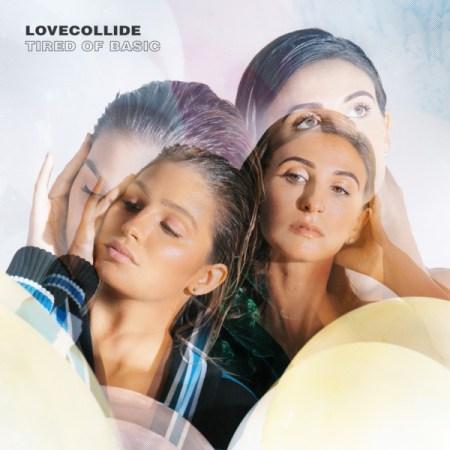 LOVECOLLIDE TIRED OF BASIC ITUNES PRE-ORDER FEATURES
FOUR INSTANT DOWNLOADS
"I Don't Want It" Hits Radio In Canada Today
LOVECOLLIDE Joins 7eventh Time Down For
"Only King Forever Tour"
NewReleaseToday.com Names Duo "Artist Of The Month"
Sisters Lauren Budnick and Brooke DeLeary of the faith-forward pop duo LOVECOLLIDE independently release their third full-length album, Tired Of Basic, April 13 on ABS Entertainment, LLC with global distribution through The Fuel Music. Four tracks from the upcoming album are available now with each iTunes pre-order, including the lead single/video "I Don't Want It," as well as "Ibil," "Breaking My <3" and "Wildfire." The album is also available to preorder from Amazon.com and Google Play with select tracks available for streaming now on Apple Music and Spotify through https://lovecollide.lnk.to/tiredofbasicFA.
Spotify has further featured the lead single on at least 15 playlists with hundreds-of-thousands of collective followers and is giving pop music fans the opportunity to automatically add the full Tired of Basic album when it releases to their playlists though the link, http://presave.tweematic.com/tiredofbasic.
Along with the Spotify plays, "I Don't Want It," which became the first music video from Tired Of Basic, has garnered spins at radio across the US on stations like NGEN (Houston, TX), The Z (Spartanburg, SC), KMOQ (Joplin, MO) and KPUL Pulse 101.7 (Des Moines, IA). Today (March 23), the single also goes for radio adds across Canada.
With the new single, video and album emerging after a season filled with doubt, loss, depression and uncertainty, LOVECOLLIDE's Tired Of Basic, produced by Riley Friesen (Family Force 5, Group 1 Crew) and Matt Dally (Superchick, Jamie Grace), is meant to be a revolution against boredom, mediocrity and status quo living.
"That's the theme, that's the mission–an extraordinary life," states Brooke. "Living in a way where you can never be labeled, like Jesus. Starting revival by being the light, being different, showing who Jesus is through us."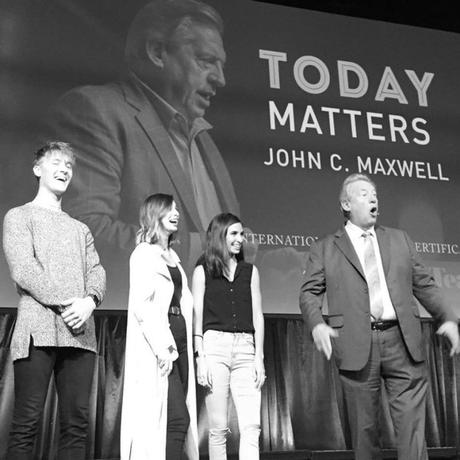 Taking the new music and messages on the road, LOVECOLLIDE completed numerous interviews during last month's NRB International Christian Media Convention, led worship Feb. 20 at John C. Maxwell's International Maxwell Certification Event in Orlando, FL, and will embark on the "Only King Forever Tour" with 7eventh Time Down next month.
"We want our music to be an experience, not just something to listen to," shares Lauren. "We want the vibe, the style we give people and the love they receive to be something they remember, something that changes them."
With upcoming features, reviews and more coverage in outlets like CCM Magazine, Simple Grace, Leading Hearts, JUCE TV and more, NewReleaseToday.com has also made LOVECOLLIDE their "Artist of the Month."
For all the latest LOVECOLLIDE news, tour dates and more, go to: www.lovecollide.com, Facebook, Twitter, Google+, Pinterest and YouTube.

LOVECOLLIDE is pictured at the 75th annual NRB International Christian Media Convention during interviews with Tony LeBron, Upliftv host; Jenny Steinbach, Making Your Life Count Radio associate producer; and Dr. Richard Hamlet, Ministry in the Marketplace host.
About LOVECOLLIDE:  Having started a band together when they were just tweens, Nashville-based LOVECOLLIDE siblings Brooke and Lauren share a passion for revival and extraordinary, bold living for Jesus. The duo first hit the Billboard charts in 2016 with the song "Mother of the Son of God" and have garnered two top-20 album nods (2014, 2016) from NewReleaseToday.com. The girls were featured in the hit movie God's Not Dead 2 leading the song "How Great Thou Art" and in Hayley Orrantia's music video "Strong, Sweet and Southern" while Lauren was in a Nashville TV series film trailer. Together they have also shared stages with Natalie Grant, Sidewalk Prophets, Unspoken and others, bringing their vertical driven concerts to such diverse venues as college campuses, churches, schools, retreats, conferences, camps and major Christian festivals. They have also toured throughout Canada, something that's particularly meaningful for the girls as tribal members of the Chippewas of the Thames First Nation in Muncey, Ontario.
About The Fuel Music:  Established in 2008, The Fuel Music & Management, LLC, is a leading artist management and artist solutions company that independently distributes music internationally. Based in Nashville, TN, the Fuel team brings nearly 70 years of combined music industry experience in record label operations, major label distribution and marketing, and artist management for artists ranging from upstart bands to GRAMMY Award nominated, multi-platinum artists. More information on the company can be found at www.thefuelmusic.com.
~ ~ ~ ~ ~ ~ ~ ~ ~ ~ ~ ~ ~ ~ ~ ~ ~ ~

It would be great if you would stay connected with me!! You can follow me on Twitter @DebiL1611, like me on Facebook at 2014 and Beyond, circle me on Google+, follow me on Tumblr, Instagram and Bloglovin', subscribe on YouTube, or connect with me on LinkedIn and Pinterest.

Please make sure to visit my homepage and subscribe to my blog for more great posts on running, fitness and lifestyle topics as well as food, product, music and book reviews, and more!