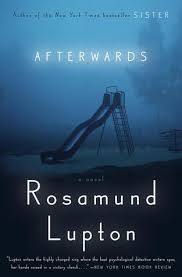 Afterwards by Rosamund Lupton
Publication date: June 9th, 2011 by Crown
What Lupton does well in Sister is only multiplied with her next novel as she blends both a murder mystery-thriller with a touching mother-daughter relationship.  Part coming-of-age, part letting-go, part suspense, Lupton has managed to turn two very different types of novels into one heart-wrenching page-turner.  The characters are believable, the relationship between Grace and Jenny painfully real, and the mystery will leave you guessing until the end.
Grace has just sent her son off to a field day at school on his 8th birthday, complete with "I'm 8!" birthday badge and a cake to share.  As Grace watches the festivities beside her best friend Mazzie things seem near perfect.  Sure, her daughter doesn't seem to care about getting into a good University and doesn't seem to want to dress appropriately, but she's doing a good job as the school nurse and maybe, just maybe, she'll be prepared for her A-level retakes.  All of these thoughts disappear when black smoke starts to billow from the school…with Grace's two children inside.  As Grace goes in the building to save her daughter both are seriously injured and now mother and daughter must look on as their conditions are assessed, their lives put on the line, and their attempted-murderer roams free.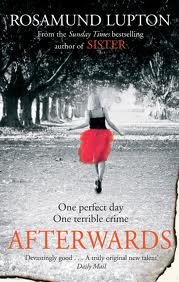 Another writer would have fallen under the weight of everything Lupton tries to tie together here, but Lupton has proved her worth as a writer (and I'm sure a lot of praise needs to go out to her editing team as well) and managed to take all these clashing pieces and turn them into a cohesive narrative.  The first, and most powerful, element of this narrative is our narrator Grace.  Injured in the fire Grace is in a coma and presumed brain-dead, but her spirit (or soul or whatever you want to call it) is trapped in another dimension of this world with her near-death daughter.  In this new world where they are only able to interact with each other, the mother and daughter are forced to make peace with the struggles that had with each other on earth.  Jenny is growing up, Grace misses her little girl, and neither one knows how to explain what they're feeling without getting into a fight.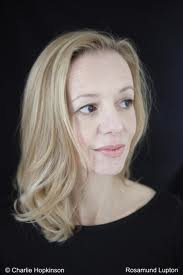 As mother and daughter struggle to come to terms with their relationship they also struggle to solve the mystery of who caused the fire.  From a mysterious hate mailer that's been targeting Jenny to the possibility of an insurance scam, Grace explores the possibilities and Jenny struggles to recover her lost memories from that day.  In this aspect of the story we see the same strength Lupton shows in
Sister
as she tosses the reader red-herrings and bends the truth through the lenses of multiple characters.  Which means the end to this mystery stays a mystery for most of the book.
While the mystery aspect of this book makes it a "thriller" I think the mother-daughter relationship is actually the stand out characteristic of this novel.  If you have a mother, or a daughter, you've experienced a lot of the things (or still are) Jenny and Grace struggle with.  The ending will make you cry, if you haven't been already, and stick with you in a powerful way once the novel is over.