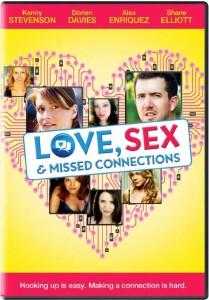 Movie: Love, Sex and Missed Connections
Director: Eric Kissack
Cast: Kenny Stevenson, Amir Talai, Mitch Silpa and Candace Brown
Rating: ***
Kenny Stevenson writes (debut) and stars in this refreshing romantic-comedy about two strangers who meet through an internet dating website and are scared to make a connection because of their respective pasts. Sounds like a pretty normal rom-com so far, doesn't it? But here's where precisely LSM veers cautiously away from the usual cliché Hollywood comedies and gives us a film that stays with us even as we walk away from it.
Neal, who is in his thirties, is living a mundane life ever since he red-handedly caught his best friend fucking his girlfriend. He wakes up every day one minute before the scheduled time on the alarm and feels unsettled the entire day for not having slept that extra minute. On his birthday, his two best friends register him onto a dating site and he resorts to it for sex by tricking women into dates. However, everything goes topsy-turvy when he meets Jane, who also had been tricking men on the same site.
With a bunch of awards to its credit, this indie rom-com works because of the intelligent yet cheeky screenplay by Kenny. The film is really enjoyable, very down to earth, and therefore, the audience can easily relate to the several situations instead of having a sense of skepticism at the usual star Hollywood leads that dominate the romantic comedy genre.
Steven as the writer as well as the lead actor is not your usual hot Hollywood model-turned-actor. He is a decent looking guy with a great sense of humor and some emotional baggage. But you still root for him because he is just like one of us and what he goes through in the film is a mirror image of most of our lives. His friends are too charmingly funny and devoid of Hollywood clichés of how a hero's friends are usually portrayed in love stories.
The humor in LSM is instantly likable and cute in a very weird way. That whole point of having a dating website was to reinstate the fact that it's the connection that matters in a relationship and rest everything such as trust and respect comes only after that. The chemistry between Kenny and Davies, who plays Jane, is amazing as it wonderfully captures how even two strangers meet and make a connection.
"Love, Sex and Missed Connections" is not a great rom-com, but it takes a very clichéd plot and turns it into a story everybody can relate with and feel connected.