Who doesn't like music?  I'm not one to judge (too much), but if you answer, "I don't," move on because this isn't going to be for you and I'm probably judging you.  Music has been around for awhile, hasn't it.  I read somewhere that it's been around since the Paleolithic times.  Yep, that's pretty recent.  It's spans across every culture, expresses every emotion and it's constantly evolving.  Aside from the classics, what we like now, our parents despise.  We'll despise what our children like and I'm pretty sure this cycle will maintain it's course in the foreseeable future as it has in the past.
The last time you were on vacation, was there a radio station or a disco that you absolutely loved and know in your heart of hearts that the music played completed the experience of that vacation?  Then, the vacation was over, you had to go home and back to reality.  To make things worst, your domestic reality was sans-vacation music.  A musical void that perhaps made you feel incomplete.  It's a sad feeling, I know.
Now, close your eyes...I'm serious...close your eyes and imagine that music and how it made you feel.  Imagine after a long, tough and stressful day at work, followed by family responsibilities that you were able to listen to that radio station, from the city that you were vacationing in right at home; an after-work, kids-in-bed mini-vacation...in your home.  It can be done...with access to all the music on earth.
What about listening to the same playlists from your computer or from the local radio station over and over again.  Where you  go from having a new favorite song in the morning to hating that very same song by lunchtime because the station has played it twice an hour, every hour.  How's that make you feel?  Life is full of stresses and music shouldn't be one of them, right?  Access to all the music on earth can avoid that dreaded repetition.
So, how do we access all the music on earth?  In a variety of Sonos applications, that's how, but for today, we'll focus on one...  
Sonos Connect
Sonos Connect
Looks good, doesn't it.  It's unimposing. It's fit in well and will make friends with your other equipment easily.  I promise.
First, you need an internet connection.  If you already have a home theater system that isn't directly connected to your network and the modem/router isn't in close proximity, you'll need the Sonos Bridge connected to you network and then the Sonos Connect plugged into your receiver.  If your network access point is close by, the same as above except you'll forego using the Sonos Bridge. If you have WiFi, you'll be able to use the downloadable Sonos app for iOS or Android app to control and access limitless music from around the world, your favourites and even hard-to-find gems of the past.  What's even better, Sonos creates it's own mesh network called the SonosNet and feeds off itself, strengthening its signal with every added device; never degrading your WiFi network. If you don't have WiFi, install the software on your desktop or laptop with the provide installation disk and you'll have full control with you mouse or trackpad. Setup is stupid easy.  If you can read, walk and use your index and middle fingers, you can set this system up.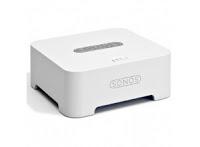 Sonos Bridge
Have a look at the
Sonos
website to check out the various sources (and no, I'm not getting paid for any commissions for directed clicks) and the accompanying video.
For music-lovers, this is the next big thing since sliced bread and I've only shared one application of the Sonos lineup.  Can you feel it?!  Its was I call enthusiasm and excitement.  Just the thought of this equipment brings a crows-feet-causing smile and a slight bump in my heart's bpm.  Never, will that last vacation only be a distant memory.  No more hate-crimes against music because of overplaying.  Always, will you have access to the music that you love a few taps or clicks away whether it's across the globe or being streamed from any one of your devices.  It's all waiting.  It's all ready for you to enjoy!