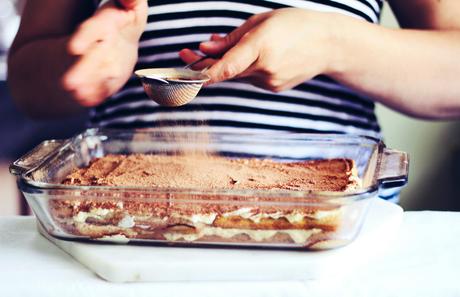 How about Tiramisu' for this weekend?... I can imagine you clapping and doing a little dance now! While answering with an Italian accent; Si Aldy! Bravo! That's how happy I imagine you will be about this dessert. I mean there's more than one reason to be happy with this kind of dessert... soft layers of creamy biscuits cover in chocolate, I think that just covers the point, right?!
Once in a while, we roll out the red carpet and make tiramisu' in our home, more of a special occasion kind of thing, for a birthday, a holiday or (you guessed it...) valentine's day.Thisrecipe is not entirely wholesomeper say but is SO amazingly great that deserves the taste.
And even though I wish there will be refined sugar-free biscuits to make this dessert a bit more wholesome, on the other hand, I came up with some great optionsto make it easier and quick to prepare, family friendly and budget friendly too.The highlights about this recipe are simple but great, ok. So bear with me.
The classic tiramisu' contains raw eggs and rum, but this recipeinclude either of those ingredients.This recipe is completelykid-friendlyandpregnancy-friendly. Yes, raw eggs-free and alcohol-free . Oh, and also completely decaffeinated ! I don't use regular coffee here, believe me; it tastes beyond delicious without regular coffee, the raw eggs, and the rum.
Now having said that there's also one more twist to it. T raditionally tiramisu' is made with mascarpone cheese, incredibly rich cheese in texture and scrumptious in flavor (but most of the time a bit overpriced). So I like combining mascarpone cheese with ricotta cheese and sometimes I even make tiramisu' just using ricotta cheese. And yet taste amazing too. (and if you're unable to find both of these cheese,check below the recipe for DIYeasy ricotta), So this is tiramisu' my way, something that the whole family can enjoy.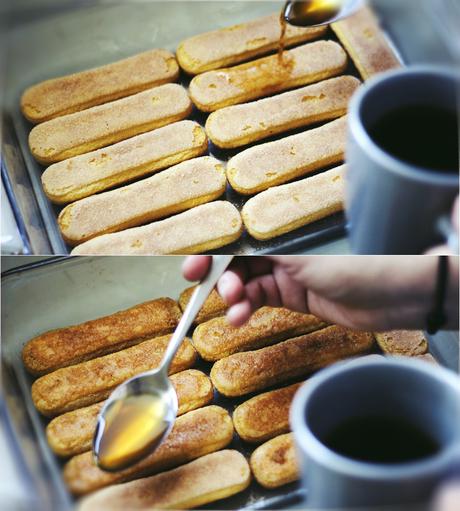 > 1- In a bowl add the sugar with the ricotta + mascarpone cheese and mix until well combined. If the mixture of the ricotta is a bit thick, just add a 3-4 Tbsp. milk (organic regular milk or plant- based milk ) to make it more soft and light. Set aside.
our the coffee into a container and quickly dip the biscuits one by one, but these biscuits are delicate and most of the time they just fall apart. > So I prefer to pour the coffee using a spoon once the biscuits are arranged. It's easier and less messy too. 2- Arrange 12 savoiardi biscuits in a rectangular dish ( just like in the photograph above) and using a spoon pour the coffee on each biscuit (some people prefer to p
> 3- Cover with half of the ricotta+mascarpone mixture and spread evenly. Dust with the cocoa powder. Repeat to make the second layer with the 12 remaining ladyfingers / savoiardi biscuits just like the first layer (biscuits + coffee + ricotta and mascarpone mixture + cocoa powder). Super easy, right?!
> 4- Place in the fridge for at least 2 hours before serving or until the next day. The Longer you leave it in the fridge the better the concentration of flavors and the taste. Enjoy!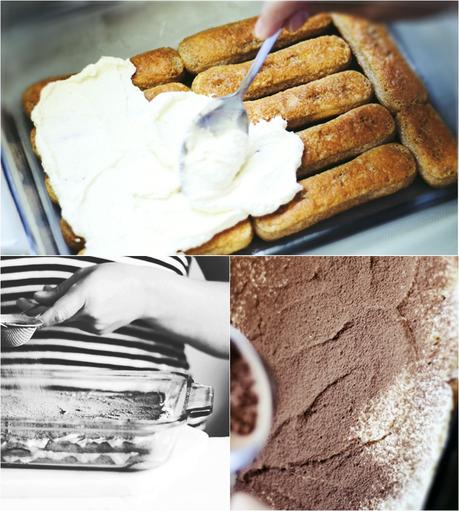 If (+) you're unable to find mascarpone cheese you can substitute using ricotta cheese, and make the whole tiramisu with just ricotta. It tastes amazing too! And if you can't find ricotta cheese, don't worry because you can make your own and it's incredibly quick and easy to make. You can find the recipe here.
(+) You can use unsweetened cocoa powder or sweetened cocoa powder. This is according to your taste and how sweet you like it to be. I use unsweetened cocoa powder.
If you are willing to use raw eggs in this tiramisu recipe, just (+) Note:
make sure you use fresh eggs (preferably free-range eggs or organic eggs) at room temperature. And this is what you have to do:
Just whisk the egg yolks with the sugar until the mixture is creamy, add the ricotta cheese (or mascarpone) to the mixture and mix until well combined. In a separate bowl, add the egg whites and whisk until stiff. And gently incorporate to first preparation (egg yolks + ricotta mixture) by using slow movements until all is incorporated. Set aside and continue as showed in steps 2, 3 and 4 at the recipe above .