I had the honor of receiving from my friend, Rochelle Hanson, her new book…
Get Love. It's Better Than a Boyfriend. 
She gives readers 15 ways to get more love regardless of your single status.  In her book you will find incredible love tips to keep you a healthy happy woman both physically and emotionally.  Isn't this what we strive for everyday?  Well, allow this book to be a helping tool and those days will be easier to manage.
Rochelle is a Certified Holistic Health Coach.  Her web site, The Single Status, offers tips and information about your health and beauty.  She shares these tips in her book and clearly explains the connection between food, health, love, and relationships.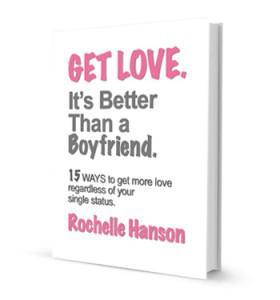 The book is a quick and entertaining read that will be hard to turn from once you get started.  Her beautiful and bubbly personality explodes from the pages.  She knows how to tell you like it is and still make you laugh. 
She shares personal stories because as a single lady herself, she understands the complexities and even the temptations singles face.  As I read her book, I nodded my head several times, because she hits on issues that are familiar to every woman. 
Go to her web site and subscribe today.  When you subscribe, you will receive the first chapter of Get Love. It's Better than a Boyfriend. for FREE! 
You can purchase the book and get all 15 tips for only $7.99.
I am sharing Rochelle's book with you because this is truly high quality content that will bless your life as soon as you start putting her tips into action.  So go ahead and get your love ladies!
Your Sister in Christ,
Candra Evans
If Love and Grace has been a blessing to you, show some love and forward to your single friends and family! Blessings!