Hey everyone!
Today I'm reviewing a gentle scrub from
Lotus Herbals
that I have been loving lately -
Whiteglow Oatmeal and Yogurt Whitening & Brightening Scrub
Price : Rs 185
Quantity : 100 g
Buy online at Flipkart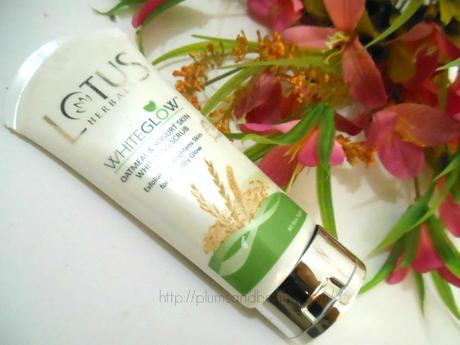 What Lotus Herbals says about the product -
Trust your skin only in the hands of a professional and you will not be disappointed. Lotus Herbals White Glow Oatmeal & Yogurt Skin Whitening & Brightening Scrub will help you in exfoliating your skin faster and better, so you can get a clean look even when you're running short of time. This oatmeal contained scrub is effective for gentle exfoliation, so you can get rid of all blackheads and other dirt clogging your pores. Show off smooth and clear skin as you finish your daily cleansing.
Along with exfoliating, this scrub visibly reduces the wrinkles and fine lines on your face, leaving it younger and firmer. The yogurt enzymes contained in this scrub are a great feed for healthy skin. Use this scrub on your skin and you can effortlessly remove dirt and impurities, so your skin can breathe in fresh air. The unique formulation of this whitening scrub not only lightens your skin tone but also moisturises your skin along the way. The composition of this scrub is gentle on all skin types and works on dull and uneven skin tones, hence is ideal for men and women.White glow oatmeal and yogurt skin whitening scrub exfoliates the skin gently, removes dirt, impurities, blackheads and whiteheads leaving your skin brighter and healthier with a shining glow.
Ingredients -
D.M. water, glyceryl, monostearate, glycerin, isopropyl myristate, polyethylene granules, avena sativa meal(oatmeal) powder, cetyl alcohol, stearic acid, light liquid paraffin, yogurt powder, sodium lauryl sulphate, 2-phenoxyethanol, methyl paraben, propyl paraben, alpha-arbutin, fragrance.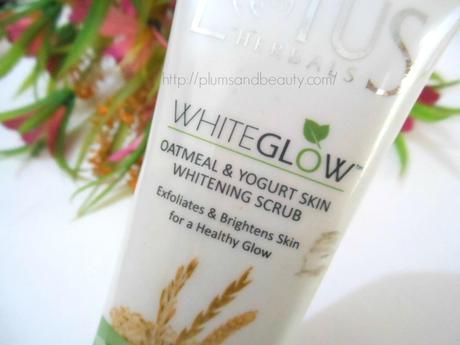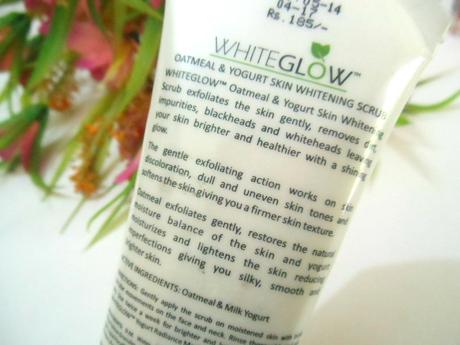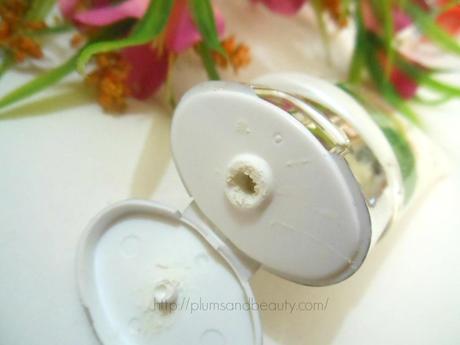 My experience with the product
Lotus Herbals Whiteglow Oatmeal and Yogurt whitening & brightening scrub
comes in a white squeeze tube packaging with metallic silver flip-top opening that oozes out the product. The only con being - product accumulating around the opening. Overall the packaging is easy to use and travel-friendly.
I have dry skin and does not need exfoliation on daily basis, hence, I work up with this scrub once a week.  The scrub is
creamy white
and has
grainy texture
of oatmeals, as an exfoliating particles that don't feel harsh on the skin. I would have liked the texture to be a little more semi-solid and gel like, the watery texture can make it a little messy. When I first started using it, my skin felt extremely dry and stretchy (for my dry skin of course ;p) and I felt skeptical and thought of using it as a mask and then scrubbing it off while washing. hence, I first apply a thin layer of scrub and after it dries (10-12 mins), I wash it off exfoliating with the grainy bits. On washing it off - my skin was squeaky clean but did not urge for instant moisturisation. With continuous usage (weekly once) - I could see
reduced whiteheads
and
blackheads
around my nose and no comments on whitening part - as I haven't noticed it much.
I would recommend everyone to try it out once because it will definitely help you with your blackheads/whiteheads. I love the affordable price too and I always keep a tube as handy during travelling! 
Rating : 4.5/5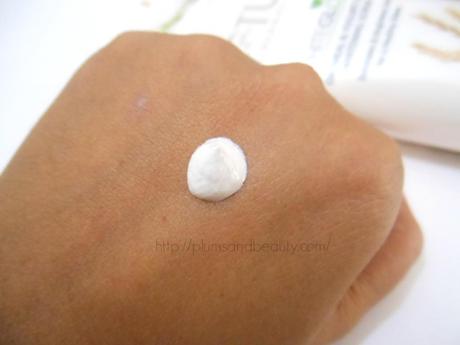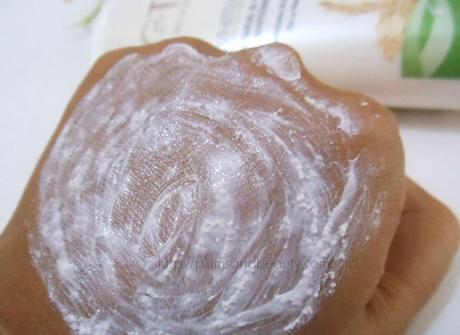 Have you tried any products from Lotus Herbals Whiteglow range? Which is your favorite scrub? Share your comments below.