I know you must have read lot's of good reviews by now of this sunblock and mine would not do any justice to this amazing and HG sunblock of almost everyone with oily skin in India. But still I want to share my views and how this sunblock turned out for my dry skin, I know as girls with dry skin also wants to try out this sunblock at some point hearing such good things about it so that is the reason I thought of sharing my review on this sunblock. So here's my review on Lotus Herbals 3-in-1 matte look daily sunblock.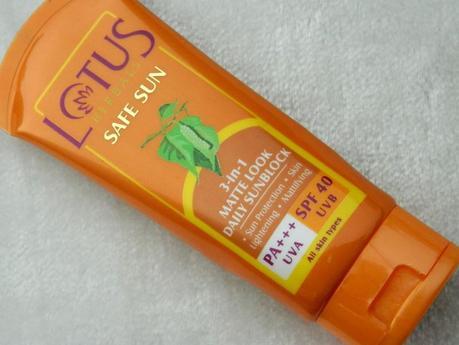 Price: 225 for 50 g
Product Claims:
3-in-1 daily sunblock is a revolutionary sun protection formulation which combines broad-spectrum UVA & UVB protection with skin lightening ingredients to give a uniform matte finish to the skin. Its fast absorption and non-greasy formula ensures a shine-free, light & clean feel.
How To Use:
Apply liberally and evenly on face and exposed parts of the body (neck, arms, legs, etc.) before exposure to sun. Re-apply frequently.
Ingredients:
Water, talcum, kaolin light, glycerine, polyacrylamideC13-14 Isoparaffin laureth-7, oxybenzoene,octyl methoxy cinnamate, titanium dioxide, butyl methoxydibenzoylmethane, isopropyl myristare,cyclopentasiloxane, elcosene, copolymer, fumed silica, 2- phenoxyethanol, methyl paraben, propyl paraben, methylchloroisothiazolinone and methylisothiazolinone, red iron oxide, yellow iron oxide, fragrance.
Active Ingredients: 
Birch Extract- Rejuvenating, reduces skin oiliness & refines skin pores.
Mallow Extract- Soothing & anti-inflammatory.
Hops Extract- Astringent properties.
My Experience with Lotus Herbals 3-in-1 Matte Look Daily Sunblock SPF 40:
This sunblock comes in an usual Lotus sunscreen packaging, orange tube with a flip top cap. The only drawback of the packaging is that the product gets accumulated at the mouth of the tube which makes it a bit messy. The fragrance of this sunblock is exactly the same like Ayur cold cream, the first time I started using it, I felt I had smelt this somewhere like it's quite common and couldn't make out the first day then the next day, I realized it smells the same like our common every household cold cream (Ayur).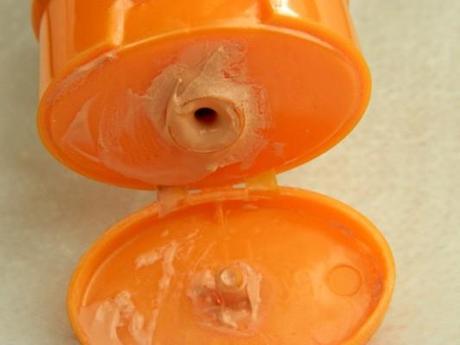 The consistency is quite thin though it goes matte on blending. Don't think that it would be thick and heavy hearing the name matte on the sunblock, it's very thin very much like flowy and spreads and absorbs easily though you need few extra minutes to properly blend it if you have dry skin like me. It gives some coverage too as it's like a tinted moisturizer, it gives pretty much sheer coverage which girls with non problematic skin will like and adore how it makes their skin. For my dry skin, though it does not dry out my skin but I feel that I need to moisturize my skin before applying it or that it should be a little moisturizing, for extra dry skin, this is just not for you!
It has got everything a good sunscreen should have! It is non greasy, mattifying (this is what we all want, right!), does not leave a white caste and has a very high amount of SPF and high protection against UVA rays as well (PA+++). This sunblock has never broken me out which rarely happens with me that I don't get a breakout from a sunscreen coz I think Lotus SPF 70 sunscreen has also broken me out, not sure though

but will let you know once I use it properly, will do a review for you all on that as well. As far as the lightening claims are concerned, I think this is not true, lightening effect may be temporary and that too because it's more like a tinted moisturizer which gives a sheer coverage and people who are not aware of all these things feel that it lightens their skin! Though it does not lighten but it definitely prevents against tanning because of its high SPF.
As you all know how conscious I am in applying and re-applying sunscreen and same goes with this as well no matter how high SPF a sunscreen has. And I re-apply it like after two hours and I can't wash my face after every two hours firstly because of the cold weather and second, I'm too lazy to wash or clean my face everytime I re-apply a sunscreen and this is where this sunblock lacks! Re-application is quite messy with this, I feel it dehydrates my skin on re-application and makes it kind of dry though it would not be the same if you re-apply it after cleaning your skin. If you are not crazy like me, you can definitely pass on this small con of this sunblock and get it for you be it you have any skin type except for extremely dry skin. One more thing I want to mention, the price of this sunblock has been reduced from 295 to 225 (amazing na) maybe because of it's high demand by oily skin in India or could be anything else, I don't know but price deduction really makes us happy! Right girls?
Swatches: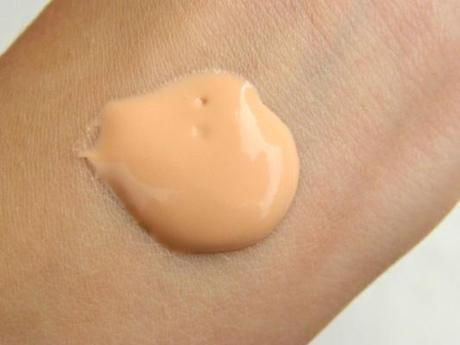 After Fully Blending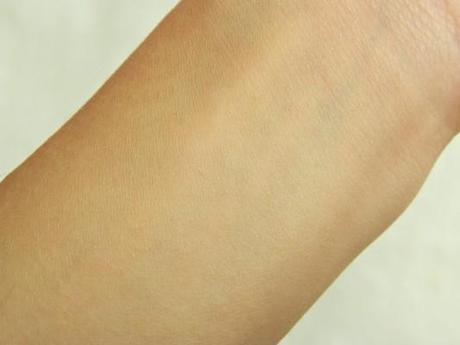 Pros of Lotus Herbals 3-in-1 Matte Look Daily Sunblock SPF 40:
Very affordable, price has been reduced from Rs. 295 to Rs. 225
Convenient travel friendly packaging.
Mattifying and non greasy.
Does not leave a white caste.
Light texture, spreads and blends easily.
SPF 40 is what makes it a perfect sunscreen besides all other features plus PA+++ which is again very high when it comes to protection against UVA rays that are the major cause of fine lines and wrinkles basically aging and hyper-pigmentation.
Will suit all skin types but is best for oily skin and for harsh summers.
Gives sheer coverage as it's slightly tinted and girls with non problematic skin can wear this alone on casual days.
Did not break me out.
Prevent me from tanning.
Easily and widely available.
Cons of Lotus Herbals 3-in-1 Matte Look Daily Sunblock SPF 40:
Not for extra dry skin.
Re-application is a bit messy if you are someone like me who re-applies sunscreen without cleaning your face.
BML Rating: 4.7/5