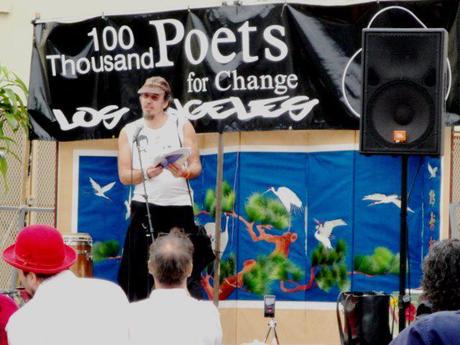 Los Angeles Author & Poet Kelly Giles 
Writes Poetry For Peace
1. What inspires you most to write?  

A search for authenticity, a desire to explore emotional depths which lay buried for much of my life...

2. When was the poetic turning point in your life when you began writing poetry more seriously?  

I had trusted someone I'd known for close to twenty years, when, in the fall of 2009, that trust was deeply betrayed.  After about 6 months of being so stunned by the betrayal that I was completely creatively blocked, the dam suddenly burst around Easter of 2010, and I began writing poetry prolifically in order to help heal from the trauma of that betrayal. 

3. Where can people buy your books?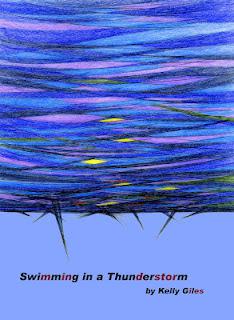 They can find my current collection, "Swimming in a Thunderstorm" on lulu.com for now, at http://www.lulu.com/spotlight/kellyab3.  There is a direct link to that site from my writer website, www.kgstoryteller.com, and people can find more recent poems of mine on the writer's blog www.booksbyprescription.com, where I blog as kgstoryteller.  I am hoping to have Swimming in a Thunderstorm available on Amazon as well sometime within the next few weeks. 
4. When is the forthcoming sequel hitting the streets?   
I am hoping to publish the sequel "Surfing the Tsunami" within the next few weeks on lulu as well. **UPDATE this publication is now available through Lulu on the following link: http://www.lulu.com/spotlight/kellyab35. What do you want your readers to know about you as a person?  Through both my work as an immigration lawyer and through my poetry, I have always strived, in the words of Simone Weil, the French mystic, "be there for others at the supreme moment of their need".   That sacrificial love is what makes life worthwhile, but also that when that sacrificial love is abused by power, it can be a painful reminder that before one can truly love others sacrificially, one must love oneself.
…&  about your work?
My poetry is healing poetry.  I write, first and foremost, to heal myself from a lifetime of trauma, from the traumas of adoptive abandonment to the traumas of abuse and betrayal, and in doing so, I hope to encourage others to explore their emotional depths as well, for I believe that it is only in diving to the depths of our shadows, that we can find both healing and a deeper purpose for the pain buried beneath the surface.  
6. Are you a native to Cali? If not what brought you here?  
 I grew up in British Columbia, Canada, mostly in Victoria. I came to Cali to go to Pepperdine for Law School, which, in retrospect, is just one in a series of places where I seemed to find myself throughout my life as the "Eternal Outsider".  For, as Tim Burton once wrote, whenever you've once felt a sense of being an outsider, or disconnected, that feeling never really leaves you.  But my follow up to that would be that by embracing that sense of otherness, I believe it's possible to build bridges where none were dreamed possible before.
7. What do find most inspiring about the poetry movement here?  
I love the incredible diversity, depth of talent, and supportive spirit I've found in the poetry movement here.  As someone still quite new to this community, I have found myself greatly encouraged by the openness and support I have received from my fellow poets.
8. Do you plan on reading live anywhere in the near future and if so where can we see you perform?
 I have been taking a break for the past month or so to attend to a family medical emergency, but hope to return to the open mic circuit some time within the next few weeks.  A couple of groups and/or venues I perform with or at most frequently are the Paloma Room Poets (http://www.facebook.com/paloma.poets) and at the Cobalt Cafe (http://www.cobaltcafe.com/) on Tuesday nights.
9. Aside from poetry what are you most passionate about?  
Aside from poetry, I am most passionate about exploring the universality oftrauma, about exploring the centrality of spirituality and relationships in our quest for wholeness, and about fighting for justice for immigrants in my work as an immigration lawyer.  Very early on in my career, one of my Chinese calligrapher clients gave me a beautiful calligraphy scroll on which  was expressed the vision that "I would help many people with the power of my words".  Having done so for over 20 years as an immigration lawyer, it is now one of my deepest desires to continue doing so from this moment on as a poet as well.
To read more poetry by Kelly Giles utilize the following links:
Kelly Giles on Facebook
Kelly Giles Storyteller
Spotlight on Kelly Giles