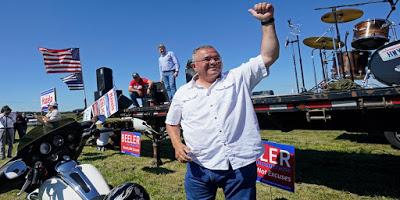 Loren Culp campaigning for Governor of Washington State
Loren Culp's candidacy for governor gets a lot of traction here in Eastern Washington, where the libertarian ethos is as strong as cheat grass, and potentially as volatile.
Culp wants "the people" to be free to decide for themselves whether and how to deal with the deadliest pandemic in modern U.S. history. Researchers found the relative increase in mortality during the early period of the COVID-19 epidemic was "substantially greater" than the peak of the 1918 Spanish flu pandemic.

Culp mirrors the approach Donald Trump has taken to controlling COVID-19. Under the Presidents chaotic mismanageme
nt the US continues to regularly report more than 1,000 new coronavirus deaths a day, which is one of the highest daily death rates per capita in the world. Over 212,000 of "the people" have died so far, and cases across the U.S. are once again surging as restrictions are eased.
Washington State has one of the lowest per capita rates of COVID-19 in the U.S., and according to a report from Oxfam America, no state has a better safety net for people impacted by COVID-19. But as restrictions have been eased, cases are again increasing. It's way too soon to ease restrictions, or to get complacent.
Loren Culp will continue to beat the "give me liberty or give me death drum" -- we can only hope that he's not going to lead too many of his followers to the latter outcome, and that those that do follow his lead, stay the heck away from the rest of us.