Loreal Nutri Shine Lipstick Strawberry Juice :
Review and Swatches
I cant believe myself, I just cant, I mean really?  How many red lipsticks do I really, actually need? Who am I kidding? I love them I dont think I can ever have as many. In my defense though I do have a variety in terms of brands, colors( light red, medium red, deep red), undertones( blue base, pink base, orange base) , finish ( matte, cream, sheer, shine) and so on and so forth. Okay so there I justified myself and we can begin the review of  Loreal Nutri Shine Lipstick Strawberry Juice .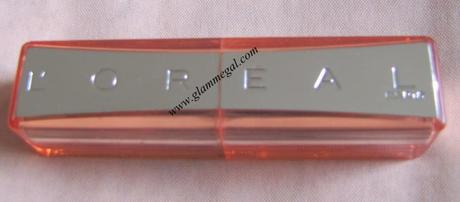 LOREAL NUTRI SHINE LIPSTICK STRAWBERRY JUICE
Price: INR 825

Lets see what Loreal has to say about the Nutri shine Lipstick:
Color Riche Nutri shine Lipstick nourishes like a balm and shines like a gloss. The Color Riche Nutrishine ranges comprises of 15 beautiful shades.
• Contains Royal Jelly-a precious natural ingredient melts onto your lips adding a luscious glossy shine with a non-sticky finish.
• Powered with Shea Butter- enriched with vitamins A, E and F helps smoothen your lips.
• Care and color both in one trendy stick, hereby making it a perfect rejuvenating solution for your lips.
Matte is my preferred choice of finish when it comes to lipstick but every now and then I like to switch it up for a glossy , juicy, fuller looking lips. Loreal Nutri Shine Lipsticks are a great choice if you are looking into wearing sheer lipstick. Strawberry juice is  a sheer red lipstick which needs three swipes to build up the color to its total capacity. If you love red lipstick but are afraid to flaunt it, or just taking baby steps in the brighter bolder lipstick colors then this might just be the lipstick for you.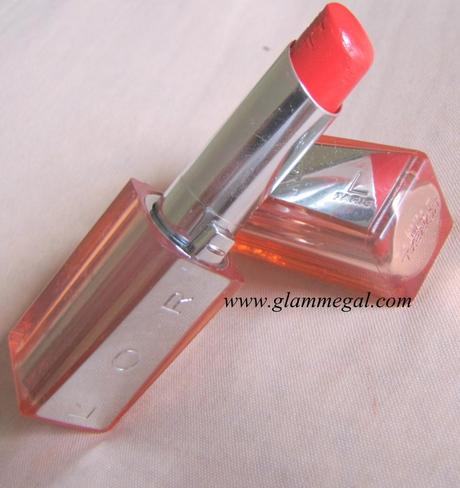 LOREAL PARIS NUTRI SHINE LIPSTICK 500 STRAWBERRY JUICE
I love the packaging of this lipstick, it looks very elegant in a translucent color co-ordinated square lipstick tube with a sturdy cap which makes it travel friendly.
Its a beautiful sheer red lipstick that will look nice on just about everyone. It glides on to the lips like butter, and its quiet comparable to Revlon Lip Butter in texture but its more juicier and shinier than them.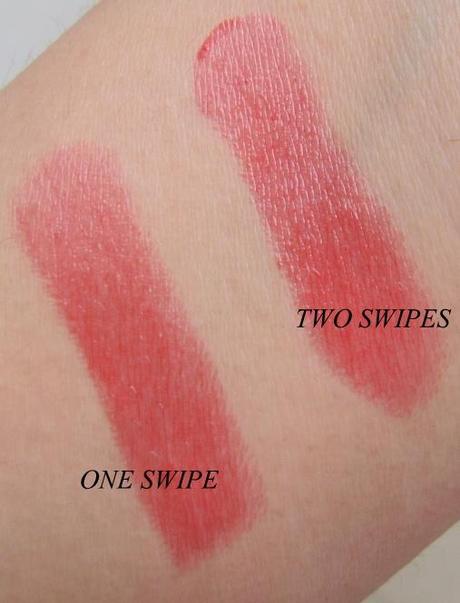 LOREAL PARIS NUTRI SHINE LIPSTICK STRAWBERRY JUICE
Freshly applied this lipstick gives plumper looking juicy red lips but sadly that look doesnt last long. A big con for this lipstick is that it doesnt stay very long. It stays at a maximum of three hours on me before completely vanishing off, as if no lipstick was ever applied. Not a big fan of that especially after shelling out the amount I did on it . But then sheer finish lipsticks dont last that long either. It moisturizes the lips as it hydrates them, so my dry lips really dig them.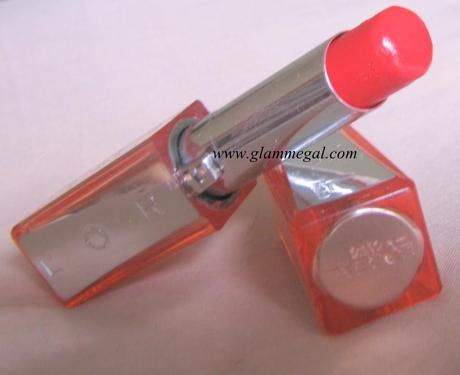 LOREAL PARIS NUTRI SHINE LIPSTICK STRAWBERRY JUICE
I am loving this juicy looking red lipstick. And this is how it looks on me.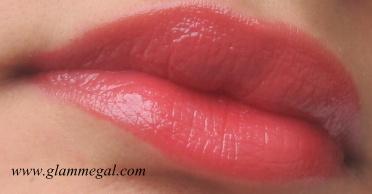 LOREAL PARIS NUTRI SHINE LIPSTICK STRAWBERRY JUICE
Isn't the  Loreal Nutri Shine Lipstick Strawberry  Juice just so pretty? I am looking into getting a pink-coral lipstick from this range. What would you suggest? Until next time.
You Might Also Like
REVLON SUPER LUSTROUS LIPSTICK BLACK CHERRY 477 REVIEW
MAYBELLINE FATAL RED LIPSTICK 530 REVIEW
EOS LIP BALM REVIEW POMEGRANATE RASPBERRY
COVERGIRL LIPSTICK REVIEW : ETERNAL 350
COLORBAR HEARTS AND TARTS LIPSTICK REVIEW
MAYBELLINE PARK AVE PEACH LIPSTICK : MLBB LIPSTICK
MAYBELLINE BOLD MATTE LIPSTICK MAT 4 REVIEW AND LOTD
REVIEW MISS CLAIRE SOFT MATTE LIP CREAM 15 JUST LIKE THE NYX LIP CREAMS
Tags:
day time lipstick, indian beauty blog, lipstick, loreal, red lipstick, sheer lipstick