Last Updated on by Jeremy
Disclaimers: This post contains sponsored, advertorial content. Our site uses demographic data, email opt-ins, display advertising, and affiliate links. Please check out our Terms and Conditions. Listed prices may have changed since initial publication.
I received a pair of Loom Footwear's waterproof sneakers for this review. All opinions are my own.
One of our favorite items to take with us when traveling is waterproof shoes. Not only do these make going out in inclement weather a breeze, but waterproof shoes also let us tackle a wide array of hiking conditions in nature without batting an eye. (Oh the number of times I've had to cross a stream in regular sneakers and ended up soggy for the rest of the day...)
So when Loom Footwear reached out to see if I'd be interested in trying out their new waterproof sneakers, I was more than happy to jump at the chance for one reason and one reason only- I've never had waterproof sneakers, only hiking shoes and boots.
This opens up a whole new world of possibilities.
Loom Footwear Review - A Waterproof Shoe That Isn't Obvious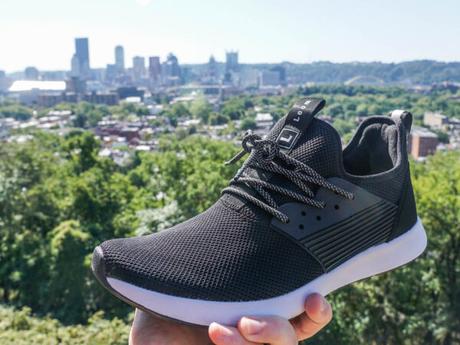 Very quickly when looking at a pair of Loom Footwear, you may be surprised to think that these are waterproof. They don't look like any waterproof shoe we've ever seen, and to be honest the pattern on the surface looks to be how breathable shoes are marketed- the exact opposite of what waterproof shoes often do.
Even when wearing them, I was a bit suspect. They breathe fairly well and check a lot of the boxes for a standard sneaker. But, since these are waterproof shoes, I have to admit that the aesthetic and comfort was a secondary thing I was interested in- I wanted to check to see if they worked!
So I had to put them to the test.
Putting Waterproof Shoes to the Test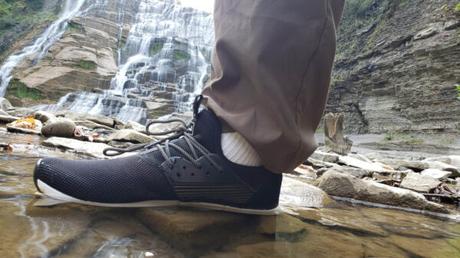 To really test the waterproof nature of these shoes, I decided to put them through a few real-world tests and stress them a bit more than they were designed for.
The first was going hiking on a weekend trip in the Finger Lakes where I purposefully stepped into streams to submerge the shoes as best I can. Not surprisingly, passing through the streams themselves resulted in no water coming in contact with my feet. A win!
The second was wearing them while going on a kayak trip. My intention here was mostly to see how they handled with water splashing, but we ended up having to go to shore on an uninhabited island party-way through the trip. This is fine, but it was only when we got there that we realized the water was really shallow and we had to pull the kayaks fairly far out into the water to depart.
This brought on two issues. First, I felt like after a sufficient period of time, the shoes met their saturation point with water. This is fairly common as many waterproof shoes achieve this effect by being super absorbent such that you are protected until you reach a saturation point. The other was that the low collar simply didn't allow enough depth to keep my feet completely protected, and water came in from the top. That one is on me.
This test inadvertently tipped me off to something interesting though- the shoes are incredibly quick drying. Within an hour (while still kayaking) and despite having wet socks the shoes were almost completely dry to the touch. Impressive!
The final test was looking into that absorbency factor a bit more while at the previously mentioned stream. I simply wore the shoes while standing in the water (not moving) to see how long it'd take for my feet to start feeling wet. I put my foot in (collar above the water line, of course) and waited. After several minutes I could start feeling slight dampness on the inner layer of the shoe and was quite impressed with how long the (admittedly new) shoe took to reach this point. Even better was that it felt like the shoe dried out almost just as fast.
All things considered, the waterproof element of these sneakers is quite impressive.
The Shoes Are Great for the Right Circumstance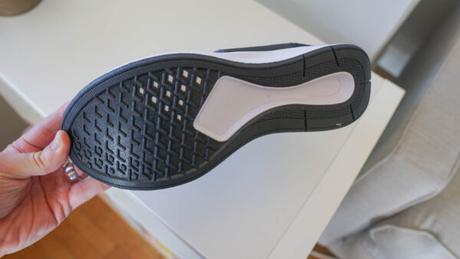 When it comes down to it, Loom Footwear's shoes are rather comfortable and the waterproof nature shines in select circumstances.
For those who need something waterproof for hiking, we may recommend going for something with a thicker sole and higher collar. Crossing streams in a sneaker can inherently only protect with so much depth (something I found out when docking a kayak on an island) and I have to admit I felt more rocks and tree roots on trails than I'd otherwise like when hiking. But if you are looking at walking around a city, especially on a rainy day where you may have to step in a puddle here or there, the shoes are perfect.
In fact, this is one of the things we really love about Loom Footwear because the shoe looks more like a casual sneaker than something that is designed to be waterproof. So while we would often wear our hiking shoes out even when walking around cities when traveling (which, admittedly was not a good look), having a pair of these opens up a lot of versatility in the style department while also being covered on rainy days.
So if you are in the need of a stylish sneaker that will keep your feet dry exceptionally well, you may want to give these shoes a try!
Looking to book your next trip? Check out the following services we use!
Pick up a pair of Loom Footwear's waterproof shoes today by clicking here. Use discount code LTD10 at checkout to get 10% off your order. Note that Loom Footwear sizes based on the European sizing system and they recommend purchasing one shoe size up from what you would normally wear. As I often buy shoes in the 1/2 size, I thought mine were a bit snug rolling up to the next closest whole number, but they loosened up over time. I was provided my pair of shoes courtesy of Loom Footwear for this review. All opinions are my own.