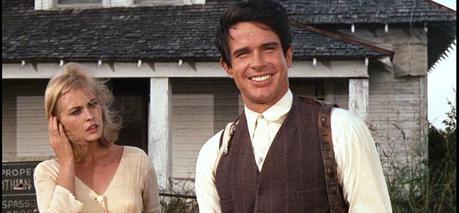 "Clyde threw Bonnie under the bus."
That's how Jimmy Kimmel referred to Warren Beatty's treatment of Faye Dunaway in the aftermath of their historic Oscar flub Sunday night. Beatty opened the envelope, hesitated and showed it to Dunaway, who announced La La Land the winner before quietly receding into the background. She was nowhere to be found on camera when the La La Land dreamers had their dreams crushed, setting off the memes which practically broke the internet. Beatty explained the error as best he could, and Moonlight's celebration took on an unnecessary air of confusion and tragedy. When speaking to reporters backstage and at the various after parties, Beatty repeatedly shifted the blame to Dunaway since she was the one who actually announced La La Land, not him. For her part, Dunaway flatly refused to discuss the matter, and instead partied the night away.
Does anyone even remember the only reason Beatty and Dunaway were even put in that position was to honor the 50 th anniversary of Bonnie and Clyde? And for those who actually know their Bonnie and Clyde trivia doesn't this seem like it was destined to happen? As Beatty biographer Peter Biskind told THR yesterday:
You could say this was the ineluctable, the destined outcome, the result of the dual histories of Faye Dunaway and Warren Beatty. Both of their personalities played into it. I have no idea what the relationship is like now but they did not get along during Bonnie and Clyde. And the fact that she kind of lost patience with him and basically grabbed the card and announced it is very much in keeping with their relationship. You can see why she's irritated. You can see he's flummoxed, but she thought it was Warren being Warren, which it wasn't.
What do you mean they didn't get along? I've seen that movie. Their Bonnie and Clyde had passion for days. Was this a Moonlighting situation where their personal animosity only served to heighten their on-screen chemistry? Bruce Willis and Cybill Shepherd hated each other for mostly ego-related reasons. What was the cause of the Beatty/Dunaway split on Bonnie and Clyde?
Oh, this probably factored into it, from TCM:
Originally, Warren Beatty hoped to cast French actress Leslie Caron, his girlfriend at the time, as Bonnie Parker. When he decided she wasn't right for the role, it led to the end of their relationship.
Ouch.
So, Dunaway was a walking reminder of his recently failed relationship. I get that.
Actually, there's more to it:
Other actresses considered for the female lead included Natalie Wood, Jane Fonda, Carol Lynley, Tuesday Weld and even Beatty's sister, Shirley MacLaine. Weld was almost set to do the film when she learned she was pregnant and decided she couldn't handle the location shoot in Texas.
That means Dunaway was, at best, the 7 th choice for the role? Not great, but, hey, it worked out. She got an Oscar nomination out of the ordeal.
How'd she get the part?:
Faye Dunaway had tried to get an interview with Arthur Penn when he was directing The Chase, but was rebuffed by a casting director who didn't think she had the right face for the movies. When Penn saw her in scenes from her first picture ( The Happening, 1967) before its release, he decided to let her read for the role of Bonnie Parker. Beyond The Happening she'd only star in one other movie (1967's Hurry Sundown) before her breakout role in Bonnie and Clyde.
And they lived happily ever after until 50 years later when some starstruck accountant was too busy tweeting pictures of Emma Stone to pay close enough attention to two piles of envelopes. Right?
Not so much. Beatty wasn't the greatest guy to work with on that movie for anyone, not just Dunaway. Remember, at only 28-years-old Beatty was not just the star but also the producer. He fought to film in Texas both for authenticity's sake and also to escape the prying eyes of studio executives. He cast the then-unknown Gene Hackman to play Clyde's older brother. When completely unimpressed Warner Bros. decided to dump the finished film in drive-in theaters he was the one who lobbied to at least give them a film festival premiere to build up word of mouth. And so on and so on.
Point being, Bonnie and Clyde was his baby, and he would have his way, even if that meant constantly arguing with and undermining the director Arthur Penn during filming. Plus, ego inevitably came into play:
Initially, Warren Beatty refused to have Faye Dunaway billed above the title with him. Even during shooting, he fought efforts to raise her billing. Finally, after the film was shot, he realized how strong an impact she was going to make in the role and agreed to give her star billing.
Dunaway probably got over all of that after Bonnie and Clyde turned her into an Oscar-nominated actress, fashion icon and Hollywood's new "It" girl in one fell swoop. Within a year, she'd star in another hit, 1968's Thomas Crown Affair opposite Steve McQueen, and within a decade she'd suffer a series of disappointments before a rebound which saw her nominated for two more Oscars, losing for Chinatown (1975) but winning for Network (1977).
Regardless of whatever behind the scenes tension there might have been during the making of the movie, Bonnie & Clyde remains one of the most important films of the 1960s, as Jenny Lu explained:
In the 1960's, the film industry as well as the rest of America was going through times of reform and change. The United States was facing racial conflicts, a rise in militarism as well as feminism. There was a shift in audience demographics as well as directors who looked towards European films such as the French New Wave and Italian filmmakers for inspiration. Bonnie and Clyde is one of few films that came out during this New Hollywood era which had started to incorporate violence, promiscuity, disillusionment, and ideas of going against social norms. It paved the way for new movies in the U.S. to adopt similar ideas. There was also this shift to realism and a new color palette for film to make them appear more "real" and believable.
Now, sadly, the historical record will have to be amended to note that at a 2017 reunion the two stars of Bonnie and Clyde accidentally tried to give Best Picture to the wrong movie. But, as many on social media instantly pointed out during the telecast, it kind of fits. Bonnie and Clyde, robbers 'till the end. Just don't put them in the same room together any time soon. They might not like each other right now, if they ever did at all.