Saturday, April 5 – Monday, April 7
Our weekend trip to Pitlochry started something like this: J: "Oh Aviemore is booked out again!"Me: "Where should we go instead?"J: "How about Pitlochry?"*Of course we had left it to the last minute again…so we booked our accommodation on the Wednesday, the buses on Thursday night and we were off on Saturday morning.Day OneJ and I caught a Megabusbus at 9am, again (our second time in two weeks), this time we were heading to Pitlochry, in Perthshire. We passed all of these small towns in Fife and Perthshire, even passed a paddock of Highland Cows (or as I like to say hairy coos*), arriving at 11:45am.It was a two-minute walk to the Pitlochry Backpackers Hotel– where we were welcomed by a very friendly Scot* who had quite the novelty thick Scottish accent, which you don't get much of in Edinburgh and his friend, the six-month old black pug Jess – whom he put on the front desk so we could give her a pat.He also let us check into our twin room straight away, which was nice, as I was a bit sleepy, because of getting up early that morning. J and I put the suitcase down and we took our reading books and other stuff out of our bags and we went back downstairs. We talked to the host again, about things to do, there is plenty; the fish ladder, Ben Vrackie, whisky distilleries, see the highland cows up close, go see a show at Pitlochry's Festival Theatre…plenty to see and do.We then went to the Tourist Information Centre down the road and got ourselves a map (not that you really need one) and we were told the Bell's Blair Athol Distillery did a tour at 1pm, so we quickly walked further down the road and bought tickets for the tour (£6.50 for an adult).Our tour guide was this German man, who was funny when he tried entertaining the group with his translations of words like, 'peat,' 'barley' and 'malt' into Spanish and especially when he tried to do it for the one Greek girl that was on the tour. After being shown through the different rooms featuring everything from the mash tun to where the malt is distilled into alcohol, we were shown where they keep the casks including blends for Johnny Walker black label. 
We were finally lead to the gift shop and were given the complimentary 'wee dram of the Blair Athol twelve year – which was not too bad, a bit too strong on the alcohol front for my tastes (50%ABV).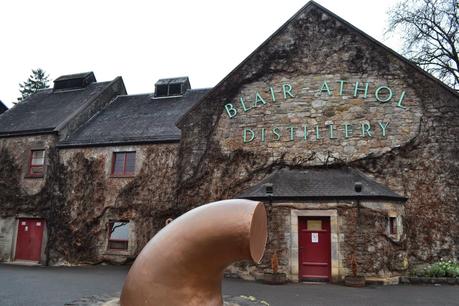 The Blair Athol Distillery
We wished that the

Edradour Distillery

was open, but unfortunately it isn't due to open until April 17. Apparently it's a bit of sore spot for some locals, due to it being a very popular tourist destination, so it wasn't just us hoping it was open.
Afterwards J and I walked back up the road a little and headed off to the fish ladder, but first stopping at a park bench near the local football (soccer) grounds, facing the river. We ate our packed lunch, whilst we watched two fishermen, probably fishing for trout (as its not salmon season just yet). It was a different experience than back home, where one wears pluggers (flip flops), shorts and a singlet; rather than wellies (gumboots) and waders. There are also a lot more regulations in place; you have to buy fishing permits to legally fish in the waterways in Scotland. Which I wholeheartedly agree with, I wish we had to do it back home, then hopefully it would help end the overfishing of our waterways. And we wouldn't get idiots like this…
[WARNING: You may find the video featured in the news article disturbing.]
http://www.ntnews.com.au/lifestyle/fishing/angler-taunts-puffer-fish-before-kicking-it-into-ocean-before-shocked-tourists/story-fnkchy3h-1226877010283
We followed the River Tummel upstream (on the town side) to Pitlochry Dam and the fish ladder.
We walked over the huge cement structure that was the dam*, with Loch Faskally on our right and the River Tummel on our left – blasting water from its walls – we came to the 'fish ladder.' A structure designed to aid salmon swimming upstream to lay their eggs during spring. It's a tad hard to explain (especially because I don't really have a technical-savvy mind), but it is a brilliantly designed piece of engineering.We managed to see the one lonely salmon in one of the resting pools, just swimming about. The ladder is even complete with a video camera so you can see below the murky water, and a fish counter.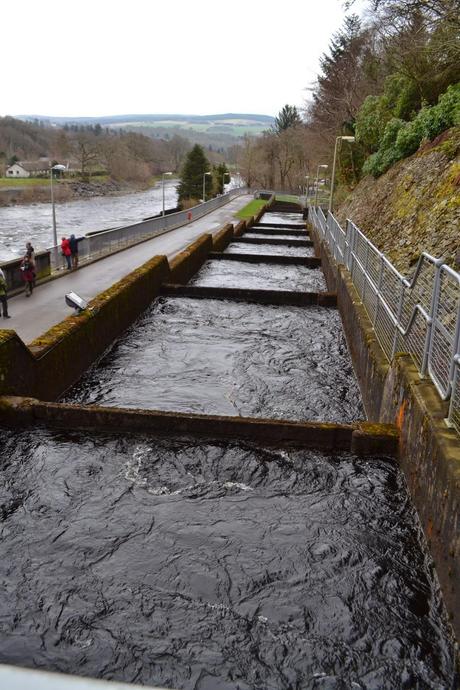 The fish ladder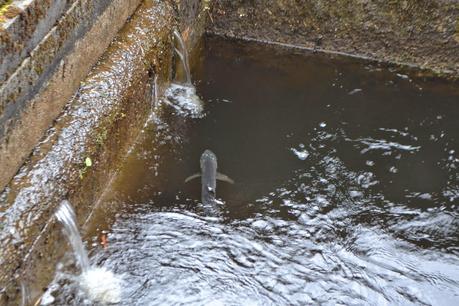 The first salmon of the season chilling out.
While I was looking at the salmon all I could think about was this song.
We stayed over that side of the river and walked passed the Pitlochry Festival Theatre and stopped in at the Fisherman's Bar, where we sat out in the beer garden to drink our pints of stout, watching even more of the 'tweed and welly brigade.' Shortly after that we were back in town, instead of going straight to the hostel, we went to Hettie's Tearoomacross the road, where were served giant slices of cake, I had a chocolate fudge cake with a pot of Hettie's Early Grey tea and J had a lemon drizzle cake.I don't know how we finished them, but we did.Then it was back to the hostel for a little reading and a nap, because isn't that what holidays/weekends away are for. Once we were up to doing something we headed out of the hostel and across the road to Mckays Hotelfor dinner and a drink. I had the steak pie with mash and sautéed vegetables. Which was just what the doctor ordered. Then we hit the drinks while we watched the awesome cover band, the Ducatos,from Glasgow - do renditions of Johnny Cash and Elvis. It was great to hear a band do this classic rock and the lead singer really had the voice for it.J had to pop back to the hostel and while he was gone, some guys that were on our distillery tour – also from Glasgow*, came up to me and said hello in the friendliest and drunkest manner yelling, "Aussie" and giving me a big bear hug. When I went up to the bar to order my G&T, they insisted I have one of their jägarbombs, which was so lovely of them (note the sarcasm).Then it was home time! Day TwoWe slept in a little bit, had the hostel continental breakfast (£2 each) and we made sure to put on our walking clothes with our light rain jackets, since we were planning on going for a long walk that day. We started off by walking all the way out to the farm near the turn off for the motorway – to see the Highland Coos.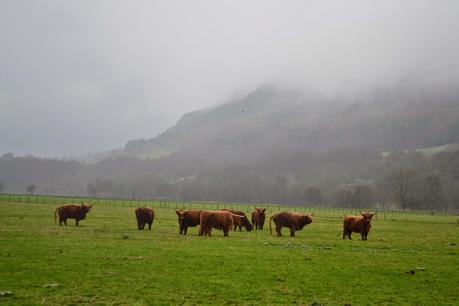 The Highland Coos
It was pouring with rain – but it was worth the 20-minutes to see their cute shaggy-haired faces. After walking back into town we then stopped off at the local bakery to buy takeaway sandwiches and a stovie (mash potato with corn beef bits mixed in) to share, which we sat and ate the hostel for a quick break - before we started our walk. We walked through the North part of town, walking passed a lot of people that were sweaty, soaking wet and red in the face – who had all participated in a local orienteering competition. The Killiecrankie Path, which would ultimately lead us to Killiecrankie, but we were only going so far, took us passed the boat hire place, along Loch Faskally, through Faskally Wood, passed fields and a waterfall - where we came to Garry Bridge.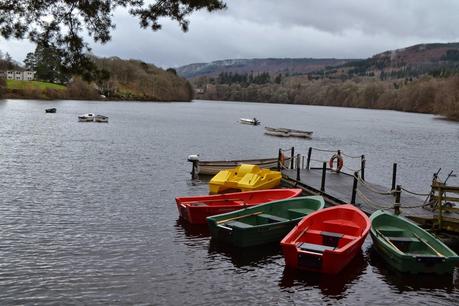 Boats for hire on Loch Faskally

We stopped to eat our sandwiches and watched a few women bungee jump from underneath the bridge along with their friends and family members and other spectators. Continuing on we came to Linn of Tummel where the guy from the hostel told us about; there is a huge Osprey nest and apparently this is where you can see deer usually, however we didn't see either.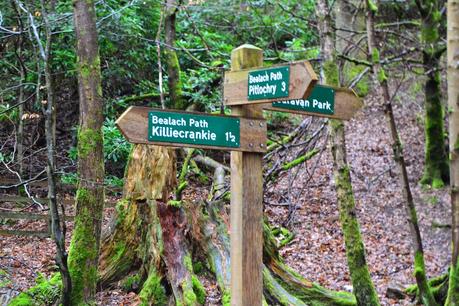 Signs pointing us onto the right path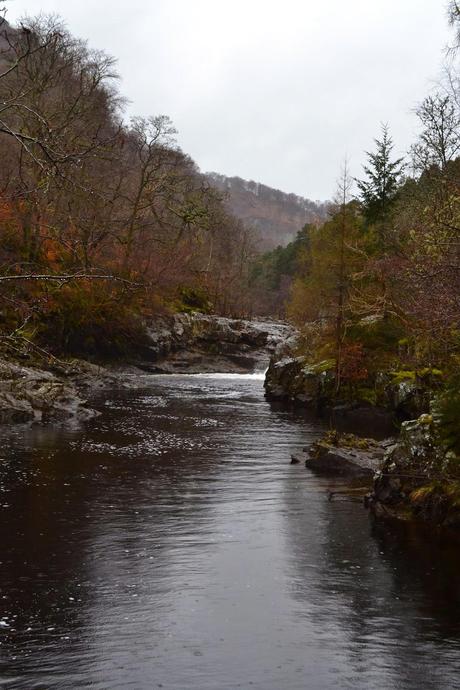 Around Linn of Tummel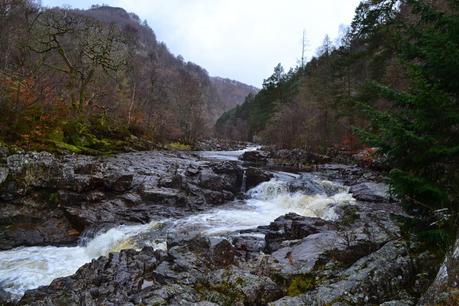 Also around Linn of Tummel

This was also a great viewing point of the loch; it was a lovely spot on the walk.We crossed Coronation Bridge and then followed the road all the way back, passed Clunie Power Station, stopping only when we saw two pheasants run from the bushes. I was only just able to catch them with my camera.We then made it back to the hostel after five hours and about 14 kilometres of walking. We decided to go back to the hostel and have a rest, or a nap in my case and get changed from our wet clothes. That night we decided to go to dinner at the Moulin Inn, a historic town situated behind Pitlochry by a 10-minute walk. Amazingly the sun had come out this afternoon and we were finally able to see Ben Vrackie poking its head out from behind Moulin. J and I wished it had been sunny all day so we could have given climbing the mountain a go. Anyway, the Moulin Inn was such a lovely old pub, with delicious food; we decided to spoil ourselves and give three courses a go; J had deep-friend haggis fritters and I had grilled goats cheese for entrée. Then I had mustard chicken with mash and veggies and J had a lamb shank with chips and veggies. Then for dessert J had sticky whiskey sponge and I had the highland honey sponge…mmm it was amazing.We also tried the Moulin Brewery ales (made in their micro brewery just behind the Inn), J had a pint of the Ale of Athol and I had a pint of the Braveheart (apparently named after the movie). They are pretty tasty beers.Well dessert was followed by a 'wee dram of whisky in the bar, next to the open fireplace. It was a great nightcap before going back to the hostel and taking full advantage of their free pool table. Day ThreeWe woke up early this morning to make the most of the hours we had left in this lovely town; our bus taking us back to Edinburgh was at midday. After indulging in the continental breakfast again, we decided to head up to the Moulin Brewery; where we got talking to the brewer (part-time guide) about how he makes the beers, which J definitely found interesting, because he is makes home brew with our flat mate. It turns out he used to work at the Blair Athol distillery as well. After buying a bottle of the Remedial ale to take home from the hotel reception, we headed back to town.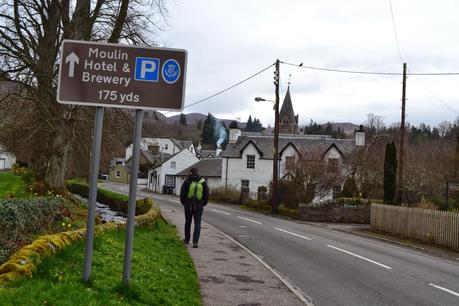 On our way to the Moulin Hotel & Brewery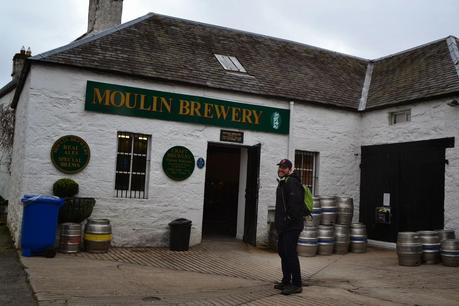 The Moulin Brewery

We decided to go into the bakery for some lunch before we got our bus, and I couldn't leave without having another stovie again. Especially because the temperature was a lot cooler today, it was the perfect thing to warm you up from the inside out. We went back to the hostel, played our last game of pool, said goodbye to the hostel guy and grabbed our suitcase. And then we were waiting at the bus stop to go back to Edinburgh.Have you ever been to Pitlochry? What did you think? Reply in the comments section below… x
*This conversation may/may not sounded exactly like this, but I'm writing the damn thing, so I'll tell it how I remember it.
*Mainly to piss-off a certain colleague of mine, she loves it when I play up being a daft tourist.
*We think his name is Ryan, if it is his name; this guy was one of the best hostel hosts ever!
*Quite an interesting structure, as it is a hydroelectric dam.
*When we met them on the tour, J and I thought we recognised them and thought they could have been a band we knew…it turns out they weren't/aren't famous (that we know of).