On Sundays 

we pluck just one walk from the vast 

London Walks 

repertoire and put it center stage.




You 

can check out the full schedule at 

www.walks.com

But if you only take one walking tour this week, why not make it…

Mountain Building & Meteorites in the City of London
An Urban Geology Walk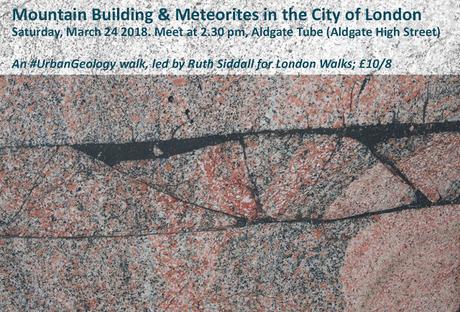 Aldgate Tube, exit on Aldgate High Street |
Guided by
Ruth
This new London Urban Geology walk will look at London's buildings through the stones used to construct them. We will concentrate on the 'post-modernist architecture' of the 1980s and 1990s when exotic stones were imported for decorative cladding from all over the world. We will see examples of spectacular granites formed in the process of building mountains and even stones that were hit by a meteorite 2 billion years ago.
Mountain Building & Meteorites in the City of London
2.30 pm on Saturday, March 24th
The meeting point is just outside Aldgate Tube (exit on Aldgate High Street).
About Your Guide…
Ruth is a geologist at University College London. She researches geological materials used in art, architecture and archeology. She is interested in the natural history of cities and this includes the fossils and crystals that we walk past every day. Ruth has appeared on the BBC World Service programme Science Now and regularly writes and blogs on building stones.
A London Walk costs £10 – £8 concession. To join a London Walk, simply meet your guide at the designated tube station at the appointed time. Details of all London Walks can be found at
www.walks.com
.