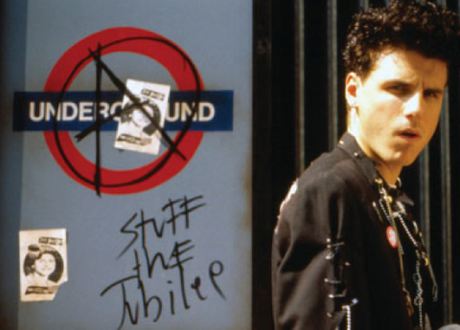 A still from London: A Modern Babylon
The background
London: The Modern Babylon is Julien Temple's new documentary about, you guessed it, London. It uses newsreel footage and many other sources to show what's great about the capital city from the nineteenth century till today. Temple is known for his documentaries about the Sex Pistols, The Clash and Joe Strummer. This film has narrators in the form of Michael Gambon, Bill Nighy, Imelda Staunton and Andy Serkis; there are quotes from Yeats, Blake and T S Eliot, whilst other London stars appear in archive footage. Critics are largely impressed.
More subversive than Danny Boyle?
It's "brilliant, exhaustive and exhausting," said Peter Bradshaw in The Guardian. In London you find "creativity, energy and violence," whilst the "rest of the country is placid and dull." It's "more subversive than Danny Boyle's" Olympic ceremony. Temple cuts up documentary footage from the twenties with modern footage. He "puts the spirit of punk at the center of everything." It's "refreshingly free of cliché," and is a "very heady experience."
 A multilayered collage
Picture the opening ceremony "without the glowing dove bicycle people" and you'd get this "chaotic sprawl," said Larushka Ivan-Zadeh in Metro. It's a "multilayered, impressionistic collage where order slowly emerges from babble." She gave it four out of five.
Celebrating a mixed city
It's an "upbeat celebration" of a city with a mixed population, said Stephen Dalton in The Hollywood Reporter. It's "sensually rich and emotionally engaging," though he admitted that it would probably have niche appeal and find its audience on DVD. Still, it's a "heady mix of human stories."
Temple fails to breathe new life into the footage
Adam Lee Davies on Little White Lies was less impressed: he said that the material makes it seem like Temple's "arrived a little late for the feast." The footage "seems familiar" – and it's "churlish to blame Temple for that", but he doesn't "breathe new life" into it. However, "when it works, it works." He also sees London as full of violence: "there is much more to a city than banner headlines, and there's a feeling that Temple has let some of the capital's smaller stories get nudged to the back pages."