Daily Constitutional Editor Adam writes…
Every year on The Daily Constitutional, as the high season for visitors to London hots up, I spend August sharing a few archive posts. This year I'm reposting recommendations from our If You Do One Other Thing In London slot (a regular feature of our Saturday London Spy posts) and updated posts from the Best Museums In London series, in which the London Walks guides shared their best London museum tips. 

If theres' a London Walks tour starting or ending nearby I'll add the details at the bottom of each post. I hope you find these posts helpful over the course of the summer.

Keep in touch - I'm not going into hiding! - I'll be posting throughout August and, of course, I'll see many of you "out there" on London Walks tours. All of our regular features – and some new ones, too – will return in September.

A.S-G London, August 2016
LW's Karen writes…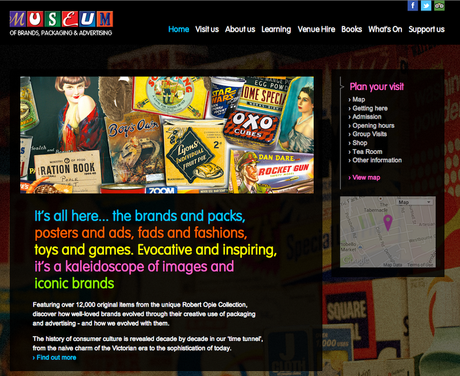 We've all said it: "Oh, I always meant to go to such-and-such-a-place but never quite got around to it."
For me it was the Museum of Brands. And how delighted I am to be able to say "was".
I finally visited recently and was met with not only a vividly colourful, but also a lovingly detailed history of our consumer society stretching back to the 1890's. 
Founder Robert Opie has amassed a collection numbering nearly 12,000 items – amongst which I can guarantee that everyone will find their own advertising Madeleine moment. Informative and lots of fun.
The Museum of Brands, Packaging & Advertising
2 Colville Mews
Lonsdale Road
Notting Hill
London
W11 2AR
Admission
Adults (includes gift aid): £9.00
Children (7 - 16): £5.00
Family: £24.00
Concessions: £7.00
Carer for disabled guest: Free
Opening Hours
Tuesday to Saturday 10am - 6pm
Sunday: 11am - 5pm
Monday: Closed, except bank holidays




The Notting Hill & Portobello tour on Saturday mornings ends near the Museum of Brands. Full info on that tour here: www.walks.com
A London Walk costs £10 – £8 concession. 
Accompanied children under 15 go FREE.
To join a London Walk, simply meet your guide at the designated tube station at the appointed time. Details of all London Walks can be found at
www.walks.com
.