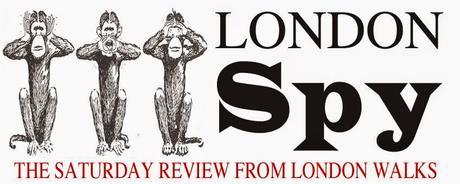 It's our weekly London roundup starting with a few headlines that caught the eye in London this week, click the links for the full stories...
If You Do One OTHER Thing In London This Week...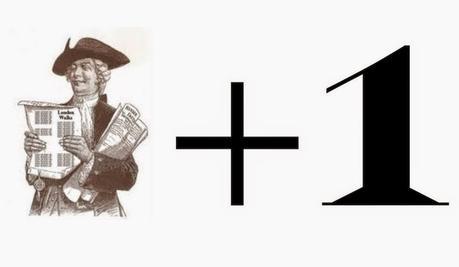 Our weekly slot in which we point you in the direction of other happenings and events in our great city. A new exhibition, a gig, a museum, a pop-up-shop - the best of London within a few minutes of a London Walks walking tour.
We're looking a little bit ahead for this one - to the 15th May to be precise and the last episode of Mad Men.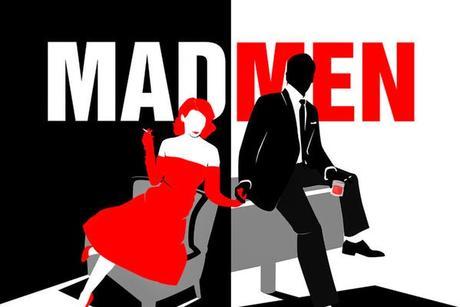 The run of the last seven episodes began on Thursday here in the UK and to mark the passing of this landmark drama, the Museum of Brands is hosting one of its late night events on the 15th May, 6:30pm to 10:00p.m.
Here's how the invitation reads...
Dress to impress as we get our Don Draper on and step back into the 60s for our Mad Men themed late. The 1960's were a time of radical change which introduced a new breed of advertising that had energy, style, wit and youth. We celebrate this turbulent time via its advertising, music and fashion. So Ladies and Gentlemen, step into your best swing dress, raise your hemline, don your sharpest suit and come and join us for a night of gallivanting.
Lipstick & Curls will be joining us to touch up your hair & makeup, LindyBop will be here with a rail of dresses to tempt you and get down to some Doo-Wop with the Hey Las.
You can expect a FREE drink on arrival, themed drinks, snacks, a whole host of live entertainment, a Time Tunnel trail around the Museum and listen to some 60s pop, rock n roll and soul music.
Museum of Brands, Packaging & Advertising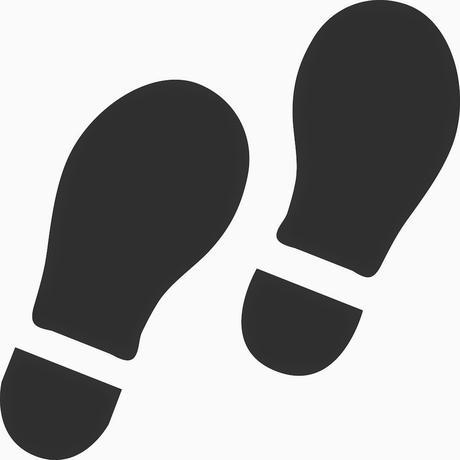 As Brits, we're largely in the dark when it comes to baseball. So we were intrigued by this piece in the Houston Chronicle...
"New to both the squad and the role of its closer, Astros reliever Luke Gregerson hadn't given a lot of thought to his walkout music prior to Opening Day... that walkout music needs some work, Luke."
So, that's a thing? Walkout music? We're all for it. Perhaps our London Walks guides should consider adopting the practise as they approach the meeting point for our walking tours.
Good luck to David Peyto, a retired teacher from Calgary...
Some people prefer to run, but others like to walk.
David Peyto is one of the latter. So much so, that he is undertaking an "every street" walk in Calgary.
This type of walk is just like what it sounds like: a walk down every single street in the city.
"I've always enjoyed just getting out, and I've led historic walks in the past years in older communities. And I thought, I would give this a try and see how much I can do and learn more about the city," said the retired phys-ed teacher.
Catch up with the story and follow David's progress in the Calgary Herald.
This story is very much in the ether at the moment, it comes back week after week: walking meetings. And we LOVE the idea...
The walk and talks have obvious benefits. Desk-bound office workers can all use a bit more exercise. Sitting too much is killing us. Yet the walking meeting's upsides go far beyond the physical. Walking helps break down formalities, relaxes inhibitions and fosters camaraderie between colleagues -- and less eye contact can fuel more personal conversation. Meeting on the go also minimizes distractions -- no phones, no email, no texts, no colleagues interrupting you.
Seen in London This Week...
It was wild to see the Romans in Trafalgar Square last Friday at the Passion play. Here's Pontius Pilate on horseback riding alongside Gift Horse, the fourth plinth statue by Hans Haacke...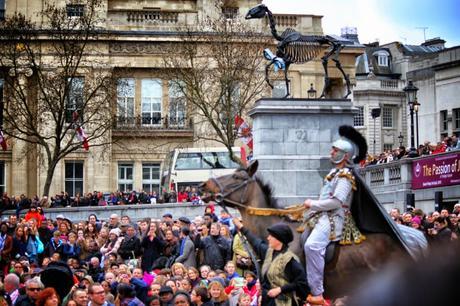 In keeping with our Literary London theme this month, here's one from the London Walks Podcast archive. London Poetry...
A London Walk costs £9 - £7 concession. To join a London Walk, simply meet your guide at the designated tube station at the appointed time. Details of all London Walks can be found at www.walks.com