This is friggin' unbelievable.
On January 18, the British Parliament is scheduled to debate whether Donald Trump should be barred from entering the UK.
CNN reports (via Q13Fox), Jan. 5, 2016, that an online citizen's petition to ban Trump from the UK had garnered more than 568,000 signatures, which is well above the 100,000 threshold required for a measure to be considered for a Parliamentary debate.
The petition says that since the UK has banned entry to people for "hate speech" before, "the same principles should apply to everyone who wishes to enter" the country, including Donald Trump.
The petition was precipitated by Trump's proposal to temporarily halt the immigration of Muslims into the United States. The proposal prompted UK Prime Minister David Cameron to call Trump "stupid" and "three times a loser."
Nota bene: I propose that Congress pass a resolution banning David Cameron from entering the U.S.A.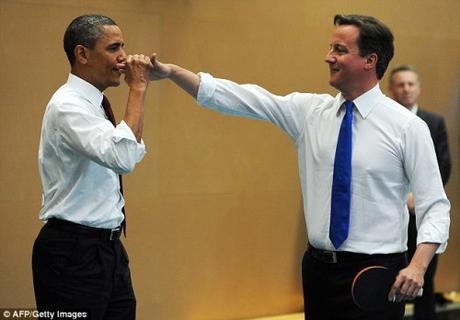 Obama & David Cameron play table-tennis at Globe Academy in South London 2011 (Source: Daily Mail)
Last week, the UK government released a statement stating that Home Secretary Theresa May has the power to "exclude a non-European Economic Area national from the UK if she considers their presence in the UK to be non-conducive to the public good" and that "The Home Secretary has said that coming to the UK is a privilege and not a right. She will continue to use the powers available to prevent from entering the UK those who seek to harm our society and who do not share our basic values."
Trump owns a golf course in Aberdeen, Scotland, UK.
See also:
Democrats are ditching their party for Trump

GOP consultants call for assassinating Donald Trump

GOP elites would support Hillary Clinton over Donald Trump

GOP operatives coordinate anti-Trump movement via ad blitz

Trump is viciously attacked from left and right: raped, murdered, 'cut off his balls'
~Eowyn