If you've traveled with me, you know that if I walk by a fabric, paper, or trim store that I will go in. Sometimes, I know about a particular store before I travel someplace, and sometimes, I just stumble across a place. In London, I did both.
I knew that I wanted to go to Liberty of London to see the fabrics and sewing notions and accessories.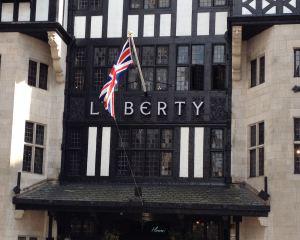 While it is true that a lot of Liberty fabrics are available where I live, the range is not large, and as with any product, visiting the flagship store is always an experience because you can often find things there that you can't anywhere else.
One afternoon, Ruby and I set off for the department store and headed straight for the fabric department. The floor was filled with fabrics, trims, buttons covered in Liberty fabrics, napkins, handkerchiefs, pieces that could be used for quilting, sewing and projects books, and all manner of pins and sewing accessories. But, as anyone who loves fabric knows, one of the best sections to be in is the section with the remnant tables.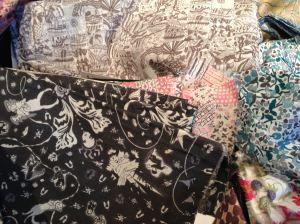 Liberty of London fabric remnants
One of the things I liked about these remnants is that many of the pieces were quite large, several meters in fact, as opposed to the less-than-a-yard amounts commonly found in fabric stores. Several meters will let you take on more than one project.
Ruby, who acquired a sewing machine a couple years ago, decided she wanted some fabric. She chose a remnant, and when we paid for it (and our fabric-covered buttons), the salesclerk told us that it was one of her favorite patterns and that she had been thinking of getting that piece herself.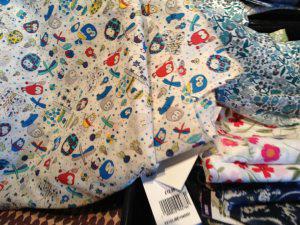 Ruby chose the fabric with the owls
A couple days later, I was walking along Bond St. while waiting to meet Mr. Miscellany and Ruby. Bond St. (as usual) was very crowded, so I decided to walk up toward Marlyebone and serendipitously came across V.V. Rouleaux.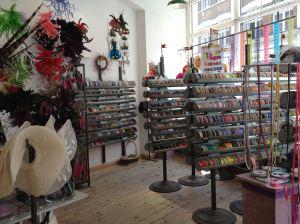 V.V. Rouleaux interior
I went no further, went in, and emerged quite a while later with two meters each of about eight different ribbons.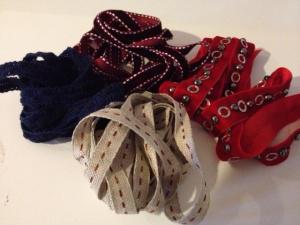 Some of the ribbon I bought
I enjoy going to stores and markets with fabrics, trims, paper, beads, etc. because I enjoy making things, and these items are not only tangible memories of a place, they also inspire me to be creative. For example, the wall-to-wall trims and tassels of H J van de Kerkhoff in Amsterdam could make anyone drop everything to take up a career in the decorative arts, and Knopenwinkel, which specializes in buttons, will have you figuring out how to attach them to anything.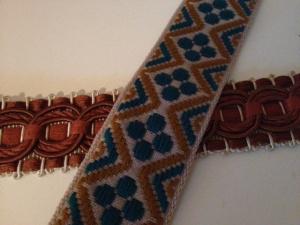 Trims from H J van der Kerkhof
One of my favorite discoveries a few years ago was in the corner of the ground floor of Printemps, the Paris department department store, which had an area devoted to trims you could use for hats (and other things).
Of course, I have plans for all my trims and fabrics, even if it takes me a while to figure out what I want to do with them. My daughter wants to make her Liberty fabric into pillowcases for her bedroom. My trims from Amsterdam were made into belts, and the ribbon purchased in London will likely be used for one of my hobbies — bookbinding.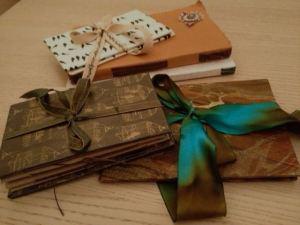 some of my bookbinding projects
Whenever I'm on a trip, I always try to bring back something I can make something out of. Making things out of what I buy on my travels gives those items extra meaning. I can, for example, make an album of my London photos that is tied shut with a piece of trim I bought on that trip. One of my favorite things I've made is a necklace from an eighteenth-century coin I purchased in Russia and combined with beads from Nepal that I strung on black leather cord. What I like about making things out of what I bring back is that what I make becomes both decorative and functional, and using it reminds me of the journeys I've been on and starts me thinking about those I still want to take.