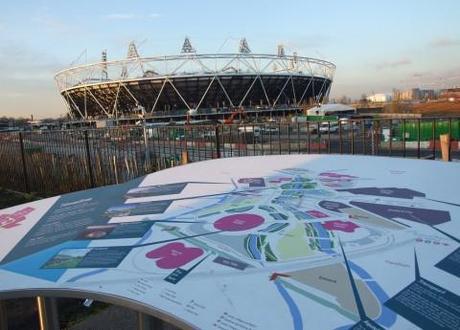 The Olympic Park: Pushing up rents in Newham? photo: Tamsin Slater
A London council has been accused of 'social cleansing' over plans to move poorer tenants out of the area. According to Newham Council, the east London borough suffers from a shortage of social housing, but the government housing benefit cap means private accommodation is no longer a viable alternative.
The Labour-run council has approached various housing associations, including one in Stoke on Trent, 160 miles from the capital, to ask if they can take in tenants currently on the waiting list for accommodation. Newham Mayor Sir Robin Wales said that spiralling rents in the borough, home to the London 2012 Olympic Park, left the council no option but to look elsewhere for housing.
So is this a case of social cleansing, practical thinking or – as Conservative Housing Minister Grant Shapps suggested – playing politics?
The cap. "As part of its welfare reforms, the government has introduced weekly caps on housing benefit of between £250 for a one-bedroom flat and £400 for a four-bedroom property," reported the BBC. There has also been a change to the way Local Housing Allowance, which determines the level of benefit payments, is worked out: "It is being calculated on the basis of cheaper rents – rather than it being based on the mid-point of rents in an area."
Why not move tenants? Given how expensive London is, plenty of private homeowners have had to look outside the capital for accommodation, said Harry Mount in The Telegraph: "Why shouldn't the same principle apply to council tenants?"
Sending people to Stoke is obviously not a great idea, said Rachel Holdsworth at Londonist: "Anyone with a job, and the majority of people receiving housing benefit are in work, will instantly become unemployed for a start." However, given the shortage of affordable housing in London, "it's possible to see the strange logical path Newham has taken", Holdsworth wrote.
Playing politics? Housing Minister Shapps disputed Wales' claims that rents are rising, arguing that the Newham mayor was "playing politics" ahead of local government elections in May. Shapps also insisted that "an internet search showed there were almost 1,000 homes available for rent within a five-mile radius of Newham within the benefit cap", reported The Independent, which meant there was no need to send tenants to Stoke. However, The Guardian's Polly Curtis said that the situation is not that straightforward: "It's misleading to assume that all those properties are available: many landlords refuse to take tenants on housing benefit."
What will Boris do? London Mayor Boris Johnson spoke out against the government's housing benefit cap in October 2010, pointed out George Eaton on The New Statesman's Staggers blog: "On my watch, you are not going to see thousands of families evicted from the place where they have been living and have put down roots." With the London Mayoral election looming, how will Johnson react to Newham council's move? "With signs that the Tories' political woes are hitting support for Boris (yesterday's YouGov poll showed that Ken Livingstone had narrowed his lead to just two points), this story comes at an awkward moment for the Mayor of London," Eaton wrote.