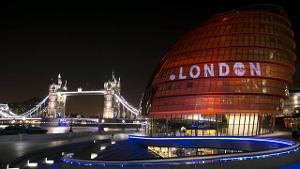 The new gTLD .London is all over news today as the Board of Top Level Domain Holdings (AIM: TLDH) reported that its client, Dot London Domains Ltd ("Dot London"), has signed the contract with the Internet Corporation for Assigned Names and Numbers ("ICANN") allowing the new top level domain, .LONDON,  to proceed to the final round of pre-delegation testing before being introduced into the Internet's root zone in 2014.
Dot London is a subsidiary of London & Partners, the official promotional organization for London.
In the press statement issued today by Dot London, the company also announced that from Spring 2014 London-based businesses, organizations and individuals will be able to apply first for addresses in the new .LONDON domain.
Fred Krueger, Chairman of Top Level Domain Holdings, commented:
"We are delighted that London is to be one of the first major cities in the world to launch a city-named domain on the Internet. We are sure that it will be of significant benefit to the businesses, communities and individuals wanting to associate themselves with London and a powerful mechanism for enhancing London's digital presence."
We have posted around 10 mainstream press stories on the .London contract signing and the forthcoming .London new gTLD to our Facebook and Twitter accounts
Here is some more info according to the press release:
"London will shortly be one of the first cities in the world to launch a new city domain name in the biggest change to the online world since .com was launched nearly 30 years ago.
Tens of thousands of businesses, including some of London's most prestigious brands such as Selfridges and Carnaby Street, have already expressed an interest in the new addresses, which will be live online in summer 2014.
By acquiring a .london address businesses, museums, shops, theaters and galleries will receive a domain name that is easy to remember and instantly identifies them as being located in London. Local businesses are also expected to benefit from consumers looking for services from London-based providers, helping to attract more customers.
The Mayor of London Boris Johnson said: "Adopting the .London suffix will enable organizations to more closely associate themselves with our great city's powerful global brand. This is also an excellent opportunity to expand London's digital presence, which in turn is set to generate funds to invest back into the city."
Gordon Innes, Chief Executive of London & Partners, the Mayor's official promotional organization for London, said: "When we have talked to London businesses and organisations about this, they're extremely excited about the opportunities .London presents.…