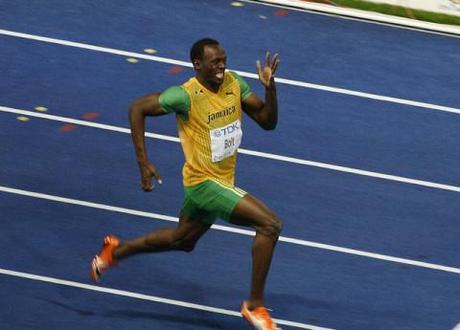 Usain Bolt in action. Photo credit: Pirano Bob R http://flic.kr/p/7279jr
The background
Jamaican sprinter Usain 'Lightning' Bolt is undoubtedly the number one star track and field athlete competing in the London 2012 Olympic Games, which begin in just ten days. He won three gold records (100 metres, 200 metres and the 4×100 metres relay) at the last Olympic Games in Beijing and will be aiming to repeat the sensational feat in London. Sprinting alpha male Bolt is favorite to win his races but there are some beginning to wonder if he might be beaten.
His chief rival is Jamaican teammate and training partner Yohan Blake, who won the World Championships in South Korea last August following Bolt's false start. At the country's recent National Trials, 25-year-old Bolt was beaten by 22-year-old Blake, in both the 100 meter event and the 200 metres. It was the first time since September 2007 that Bolt had lost a 200 meter race – and the first time he had ever failed to win the 100 metres on Jamaican soil. In an uncharacteristically downbeat moment after the races, Bolt made the remarkable confession that he is "a little bit weak" at the moment.
Bolt's main rivals
Blake is Bolt's biggest rival in the 100 metres but he's not the only threat to the world record holder. The BBC reminded that there are five men "devoted to beating Bolt." Asafa Powell, often the forgotten man of Jamaican sprinting, is still the last man to hold the world record before Bolt; Tyson Gay and Justin Gatlin, who lead the American charge hitting top form when it matters most; and Europe's best hope, the Frenchman Christophe Lemaitre, "who is proving that white men can sprint and take on the very best."
To win Bolt must get a fast start (but not false-start)
At Newsweek, Annie Paul, author of the blog Active Voice, who works at the University of the West Indies in Kingston, Jamaica, argued that it is the start which poses the most challenges for Bolt, for whom "rising is the hardest part. His exceptional height may give him a longer stride than most of his competitors, but it also gives him farther to go when he pushes up from the starting blocks." Paul said Bolt's "anxiety about getting out of the blocks in time sometimes causes him to jump the gun – a tendency made even more perilous by unforgiving new false-start rules that don't give runners a second chance." When he "finally gets going, his telescopic legs usually make up for any late start," noted Paul.
Bolt and Blake train at the Racers Track Club in Kingston, Jamaica. They share the same coach – Glen Mills.
Blake is right up there with Bolt
Andy Bull of The Guardian said that Blake is "the Beast who could beat Usain Bolt." Bull reported that the two have stopped taking training sessions together because the their rivalry is too intense and reminded that Blake "is the world 100m champion. He is ranked No1 in the world this year at both the 100m and the 200m, and most tellingly of all, he has beaten Bolt in both events at the Jamaican trials. Blake is not on Bolt's shoulder any more. He is right up there with him, matching him stride for stride."
Blake has Bolt shook
Writing at SportsIllustrated.com, David Epstein argued that "it isn't so much that Blake beat Bolt at the Jamaican trials in the 200 – Bolt's favorite event and one in which he still holds the world record – it's the way he beat him." He reminded that Bolt "was clearly in the lead coming off the turn in the 200 final. It has been a fundamental law of the sprinting universe for the last four years that when Bolt gets out well, the field is racing for second. But on the straight, Blake ran him down to win in 19.80 seconds to Bolt's 19.83."
Steady on, Bolt's still on track
Rick Broadbent of The Times (£) examined Bolt's supposed loss of form going into the Games. He reminded that, in 2008, "before wrenching the sporting world off its axis in Beijing, Bolt ran eight 100 metres. Twice he ran under 9.80 and he clocked 9.85 at the Olympic trials. This time he has run seven races. Twice he has run under 9.80 and he clocked 9.86 at the Olympic trials. He is almost exactly where he was four years ago, offering little credence to talk of shot bolts."
"Keep an eye on how Bolt behaves before the big races," suggested Annie Paul, who noted that "when he's relaxed and confident, he likes to dance and play the fool for the cameras, basking in the roars of approval that erupt from the crowd. That's when he runs his best. If he fails to ham it up, he's probably off his form and therefore not confident of holding off the competition."
Bolt's the one and only king
"Bolt not done yet," insisted a blog at The Jamaica Gleaner, which said that "from a national perspective it is wonderful to have four men from Jamaica who have run under 9.80 seconds but don't feel like Bolt's reign as the fastest man in history is about to end anytime soon." The blog said that once Bolt gets his start "back on track he will be back to being the fastest man who ever lived. Blake is fast now, only three men have ever run faster – Bolt, Gay, Powell but until Blake gets below 9.58 Bolt still holds the crown as the fastest man who ever lived. Once he gets his start back in working order he will be as hard. Yes, the pack may have come a little closer in the past two years, but everyone knows that once Bolt is ready he is still the one and only king."