When it comes down to the movies
Thor
and
The Avengers
, Loki is my most favorite character. He has so many layers and depth as a character, and I just love how dark, twisted, and complicated he is. Tom Hiddleston is an amazingly talented and versatile actor and he's just downright stunningly beautiful. The angles in his face, his eyes, that hair (his natural color and the dyed color)... just... yes.
And so imagine my excitement when I saw this baby on Youtube:
A speedpainting of Loki in his
ridiculous
ridiculously hot
(because he makes it so just by being under it)
helmet
! Uh-huh.
The artist, Angela, is crazy talented. I followed a link to her deviantART account and was excited to see a downloadable image of the finished painting.
YAY!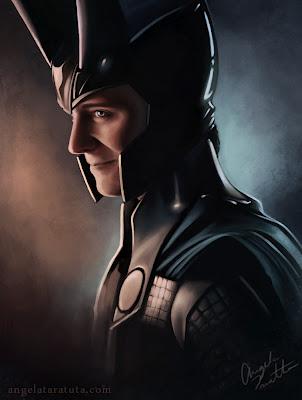 "God of Mischief" by Angela T @ DeviantArt
He's on my hard-drive... Loki's on my hard-drive now... *squeals*
(okay, to be fair & honest, this isn't the first and only time he's been on my hard-drive, but let's just pretend it is because this feels like Christmas!)